Amazon's head of Canadian originals on Prime Video's domestic strategy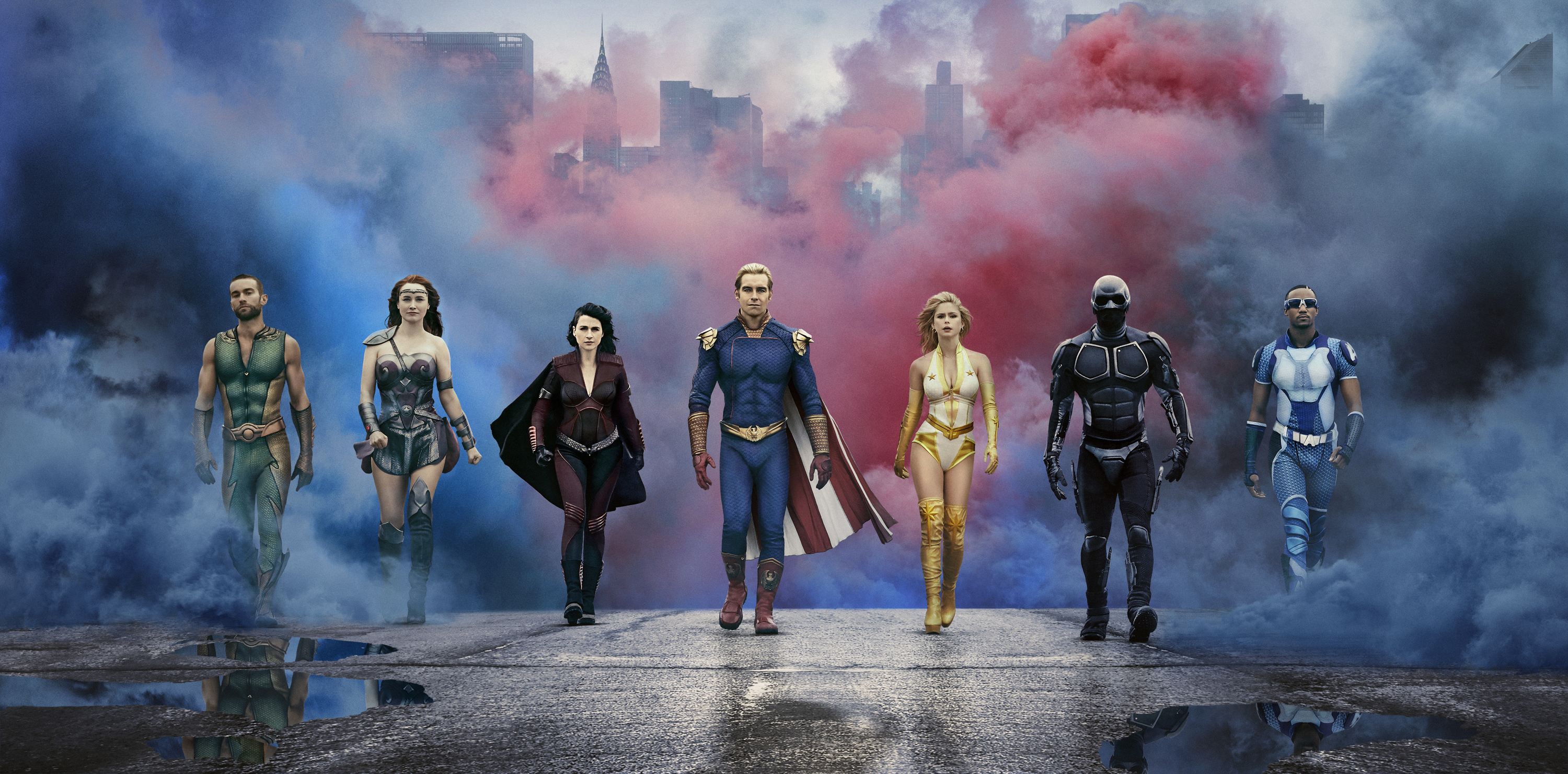 In a Q&A with Playback, Christina Wayne shares what the streamer is looking for in its growing Canadian content slate of scripted and unscripted titles.
A mazon has made its ambitions in Canada clear. With the hire of its first Canadian content executive, Brent Haynes, as head of scripted, Canada, and Christina Wayne named as head of Canadian Originals, the studio and streamer is primed to accelerate its local commissioning strategy.
Amazon has long had boots on the ground up north, filming service productions such as The Boys (pictured) and The Man in the High Castle in Toronto and Vancouver, respectively, along with more than 4,300 employees across the country. Amazon first ventured into original Canadian programming in early 2020 when it announced the revival of the iconic The Kids in the Hall (Project 10), which is currently in pre-production and goes to camera in Toronto this summer. The streamer has greenlit two unscripted projects since, LOL: Last One Laughing Canada (Insight Productions) hosted by Jay Baruchel and All or Nothing: Toronto Maple Leafs (Cream Productions).
Wayne, who is no stranger to the Canadian industry after serving as president of Cineflix Studios between 2010 and 2013, spoke with Playback about Amazon's Canadian content plans.
Playback: How will having a Canadian-based development executive impact Amazon's programming strategy moving forward?
Christina Wayne: It is incredibly important to have somebody overseeing our scripted content in Canada. Having [a local executive with] a background and a foot in, having made Canadian shows before and [pre-existing] deep relationships, is integral to our growth.
Amazon stepped up its investment in Canada this year, including a $1.25 million donation to the Solidarity Fund and the launch of the Pitch Day program with the Indigenous Screen Office. How did that come together?
It started with discussions between Magda Grace, head of Prime Video Canada, and Kerry Swanson [Indigenous Screen Office managing director]. Partnering with them gives us a great opportunity to meet with talent from different perspectives that we might not otherwise have been introduced to. In terms of a creative incentive, that was definitely the reason for wanting to work with them.
What does that partnership signify in terms of Amazon's overall interest in commissioning content from racially diverse producers and creators?
First and foremost, our goal across all of the countries outside of the U.S. is to serve the local customer with what they currently are not getting from other places. It's always customer first at Amazon, so that drives our mandate in Canada and across any other country that we're in. That heavily influences where we're coming from in terms of the types of programming that we want to do both on the unscripted and the scripted side: it's local shows about local stories for the local customer made by local talent.
Canada is a diverse place. There's not just one type of Canadian customer, so in order to serve all of those customers, we need stories that speak to all the different types of customers that we have. That is the idea behind having diverse points of view.
In terms of scripted, the ISO pitch day eligible projects were focused on YA and voice-driven dramas. How much of that reflects the overall priority in terms of your scripted commissioning?
Our goal is to make stories that resonate with Canadians and, first and foremost, work with Canadian talent. There's been a number of great half-hour Canadian comedies that have come out, whether it's Letterkenny, Schitt's Creek, Kim's Convenience or Workin' Moms. We felt like that was a really good arena for us to tap into in terms of the talent pool that's in Canada. Our mandate isn't that different from the ISO pitch day than it is for what we are currently in the market for, which are great half-hour [series], predominantly comedies. We can open up to half-hour YA or genre storytelling, but I think it's more the half-hour comedy format that we're really after.
Are you interested in any other programming fields, such as kids content or procedurals?
We're not doing any kids content. All of the content we're looking for is premium, so we're probably staying away from the heavily procedural-type shows. We will make exceptions, of course, if something just speaks [to us] and we feel like it would be great for Canadian audiences. It would have to be a twist on the traditional type of procedural show. I would say the main focus and the main shows that we're developing right now are half-hour comedies. We are also open to animated shows for YA audiences and above.
We've seen two unscripted greenlights from Amazon already, which are local adaptations of Amazon Studios formats, with All or Nothing: Toronto Maple Leafs and LOL: Last One Laughing with Jay Baruchel. How do they reflect the overall unscripted strategy?
Canada has a long-standing history of creating phenomenal comedies and creative comic talent. We
know that this is an arena that will do well and resonate with the Canadian customer. The Toronto Maple Leafs? I don't think you can get more Canadian than that. So, that was really the idea behind the unscripted [greenlights]. We are in development on many different types of unscripted shows, but all of them with that eye to how they will resonate with the local customer and be something that feels truly Canadian.
In terms of what you're currently developing, are you more focused on original formats and series or Canadian adaptations of existing formats?
I can't speak to anything that hasn't been announced yet, but yes, it is a wide variety of different types of storytelling on the unscripted side. We have a docudrama that we're moving forward with, which I can't tell you the specifics yet, but it is based on a Canadian story.
What can you share in terms of the volume of commissions? Will we see an increase from what it's been so far?
As we move forward you'll probably see a little bit more. I don't think you'll see a massive explosion. We're pretty hands-on in terms of helping our storytellers get everything they need. You have to really be choosy about what you're going to make when it comes to giving everything that chance to be really high quality.
Our federal government is reviewing an amendment to the current Broadcasting Act that asks for digital giants to contribute to our domestic system. Netflix has made it clear that streamers shouldn't be subject to the same regulations as domestic broadcasters. What can you share about Amazon's stance?
Like we do with any country that we go into, we follow whatever the policy is for that country. I don't see that being any different for Canada.
What is the best way to pitch to you?
If it's a local production company, it's fine to reach out to us directly. If it's a writer or a creative talent, they should have their representatives reach out to us. In terms of what we're looking for, we like to read writers prior to them submitting material or pitching us. We want to make sure that whatever they pitch us, we can see that they are able to execute what they're pitching if they haven't written the show already
This story originally appeared in Playback's Spring/Summer 2021 issue