Hybrid work 'forevermore': Canadian studio heads prep for post-pandemic working world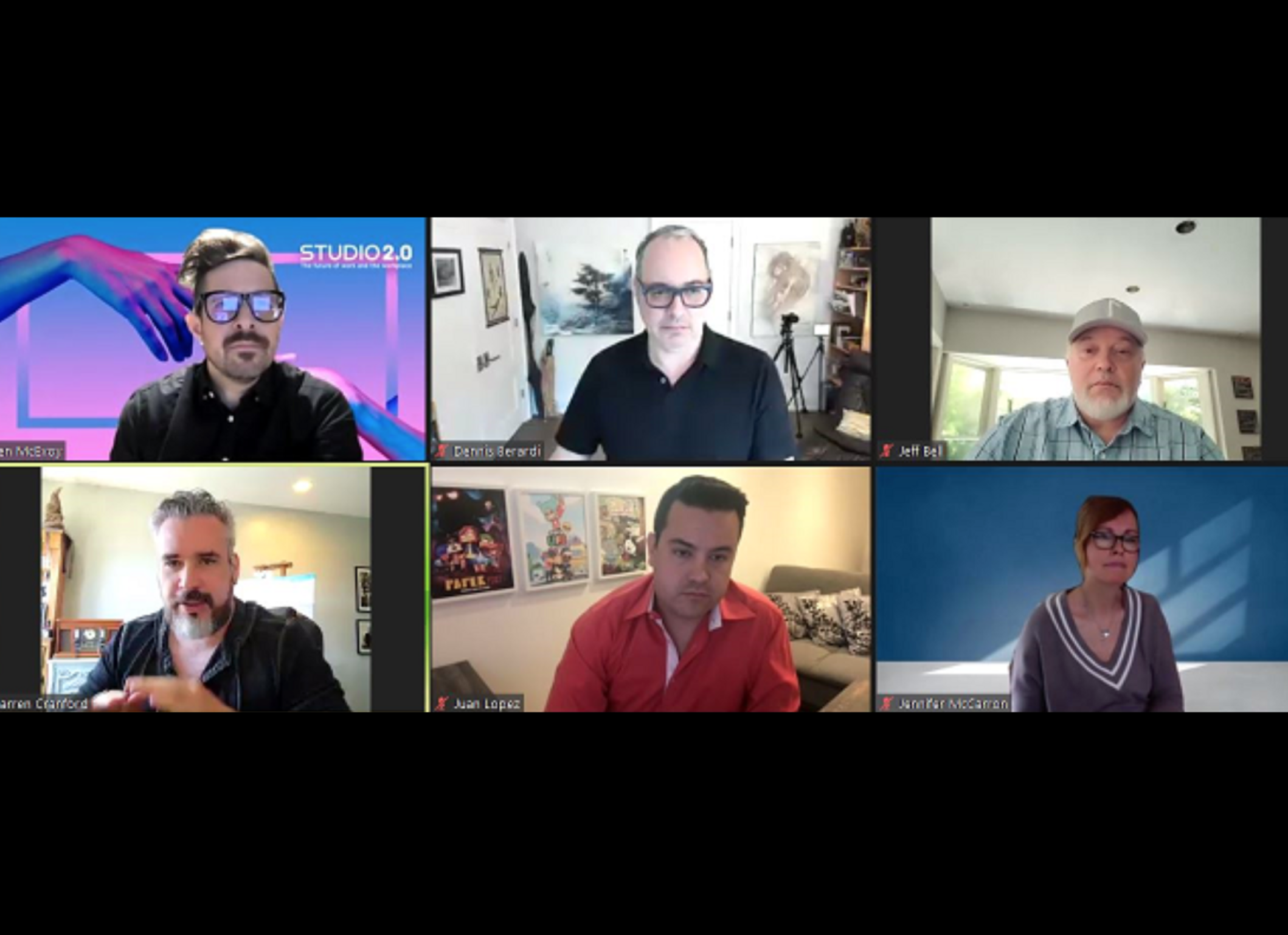 During a CASO panel, animation and post-production heads including Jennifer Twiner McCarron and Dennis Berardi discussed the happy medium of virtual-physical work and what that means for business.
A s the number of Canadians receiving the COVID-19 vaccination continues to increase, heads of Canadian animation studios are thinking long and hard about where the virtual and physical worlds will intersect in a post-pandemic working environment.
That topic was at the centre of a panel discussion titled "Studio 2.0 The Future of Work and the Workplace," presented by the Computer Animation Studios of Ontario (CASO), earlier this week. Participants in the discussion were Darren Cranford, director and co-owner of Keyframe Digital and Krow VFX; Jeff Bell, COO, producer and co-founder, Tangent Animation; Jennifer Twiner-McCarron, CEO of Thunderbird and Atomic Cartoons; Dennis Berardi, founder and CEO, Mr. X; and Juan Lopez, president and co-founder, Pipeline Studios.
Twiner McCarron says Atomic Cartoons, which employs around 1,000 people across its hubs in Vancouver and L.A., is "planning on a permanent work-from-home-slash-office hybrid forevermore," starting this fall.
Atomic Cartoons' parent company Thunderbird has undergone significant changes since the onset of the pandemic. Thunderbird gave up its Vancouver headquarters, sub-leasing it to a law firm, while retaining its animation studios in Vancouver, L.A. and Ottawa.
Starting in September, the Atomic Cartoons teams in Vancouver and L.A. will be returning to in-studio work for either two or three days a week. But that is only for those want to return to the office.
"About 95% of our staff has said they want the hybrid [model], 65% has said they'll stay home forever," says Twiner McCarron, adding that the company's headcount has grown since the onset of the pandemic, meaning it wouldn't be possible for everyone to physically return to work anyway.
There are a number of benefits to the hybrid working model, she adds, the most obvious being the ability to accommodate how animators want to work. "I believe offering that permanent hybrid model… is going to be key to honour the talent, and where the world has gone and the needs associated with that."
There are other benefits for animators who, for example, would prefer to live outside of busy cities like L.A. or Vancouver so they can buy properties at more affordable prices. Eliminating the work commute makes that significantly easier.
Dennis Berardi, founder of Toronto-based Mr. X, which also has offices in Montreal, Adelaide and Bangalore, said his company will likely also be in a "hybrid model in perpetuity, provided we can find that virtuous circle where we're giving everyone what they need."
Cranford of Ontario-based Keyframe Digital noted that when his team shifted to working from home at the onset of the pandemic, productivity increased by 25% due to the elimination of commute times. It didn't come as a complete surprise, as Keyframe had dabbled with hybrid working models prior to the pandemic, but to see the output and speed of project completion increase by as much as 25% was a surprise, said Cranford.
Berardi added that Mr. X has given a great deal of thought to how to define boundaries in a hybrid working model, encourages team members not to overbook themselves with meetings.
At the managerial level, Berardi said there can be a "prison of presence," whereby managers feel they need to be present for every single meeting or call.
"There's this pressure that we, as managers…. put on ourselves to take the meeting, and to show that we're working, as opposed to taking a break, slowing down, not having a meeting, booking some focus time for yourself," he said.
As a result, Berardi says he has instituted his own policy of not doing back-to-back meetings. "There's decision fatigue that enters into play. By about three or four o'clock you're basically spent if you've been booking back-to-back meetings, and [you] haven't done [your] own work," he said.
Elsewhere, studio heads discussed the challenges of onboarding junior artists, some of which have recently finished academic training and are entering the world of work for the first time.
"When you're in studio, you do get mentorship by osmosis. You don't really have that in a work-from-home model. It's not great, especially for a young person breaking into the industry," said Berardi.
As the world of animation and post-production virtualizes, new challenges could present themselves around tax credits, noted Twiner McCarron.
In Canada, artists need to be physically working in a certain province in order for Canadian tax credits to be applicable to that project. However, some jurisdictions aren't bound by those same eligibility criteria, meaning international studios are able to hire away Canadian talent.
In one example cited by Twiner McCarron, an entire crew of Atomic Cartoons animators was approached to work on an international movie being produced out of a jurisdiction that didn't have "such tax credit imperatives." Thunderbird allowed the entire crew of artists to work on the project and then return to Thunderbird projects.
While there was no issue with letting Atomic Cartoons animators work on another project, said Twiner McCarron, it speaks to a new challenge Canadian studios are experiencing when it comes to retaining talent. "It will be a challenge going forward. We can't hire someone sitting in another country and claim tax credits, and that changes things."
That, adds Twiner McCarron, simply makes Canadian studios strive to be better working environments for animators wanting to work on great projects in a more flexible way.
"The challenge is keeping and maintaining a culture so that people want to stay glued to your studio," she says.