Inside Out taps Dawn, Her Dad & The Tractor and more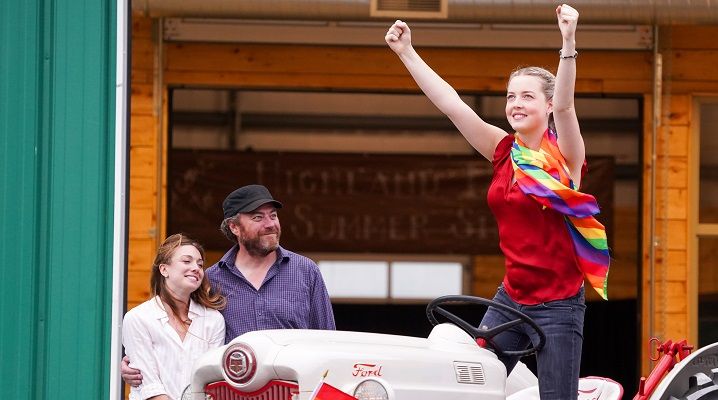 Feature films Bloodthirsty and How to Fix Radios are also a part of the festival's Spotlight on Canada program.
Inside Out is heading online again for its 31st annual Inside Out Toronto 2SLGBTQ+ Film Festival.
The full film lineup including 143 films, with 33 feature films and five episodic series, was revealed today (May 3) by newly appointed executive director appointed Lauren Howes. Natalie Morales' Language Lessons (U.S., Canadian premiere) will kick off this year's opening night, while Charli XCX documentary Alone Together (U.S.) will close out the fest.
"Our 31st edition is bookended with two very special films, both shot during the pandemic that reflect our longing for connection during this topsy turvy time," said programming director Andrew Murphy. "We strive to accurately represent a community in flux, a community in turmoil, and a community with resilience, featuring finger on the pulse documentaries and narratives, curated alongside fantastical love stories that remind us of the before, and hopefully, the after times."
With projects debuting on its streaming platform, this is the second time the festival has had to go virtual. Inside Out's Digital Cinema will be available for anyone in Ontario as well as registered industry and press members and will be accessible via the website as well as Inside Out's AppleTV and Roku apps.
Notably, the Spotlight on Canada category will see past WIDC Feature Film Award-winner Shelley Thompson's transgender family drama Dawn, Her Dad & The Tractor will make its world premiere.
Other feature films set for the section include: director Casper Leonard and Emily Russell's How to Fix Radios, and director Amelia Moses' Bloodthirsty. Leonard and Russell's first feature film follows young queers who carve out their own destiny in a rural community in Southern Ontario.
Bloodthirsty, meanwhile, follows an indie singer who gets an invitation to work with a notorious music producer at his remote studio in the woods, where she begins to find out who she really is.
Penned by Canadian singer-songwriter Elizabeth Lowell Boland, known by her stage name Lowell, and her mother Wendy Hill-Tout, who is credited as a producer alongside Michael Peterson, the werewolf thriller is up for Achievement in Music – Original Score and Original Song at the 2021 Canadian Screen Awards. Earlier this year, Raven Banner also picked up the domestic distribution rights to the project.
Notably, the entire Spotlight On Canada section will also be available for free to audiences in Ontario.
The only other feature film with Canadian roots is director Bobbi Jo Hart's documentary Fanny: The Right to Rock (Icons section), which examines the pioneering Filipina-American queer all-female rock band.
Also a part of the Hot Docs film festival, where it is making its world premiere, the Crave Original is produced by Hart – who also serves as an executive producer – and Robbie Hart. Executive producers also include Randy Lennox, Ina Fichman, Glen Salzman, Catherine Bainbridge, Anne Pick and Katherine Buck.
Additionally, two Canadian projects are among the five selected for the episodic section: Enby and Querencia.
Directed by Morgan Strug, Enby follows a 20-something living in East Vancouver who has finally found the words that match their identity, and Querencia, directed by Mary Galloway, is a love story about two Indigenous queer women from different backgrounds that explores their complex identities and upbringings.
It should also be noted that Canada's Drag Race winner Priyanka is also taking part in the festivities. During Inside Out's virtual launch week, which runs from May 3 to 7, Priyanka will host a daily themed programming spotlight on sections of the film program, which will be accessible on Inside Out's website.
On the short film side, Canadian projects in Spotlight on Canada: Local Heroes include: director Zheyu Liao's 6 Feet Apart; Cailleah Scott-Grimes' Between Us; John Dela Cruz's Cruz (experimental documentary); Ajahnis Charley's I am Gay (documentary); Marlee Druker's I Do, But I Don't (documentary); John Greyson's International Dawn Chorus Day (documentary); Goldbloom Micomonaco's Parry Riposte; Emily Ryder's St. Clair W (experimental); and Michael Hanley's You Will Still Be Here Tomorrow. Nicole Teeny's doc Unity Mosque (U.S.) is also in the lineup.
Short documentaries Disruptor Conductor from Sharon Lewis, Small Town Pride from Chelle Turingan and Riley Sparks, and The Isobel Imprint from Ali Grant. The trio are set for Stories We Tell.
Others also a part of the festival's shorts programs include Aziz Zoromba's Faraway (Shorts: This Is Me Trying), Callahan Bracken's My Head Aches When I Look Too Long (Shorts: Afterglow), Nic Peerson's Her Voice (Shorts: Long Story Short), Andy Nguyen's It's a Girl! (Shorts: Thrive), Goldbloom Micomonaco's They/Them (Shorts: Thrive), Isak Vaillancourt's Amplify (Shorts: Only The Young), Andy Nguyen's Heroes (Shorts: Only The Young) and many more.
Visit Inside Out's website for the full lineup of shorts. This year's Inside Out runs from May 27 to June 6.