How Proper TV made a COVID-safe set for young culinary talent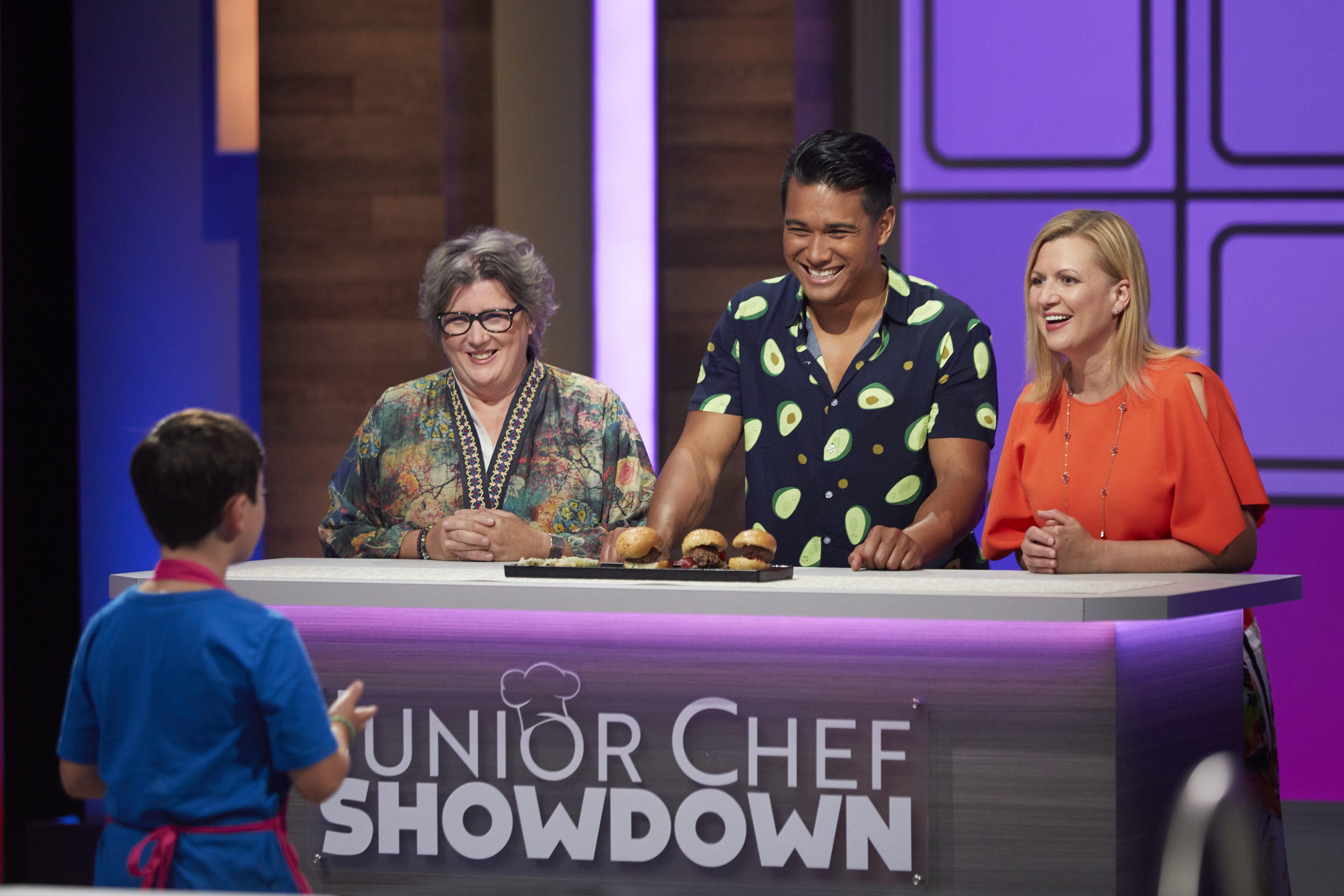 Junior Chef Showdown producers share the challenges of staying on schedule while working with kids in pandemic-era filming and the importance of escapism programming.
Working with kids on set is never easy, but Boat Rocker Media prodco Proper Television discovered last year that filming a children's culinary series with COVID-19 restrictions requires an entirely different menu.
Junior Chef Showdown, which will have its season two premiere on Corus Entertainment's Food Network Canada on Sunday (April 25), follows 10 young cooking prodigies as they compete for a $25,000 cash prize. Winners are determined by three celebrity judges: Anna Olson, Jordan Andino and Lynn Crawford.
Production on the competition series ran in Toronto for three weeks in August 2020. It was Proper's second series to begin production after the months-long COVID-19 shutdown, following MasterChef Canada in July.
Many of the protocols used for Junior Chef Showdown were developed during MasterChef Canada, Cathie James, Proper Television co-president, tells Playback Daily, and are still in use today. Zoning, for example, separated producers and directors working in the control room from departments working in culinary. Everyone except for on-camera talent had masks on at all times.
"The studio environment offers its own challenges, but it also offers an opportunity for safety because you can basically create a very controlled space, a production bubble in which you can put COVID protocols in place and really strictly adhere to them," says James.
There were separations within departments as well, with James noting that the culinary team members that purchased ingredients for use in competitions were not allowed on set, further eliminating points of contact for talent. They were wiping down anything that came to set as well, James adds, as it was a time where the science of how COVID-19 spreads wasn't clear.

All the protocols came with the territory of filming during a pandemic – with additional limits due to the kid factor. Pre-existing regulations around children working on sets meant they were already limited to eight-hour work days, breaks every 45 minutes while kids were working, as well as mandatory 48-hour breaks after five days.
That meant that in the hours the kids weren't on set, the producers, director and DP were in constant communication over blocking, b-roll and time allowances for judge deliberations in order to keep things rolling smoothly.
"We didn't have the luxury of going an extra hour, an extra 10 hours, whatever it might take to get the shoot done," says series producer Jessica Capobianco, who credits the tireless effort of the crew and the control room for completing the series on schedule despite the slowdown from sanitization and safety requirements. "There was no time for us to not be completely on our game."
The kids and judges were directed not to hug or give high fives during filming, were kept at least six feet apart for any team challenges, and did a contactless group hands cheer at the end of episodes. Of course, the kids tended to disregard the contact rules to hug and comfort cast mates when they were eliminated. It was a careful balance for production to keep the cast feeling positive and to "capture the emotion and the camaraderie" of the group. "You want them to feel safe and the judges to feel safe, but also to not feel like they can't smile and enjoy cooking," says Capobianco.
Keeping the content of the show relatively pandemic-free was another important part of production. Corus Studios needed to make sure the series was evergreen for the sake of international sales, but production also wanted to offer viewers a form of escapism as the pandemic rages on. They were keenly aware of the success of season one, where Junior Chef Showdown ranked in the top 20 programs of Food Network Canada for the 25 to 52 demographic following its premiere in April 2020.
"[Junior Chef Showdown] especially spoke to families who were stuck inside and cooking more than ever," says James. "Here we are a year later and I think it really is, again, the feel-good programming that people need in these times."
On the content side, the kids more than delivered, says Capobianco. The calibre of talent has risen since the first season, and the diversity of the cast brought a wide range of cultural dishes and family traditions to the screen. She says producers were able to add a level of timeliness to the challenges by including themes of giving and compassion to others, which are needed more than ever at the moment.
Proper Television is still in production while Ontario combats its worst COVID-19 wave yet, filming Mary Berg's latest cooking series Mary Makes it Easy, which James says is in a very small, closed set in Berg's home. While the hope is that the third wave will slow by the time the next major Proper production gets underway, James is confident that the protocols in place will allow them to stay the course.
"I think one of the safest places to be [in Ontario] is on a set," she says.