Screenwriting champion Margaret Collier dies
The first executive director of the Writers Guild of Canada leaves behind a legacy of celebrating and supporting the domestic screenwriting community.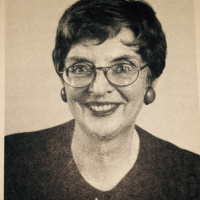 Margaret Collier, the first executive director of the Writers Guild of Canada (WGC), has passed away at 88.
Collier, who was born in Glasgow, Scotland, devoted decades to advocating for the rights of Canadian screenwriters before passing on April 11 with Alzheimer's. She served as the national executive director of ACTRA's Toronto Writers Branch when it was formed in 1977, and then led the ACTRA Writers Guild after its creation in 1982.
"She dedicated her life to Canadian Screenwriters and for that we will always be thankful," wrote the WGC in a statement on Twitter announcing Collier's passing.
During her tenure with the writers guild Collier helped usher in the production fee in the Independent Production Agreement (IPA), which meant screenwriters could make a living wage as a writer, rather than as a secondary revenue stream.
In 1991 the ACTRA Writers Guild became the Writers Guild of Canada, still under the umbrella of ACTRA with Collier remaining as executive director. The association eventually separated from ACTRA in 1995 and became its own fully fledged association with Maureen Parker taking the helm as executive director. It was that same year that the WGC gained jurisdiction over the role of story editors.
Collier's legacy is synonymous with the celebration of Canadian screenwriting. The Academy of Canadian Cinema and Television established the Margaret Collier Award in 1986, which honours a Canadian television writer's outstanding body of work. Award winners in the past decade include Tassie Cameron, Brad Wright, David Shore, Semi Chellas and the late Denis McGrath.
There are currently no plans for a funeral or a memorial due to restrictions during the COVID-19 pandemic. Any donations in her name can be made to the Lakeshore Lodge long-term care home in Mississauga, where she spent her final years.
Updated on April 14