Giving life and authenticity to the Parker Andersons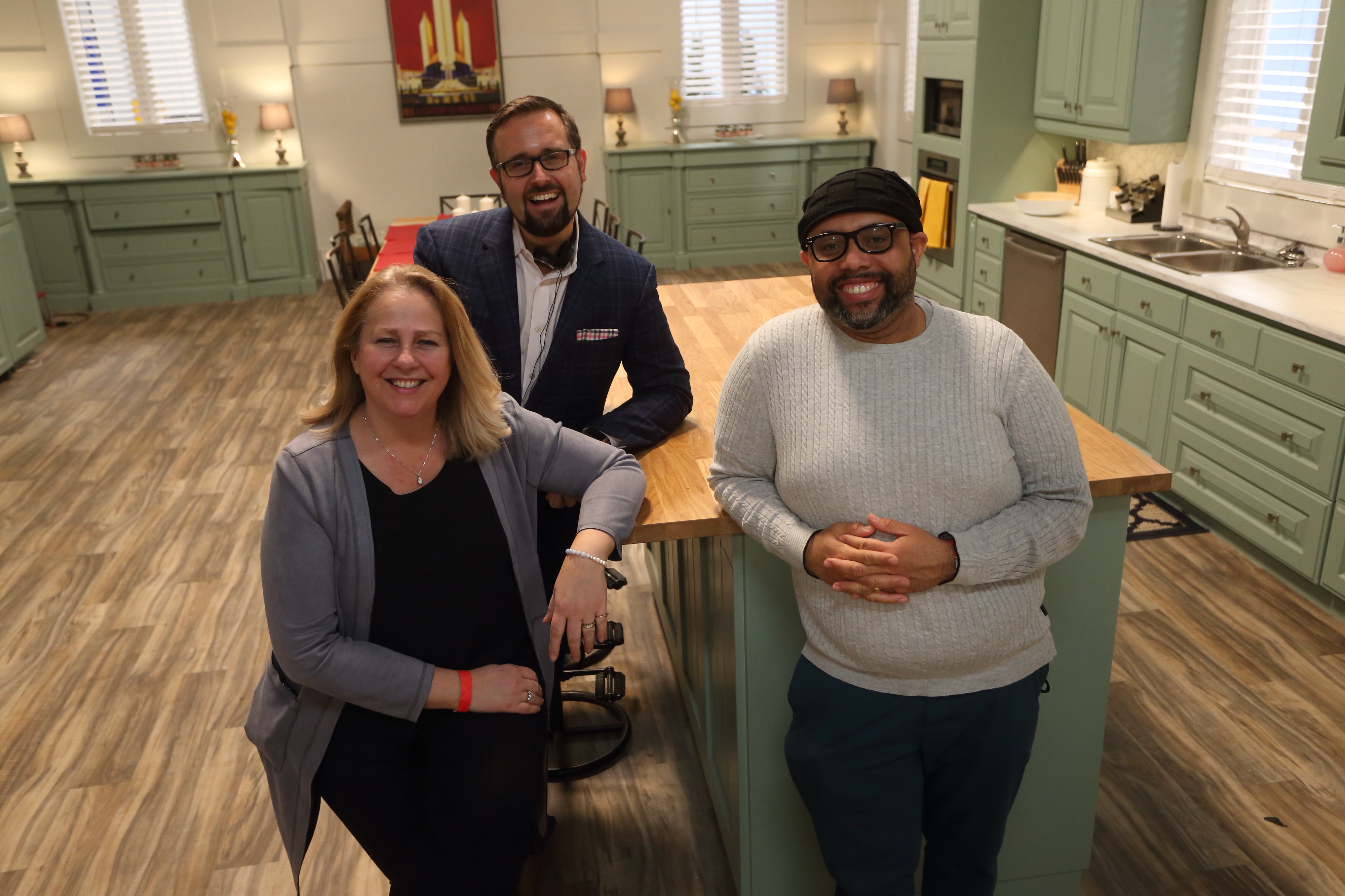 Showrunner Anthony Q. Farrell and marblemedia discuss interconnected family sitcoms, The Parker Andersons and Amelia Parker, and the costly changes needed to improve representation on the BYUtv-commissioned series.
The past year has seen the screen-based industry reckon with systemic racism and an overdue need to increase representation in key creative roles; in the case of marblemedia's The Parker Andersons and Amelia Parker, even the best of intentions can lead to a hard and costly lesson on accountability.
The Toronto prodco behind the two interconnected family comedies about a bi-racial blended family undertook a large-scale reworking of the 10-episode sitcoms in the span of five weeks with the help of executive producer and showrunner Anthony Q. Farrell (The Office, Little Mosque on the Prairie).
The Parker Andersons and Amelia Parker were just two months away from production when Farrell – who was already working with the prodco on the newly greenlit Overlord and the Underwoods at the time – got a call asking to review the scripts after some of the talent approached to direct episodes voiced concerns about its quality of representation.
"It didn't feel authentic. It didn't feel like there were enough people of colour being heard in the room," Farrell tells Playback Daily ahead of the series premieres on April 19 on BYUtv in the U.S. and Super Channel's Heart & Home in Canada.
Executive producer and marblemedia VP, scripted, Carrie Paupst Shaughnessy called co-CEO Mark Bishop, who was in New Brunswick while in production on Race Against the Tide at the time, and explained the depth of the issue. What resulted was a one-week delay in production to give Farrell, who would take over as showrunner, enough time to build a new writing team and rebuild the series' narrative, one script at a time. It was a herculean task, considering both series featured stories spread across two interwoven stories about the family at large and its youngest member Amelia.
"Some of the things that he was bringing to light were things that [helped us] realize we didn't spend enough time talking and listening," says Bishop.
Reworking the series took a significant financial investment and support of all players involved, according to Bishop, including the series' creator, Beachwood Canyon Productions co-founder Frank van Keeken.
Farrell says the writers, which included co-executive producer Jay Vaidya, Amanda Joy, Murry Peeters, Ian Steaman and Sadiya Durrani, kept roughly half of the storylines as they were – with significant dialogue changes – but otherwise the team was tasked with breaking 10 new scripts in a very short time.
The writers also needed to ensure the treatment of Amelia, who has selective mutism and narrates through fourth wall-breaking videos to her deceased mother, was handled in an authentic way. After spending hours researching the topic they opted to hone into what Amelia's experience with selective mutism was like – why it happened, how it impacts her experiences with the people around her and the unique ways she expresses herself.
"We wanted to make sure it felt real for Amelia rather than making it feel like it's a catch-all for everyone that's dealing with selective mutism," says Farrell.
Farrell says the interconnected nature of the two series played out much more naturally than they had originally planned. While it was still a puzzle to ensure the stories in each respective episodes fit, the writers found the ebb and flow of family interactions already well-served the story without being too heavy-handed about interweaving them. "There's still an interconnectivity, which there obviously would be because they're a family, but it doesn't feel like you have to watch both to get enough information to watch one of the shows," he says.
Bishop adds that it was crucial to ensure both shows could work as a stand-alone for discoverability to work – if audiences connect with Amelia, or with one of the Parker Andersons, that investment will lead them to want to get the full experience of both shows.
The series was created five years ago by Beachwood Canyon, which had initially been in development with Corus Entertainment. In 2018, Beachwood Canyon brought the series to marblemedia, who were interested in the interconnected sitcom concept, and acquired it.
They had been working with BYUtv on unscripted kid-targeted series such as Just Like Mom and Dad and All-Round Champion, and knew the channel was keen on expanding their scripted programming, especially on projects with the potential for co-viewing. Once marblemedia acquired The Parker Andersons and Amelia Parker from Beachwood Canyon, BYUtv soon came on board as the broadcaster to further develop it with a committment for a writer's room that was minimum 50% gender and racially diverse.
Bishop says that although BYUtv was committed to on-screen diversity for The Parker Andersons from the beginning, the channel had not initially wanted to address some of the more difficult conversations about race as well, such as the issue of microaggressions. When Farrell came on board, however, BYUtv listened to concerns and helped cover the costs in course-correcting before production went ahead.
An article in NOW Magazine raised concerns this past week that highlighted BYUtv owner, the Brigham Young University, a Utah-based private college that is sponsored by the Church of Jesus Christ of Latter-day Saints, a Mormon church that does not allow same-sex marriage.
Paupst Shaughnessy says marblemedia has already been in discussion with BYUtv about its stance on LGBTQ characters for its family content. While the upcoming Overlord and the Underwoods – which BYUtv co-commissioned with CBC, Nickelodeon International and ITV – does have LGBTQ characters, marblemedia confirmed the channel did not want any explicitly queer characters in the first seasons of The Parker Andersons and Amelia Parker. Paupst Shaughnessy says the prodco is currently in conversation with BYUtv on introducing queer characters as well as exploring the identities of existing characters from season one if the shows are renewed.
Prodcos such as marblemedia have had to rely even more heavily on foreign broadcasters to continue to create content, especially in the kids area. "The kids market has really been decimated from the domestic broadcasters not commissioning kids' content," Bishop says, adding that while smaller broadcasters such as Super Channel want to support Canadian content, their relatively modest budgets mean that international financing takes on an even larger necessity.
As a result, he says they often work with buyers who have a "very narrow definition of what a Canadian show is." He points out that streamers such as Netflix are more willing to embrace the Canadian side of shows, with unscripted competition series Blown Away explicitly set in Hamilton. However, the issue around the retention of IP rights poses its own risks, especially as a company that is dedicated to producing 10/10 CAVCO-certified Canadian shows.
Marblemedia has been developing a robust slate of kids and primetime scripted content, according to Paupst Shaughnessy, who points out that they work with a number of buyers outside of BYUtv. Among their current slate is an adaptation of the M.G. Hennessey novel The Other Boy, which features a coming-of-age story about a young transgender boy. Paupst Shaughnessy says the adaptation is currently in development with a transgender writer and an experienced showrunner, as well as a mother of a transgender teen working as a consultant.
Ensuring what occurred with The Parker Andersons doesn't happen again requires layers of accountability, according to Paupst Shaughnessy, with diverse talent working at every level. Bishop says the production is invested in nurturing racially diverse showrunners and giving opportunities to underrepresented writers, directors and crew members so they can take on more senior roles in productions.
"If there's a commitment to 'not about us without us,' then you have to be in a position where you're going to listen," says Paupst Shaughnessy.
Pictured (left to right): Carrie Paupst Shaughnessy, Mark Bishop and Anthony Q. Farrell (photo by Stephen Scott)