CSAs '21: Schitt's Creek, Cardinal and Trickster lead TV noms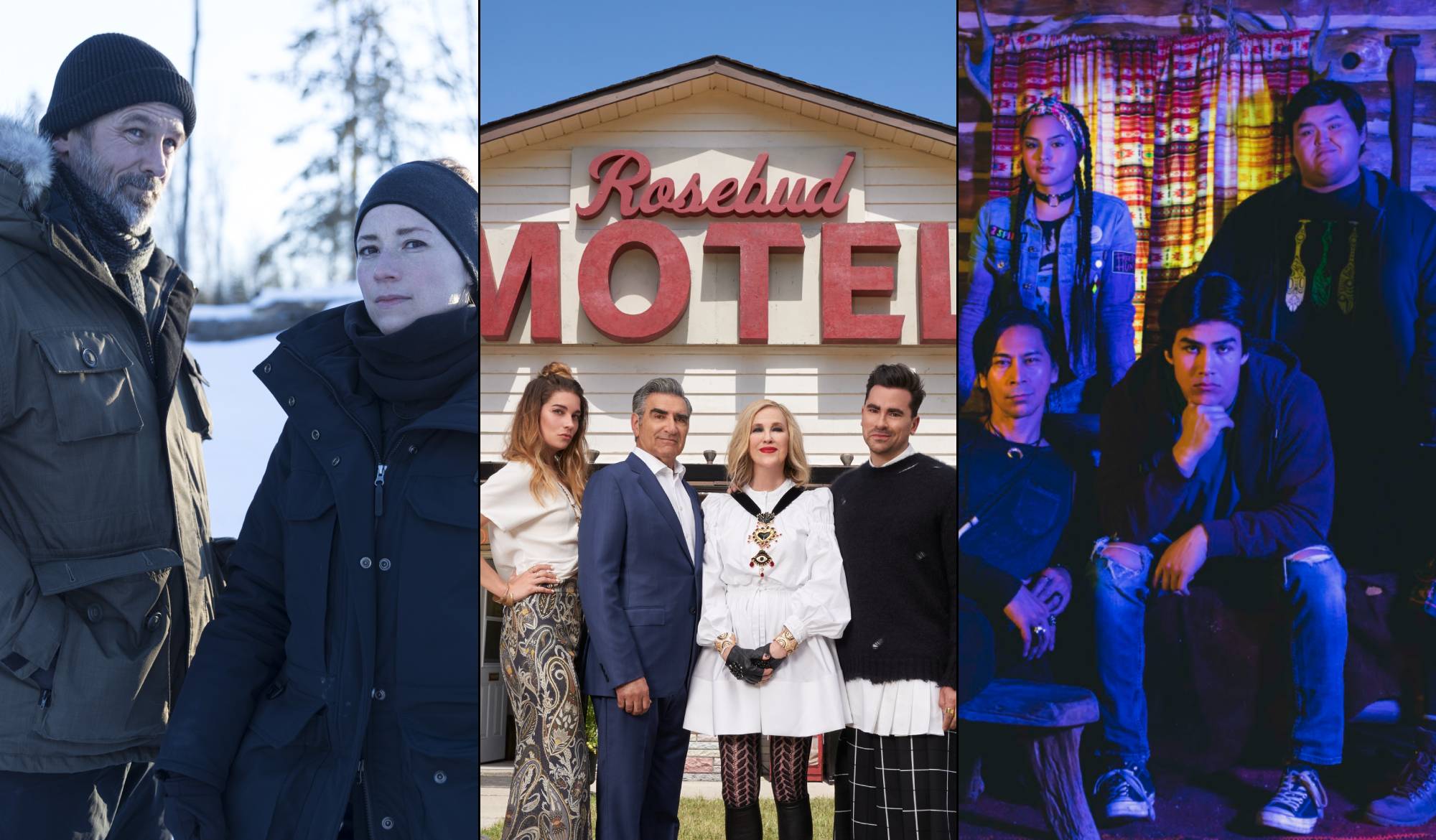 Schitt's Creek and Cardinal are up for Best Comedy Series and Best Drama Series, respectively, while Trickster earned seven performance nods.
The final season of Schitt's Creek has led nominations for the Canadian Screen Awards for the second year in a row, followed by the dramas Cardinal and Trickster.
Emmy and Golden Globe winner Schitt's Creek (Not a Real Company Productions) earned 21 nominations total for the year – coming under its record-breaking haul in 2020 – including Best Comedy Series where it will compete against Baroness Von Sketch Show (Frantic Films), Kim's Convenience (Thunderbird Entertainment), Letterkenny (New Metric Media) and Workin' Moms (Wolf + Rabbit Entertainment).
CTV's Cardinal (Sienna Films, eOne) and CBC's Trickster (Sienna Films) tied for the second-most nominations coming in at 15, with Cardinal up for Best Drama Series alongside Burden of Truth (ICF Films, Eagle Vision, eOne), Departure (Shaftesbury), Transplant (Sphere Media) and Vikings (Take 5 Productions).
Trickster was not nominated in the Best Drama Series category, but it received seven nominations for its performers along with additional nods in the craft categories.
One thing the top-nominated series do have in common is all of them ended in 2020 – Schitt's Creek and Cardinal ended their multi-season runs and Trickster was cancelled by CBC ahead of planned season two after the Indigenous identity of showrunner Michelle Latimer was called into question.
On the unscripted side, the most-nominated reality or competition series is Canada's Drag Race (Blue Ant Studios) with seven total, including Best Reality/Competition Program or Series. The most-nominated lifestyle program is Property Brothers: Forever Home (Scott Brothers Entertainment) with three, including Best Lifestyle Program or Series.
Among the other highly lauded Canadian scripted shows, Kim's Convenience tied with Workin' Moms for the third-highest nominations with 11, with both earning nods for writing, directing and performances. Other multi-nominated comedies include Baroness von Sketch Show and Letterkenny with six, Jann with four and New Eden with two.
Multi-nominated scripted dramas include Coroner (Cineflix Studios, Back Alley Films, Muse Entertainment) with eight; Transplant and Frankie Drake Mysteries (Shaftesbury) with six; Departure, Vikings and Wynonna Earp (SEVEN24 Films) with five; Murdoch Mysteries (Shaftesbury) with four and Burden of Truth and Diggstown (Freddie Films, Circle Blue Entertainment) with three.
Among the notable nominations is a posthumous performance nomination for Christopher Plummer for his role in Departure. Schitt's Creek actors Emily Hampshire, Dan Levy, Eugene Levy and Catherine O'Hara have also officially received a performance nod for all six seasons of the series. This is also the first year Baroness von Sketch Show will be nominated in the Best Comedy Series category. The category for sketch comedy was collapsed in 2021 due to the fact that less than six titles were submit for potential nomination.
Elsewhere, CBC claimed three out of five nominations in the best children's or youth fiction category for Detention Adventure (LoCo Motion Pictures), Endlings (Sinking Ship) and Utopia Falls (Sonar Canada). Also in contention is Family Channel's Holly Hobbie (Aircraft Pictures) and TVOKids' Odd Squad Mobile Unit (Sinking Ship).
On the non-fiction side of the children's and youth section, TVO picked up three of six nominations for All-Round Champion (marblemedia), Backyard Beats (BGM) and My Stay-at-Home Diary (Lopii Productions). CTV's Your Kids, Their Question: A Your Morning Coronavirus Special (Bell Media Studios) and APTN's Every Child Matters (Insight Productions) also claimed nominations.
There will be fierce competition once more in the best pre-school series category, with TVO's Abby Hatcher (Spin Master), Dino Dana (Sinking Ship) and PAW Patrol (Spin Master), CBC's True and the Rainbow Kingdom (Guru Studio) and Treehouse TV's Esme & Roy (Nelvana) competing for the award.
In the best animated series category, which straddles both kids and adult-focused content, the streaming players are making their presence felt. Netflix's The Magic School Bus Rides Again: The Frizz Connection (9 Story Media Group) and AppleTV+'s Snoopy In Space were nominated alongside CTV Comedy's Corner Gas Animated (Verite Films, Sparrow Media, Aslan Entertainment), Teletoon's Hotel Transylvania: The Series (Nelvana) and TVOKids' Wild Kratts (9 Story Media Group).
In the digital media categories, The Amazing Gayl Pile: Last Resort and Bit Playas (both produced by LaRue Entertainment), Decoys (Counterfeit Pictures), Hey Lady! (TJ Content) and NarcoLeap (KGP Films) will vie for the best web program or series, fiction prize.
The nominees in the best non-fiction digital series category are Canada's a Drag (CBC), Dark Cloud: The High Cost of Cyberbullying (Spotlight Productions), Love Letters from Everest (Storyline Entertainment), My Trans Journey (Yap Films) and Pride: The LGBTQ+ History Series (We Demand Productions).
Bit Playas also received a pair of nominations in the best direction section, with Allison Johnston and Samir Rehem receiving nominations for the episodes "Comic Con" and "Final Thought," respectively. Also in contention are Ant Horasanli for his work on episode eight of The Runner (N5 Pictures), Celeste Koon for Love Letters from Everest and Adriana Maggs, Sarah Polley and Will Bowes, who co-directed episode three of Hey Lady!
The Canadian Screen Award winners will be announced virtually in seven genre-based presentations across four nights, beginning on May 17 and ending on May 20.
A number of the television nominees are listed below. For the full list of nominees visit the Canadian Academy website.
Best Drama Series
Burden of Truth
Cardinal: Until The Night
Departure
Transplant
Vikings
Best Comedy Series
Baroness von Sketch Show
Kim's Convenience
Letterkenny
Schitt's Creek
Workin' Moms
Best Reality/Competition Program or Series
Battle of the Blades
Canada's Drag Race
Dragons' Den
The Great Canadian Baking Show
Wall of Chefs
Best Lifestyle Program or Series
Carnival Eats
Mary's Kitchen Crush
Property Brothers: Forever Home
Restaurants on the Edge
Scott's Vacation House Rules
Best TV Movie
Christmas Jars
Glass Houses
No Good Deed
The Sanctuary
Best Documentary Program
Company Town
Finding Sally
Hockey Mom
The Internet of Everything
They Call Me Dr. Miami
Best Factual Series
Age of Samurai: Battle for Japan
The Detectives
Good People
Wild Archaeology
You Can't Ask That
Best Direction, Drama Series
Coroner – "Fire Pt. 2″
Adrienne Mitchell
Coroner – "One Drum"
Charles Officer
Diggstown – "Cheryl Battiste"
Cory Bowles
Frankie Drake Mysteries – "Counterpunch"
Mina Shum
Transplant – "Pilot"
Holly Dale
Best Direction, Comedy
Kim's Convenience – "Beacon Of Truth"
Siobhan Devine
New Eden – "Go With Gaion"
Aleysa Young
Schitt's Creek – "Happy Ending"
Andrew Cividino, Daniel Levy
Schitt's Creek – "Sunrise, Sunset"
Jordan Canning
Workin' Moms – "Charade"
Catherine Reitman
Best Writing, Drama Series
Cardinal: Until The Night – "Barry"
Penny E. Gummerson
Cardinal: Until The Night – "Adele"
Sarah Dodd
Transplant – "Pilot"
Joseph Kay
Trickster – "Episode 105″
Penny E. Gummerson
Wynonna Earp – "Friends in Low Places"
Emily Andras
Best Writing, Comedy
Jann – "The Tunies"
Jennica Harper
Jann – "What Did Jann Do"
Leah Gauthier, Jennica Harper
Kim's Convenience – "Knife Strife"
Kurt Smeaton
Kim's Convenience – "Which Witch is Which"
Anita Kapila
Schitt's Creek – "Happy Ending"
Daniel Levy
Best Lead Actor, Drama Series
Burden of Truth
Peter Mooney
Cardinal: Until The Night
Billy Campbell
Coroner
Roger Cross
Transplant
Hamza Haq
Trickster
Joel Oulette
Best Lead Actress, Drama Series
Burden of Truth
Kristin Kreuk
Cardinal: Until The Night
Karine Vanasse
Diggstown
Vinessa Antoine
Trickster
Crystle Lightning
Wynonna Earp
Melanie Scrofano
Best Supporting Actor, Drama
Departure
Evan Buliung
Departure
Christopher Plummer
Murdoch Mysteries
Jonny Harris
Trickster
Joel Thomas Hynes
Trickster
Kalani Queypo
Best Supporting Actress, Drama
Coroner
Tamara Podemski
Frankie Drake Mysteries
Sharron Matthews
Trickster
Anna Lambe
Trickster
Georgina Lightning
Trickster
Gail Maurice
Best Lead Actor, Comedy
Kim's Convenience
Paul Sun-Hyung Lee
Letterkenny
Jared Keeso
Schitt's Creek
Daniel Levy
Schitt's Creek
Eugene Levy
Best Lead Actress, Comedy
Kim's Convenience
Jean Yoon
Schitt's Creek
Annie Murphy
Schitt's Creek
Catherine O'Hara
Workin' Moms
Dani Kind
Workin' Moms
Catherine Reitman
Best Supporting Actor, Comedy
Kim's Convenience
Andrew Phung
Schitt's Creek
Chris Elliott
Schitt's Creek
Noah Reid
Workin' Moms
Ryan Belleville
Workin' Moms
Peter Keleghan
Best Supporting Actress, Comedy
Schitt's Creek
Emily Hampshire
Schitt's Creek
Jennifer Robertson
Schitt's Creek
Karen Robinson
Workin' Moms
Sarah McVie
Workin' Moms
Juno Rinaldi