Deals: Dangerous, Black Fawn Distribution, 9 Story Media Group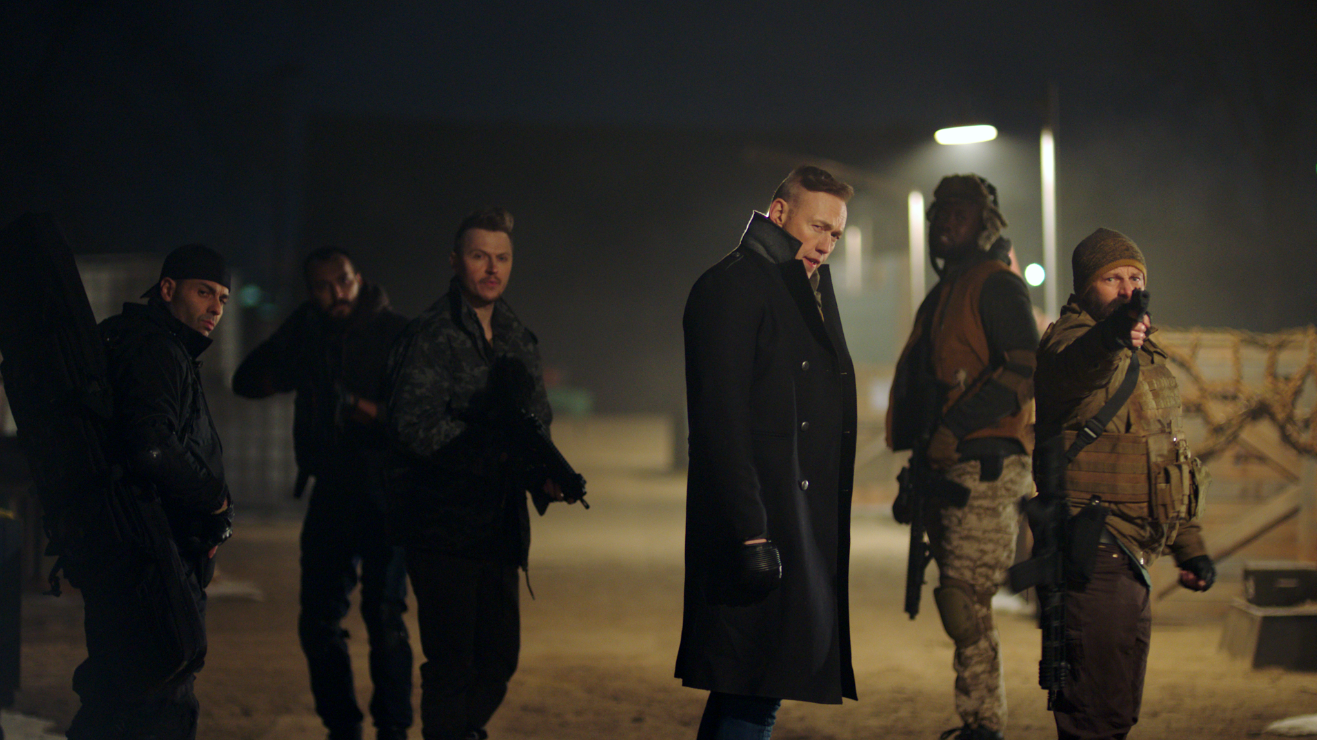 Dangerous starring Scott Eastwood secures deals for new territories, Black Fawn Distribution acquires the Canadian rights to Hall, plus more.
Dangerous
International sales and distribution company International Film Trust (IFT) has sold Scott Eastwood action thriller Dangerous (pictured) in a number of territories.
The B.C.-shot film penned by David Hackl (SAW V) and Christopher Borrelli (Witches in the Woods), which also sees Hackl direct, follows a reformed sociopath (played by Eastwood) who heads to a remote island after the death of his brother. While there, the island falls under siege from a deadly gang of mercenaries. The project is currently in post-production in Saskatchewan.
Produced by Kevin DeWalt and Ben DeWalt from Regina's Minds Eye Entertainment and Doug Falconer from Ottawa and L.A.-based Falconer Pictures, executive producers include Michael Benaroya for his Beverly Hills, CA-based Benaroya Pictures banner and Minds Eye Entertainment's Danielle Masters.
IFT has sold the film to Lionsgate in the U.S. and U.K., while Minds Eye Entertainment – which represents the film's Canadian rights – has also sold the title to Lionsgate for Canada.
Additional territories sold by IFT include Dutch Filmworks for Benelux, Defiant Screen for Australia, Leone for Italy, Joy N Cinema for South Korea, Tanweer for Greece and California for Latin America.
The U.S. and U.K. deals for Dangerous were brokered by Lauren Bixby of Lionsgate as well as Michael Benaroya and Christian De Gallegos on behalf of the filmmakers. The agreement for the Canadian rights was negotiated by Kevin DeWalt for Minds Eye Entertainment. Notably, Lionsgate will release the film as a multi-platform title.
IFT previously sold the film to Koch for Germany, You Planet for Spain, Eagle for the Middle East, Top Film for the CIS, Programme 4 Media for Eastern Europe and Pris for Portugal.
Black Fawn Distribution
Black Fawn Distribution has picked up the Canadian rights to zombie thriller Hall.
Acquired heading out of the European Film Market, director Francesco Gianni's feature film debut stars Carolina Bartczak (X-Men: Apocalypse) as a young mother separated from her daughter (Bailey Thain). Navigating a hotel hallway ravaged by a mysterious virus, the mother crosses paths with a pregnant tourist (Yumiko Shaku), following the two as they try to keep out of sight and escape.
Written by Derrick Adams and Adam Kolodny, with story credit to Giannini, Hall is the first feature film to be completed under Giannini's Montreal-based production banner Franky Films. The Montreal-shot film was produced by Daniel Roy, Tamara Dupuis and Giannini. Notably, last year's Blood in the Snow Film Festival saw Giannini win Best Director for Hall.
Via Black Fawn Distribution, the film is slated for all major Canadian VOD platforms on April 6 – with a physical release expected to follow later this year.
The film was shot at the start of 2019, with post-production completed prior to the film's world premiere in the fall of 2020. Alongside Bartczak, Thain and Shaku, Hall also stars Mark Gibson and Julian Richings.
9 Story Media Group
9 Story Media Group and Karma's World Entertainment have secured a publishing deal with Scholastic for CG-animated series Karma's World.
Created by American rapper, actor, producer, entrepreneur and philanthropist Chris Bridges, also known as Ludacris, and currently in production for Netflix, the deal was brokered by 9 Story Brands, 9 Story's brand management and consumer products division.
Under the agreement, Scholastic has acquired global rights to the property across all storybook formats.
The program will include original chapter books for kids between the ages of seven to nine, a picture book and a guided journal, according to a press release. Scholastic will launch Karma's World SKUs in North America, the U.K. and Australia, with additional markets to follow.
The first book, The Great Shine-A-Thon Showcase!, is expected launch in January 2022. Notably, the first two original chapter books will serve as companion stories to the Netflix series.
The Scholastic program's picture book will be co-authored by Bridges and Karma's World head writer Halcyon Person, following Karma as she writes her first song for her dad on his birthday. The show's guided journal is expected to be published in summer 2022.
Additionally, the books will also be supported across Scholastic channels.
Created by Bridges, Karma's World is aimed at children between the ages of six and nine years old and was originally inspired by Bridges' oldest daughter. It follows 10-year-old aspiring musician and rapper Karma Grant, who has a tremendous amount of talent and an even bigger heart.
Portfolio Entertainment
Toronto-headquartered Portfolio Entertainment has secured a handful of new broadcast deals for its The Cat In The Hat Knows A Lot About That! 2D-animated series.
Sky Kids in the U.K. has picked up seasons two and three (80 x 11 minutes), and will also add the brand's "Builda-ma-loo," "Invention Engine," "Camp Time" and "Arcade Escape" educational games to its Sky Kids app.
French-language broadcaster Unis TV has picked up seasons one and two to air in Canada. And KiKA (Germany) and NRK (Norway) have both acquired the one-hour holiday movie The Cat in the Hat Knows A Lot About Christmas.
Portfolio produces the series with Collingwood O'Hare Productions, in association with Dr. Seuss Enterprises, Random House Children's Entertainment, Treehouse and PBS KIDS. It's based on The Cat in the Hat's Learning Library book series (published by Random House), and sees the titular character and his two best friends go on adventures to learn new things.
With files from Kidscreen 
Image of Dangerous courtesy of Minds Eye Entertainment