OUTtv greenlights Dating Unlocked, more Slo Pitch
The network's raft of commissions and renewals also include a docuseries on The Villbergs and an Australian comedy.
LGBTQ+ network OUTtv has greenlit a new reality series and renewed comedy Slo Pitch for another game.
From Toronto-based Border2Border Entertainment, Dating Unlocked (10 x 20 minutes) sees daters compete in an elimination-style competition to unlock the chance of a second date. Border2Border president and producer Charlie David serves as producer.
Previous projects between OUTtv and the prodco include projects such as scripted anthology series Shadowlands and docuseries Drag Heals. OUTtv also previously picked up short-form Avocado Toast the series in 2019, which was produced through its subsidiary Guts and Gall Productions.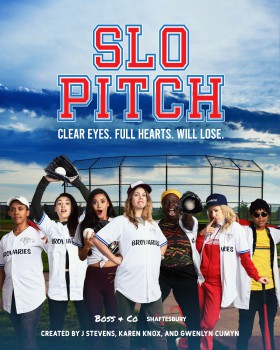 Meanwhile, mockumentary-style Slo Pitch will return for a second season consisting of 10 episodes by 10-minutes.
Season one ran for 10 x eight-minute episodes and was produced by Shaftesbury and Boss + Co. The series created by Gwenlyn Cumyn, Karen Knox and J Stevens follows Toronto's worst slo pitch team, the Brovaries.
Season two will see the rag-tag LGBTQ team give it their all to get their coach Joanne to the championship – as their coach's impending nuptials are scheduled to take place at the end of the season. Season one of Slo Pitch debuted on OUTtvGo and made its linear debut on OUTtv.
OUTtv has also commissioned docuseries The Villberg Chronicles (6 x 30 minutes) from Swedish company Duo RAW AB, which follows Swedish avant-garde drag duo The Villbergs around the country.
As well, the network has renewed Australian prodco Humdrum Comedy's comedy Metro Sexual (6 x 30 minutes) for a second season.
OUTtv previously acquired season one of the sitcom (8 x 10 minutes) following sexual health doctors Langdon and Steph to broadcast and stream across Canada. Season two sees the duo encounter an outbreak of sexually transmitted infections, doing whatever they can to get the crisis under control, while also juggling friendships, relationships with colleagues as well as their love lives.
Image of Slo Pitch season one courtesy of Shaftesbury