Second Jen ends after three seasons
The comedy co-created by Amanda Joy and Samantha Wan saw its third instalment debut on OMNI Television this February.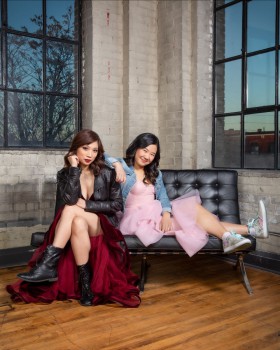 Coming-of-age comedy Second Jen has come to an end after three seasons.
This news follows a raft of other veteran Canadian series that have also recently concluded or not been renewed, such as Burden of Truth (CBC), Kim's Convenience (CBC) and Frankie Drake Mysteries (CBC).
"It is bittersweet for us to announce that this has been the last season of Second Jen," said a post shared on the show's Instagram account from 'the SJ team,' which also went on to thank supporters.
"When we first started pitching our show, they told us no one was interested in watching 'those kinds of people,'" the post added. "They were wrong."
"Our series is proof you can have BIPOC leadership, a diverse women-led writing room, a multicultural cast AND crew, and make freakin' great TV!"
Produced by Toronto-based Don Ferguson Productions in association with Rogers Sports & Media, the show co-created and executive produced by stars Amanda Joy and Samantha Wan centred on two second-generation 20-something best friends who banded together to tackle life's various ups and downs in Toronto.
The comedy's third instalment recently debuted on OMNI Television this February – spanning six episodes.
Joy served as writer/story editor, writing three out of the six episodes, while Wan wrote and directed three episodes. Season two showrunner Carly Heffernan returned as showrunner, head writer and directed the three remaining episodes.
Alongside Joy and Wan, season three saw Nile Séguin, Janet Lo, Timothy Lai, Tina Jung, Isabel Kanaan and Andrew Bushell star.
"We couldn't have done it without our fantastic team, and the people that came out to watch and cheer us on. You are the reason we were able to make this. We are deeply grateful," said the show's post.
"We leave Jen and Mo in a place that feels good; where they've grown, and learned, and come into their own. We are so happy to have shared their journey with all of you. In many ways, their story has echoed our own."
Notably, Second Jen was nominated for Best Comedy Series at the Canadian Screen Awards in 2019, representing the first OMNI series to earn a nod in the category.
"It's been a wonderful opportunity to work closely with the Second Jen team and accompany them on their journey to success, helping to nurture and shape their incredible creative talents," Rogers Sports & Media director of original programming Nataline Rodrigues told Playback Daily in a statement.
"We're proud that through Second Jen, we contributed to the conversations around female empowerment, diversity and inclusion, as well as equity in the workplace. With this chapter closing, we look forward to seeing what this team will bring us next, while also making room for more diverse voices and creative talent."
Don Ferguson Productions' Don Ferguson also said his team was proud of what the show accomplished.
"A CSA nomination for Best Comedy Series, two WGC nominations for scripts, tons of positive press, and always the satisfaction of being a groundbreaking show, specifically a diverse cast and crew, and an all-female creative team. Together, with creators Amanda Joy, Samantha Wan and showrunner Carly Heffernan, we opened doors and stepped through them."
Image: Amanda Joy and Samantha Wan