Super Channel, Canadian Film Fest unveil virtual fest lineup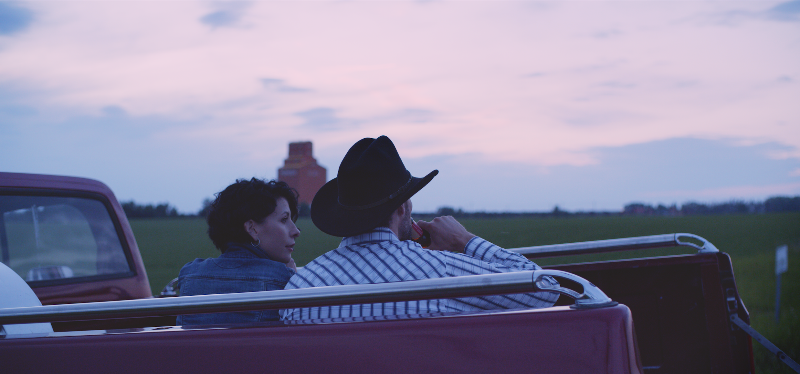 The second annual Canadian Film Fest presented by Super Channel will see the Toronto premiere of Sugar Daddy kick off the fest, while the Canadian debut of Range Roads closes it out.
Super Channel and the Canadian Film Fest (CFF) have teamed up again – unveiling the festival's lineup.
The second annual Canadian Film Fest presented by Super Channel will begin on April 1, running for three consecutive weekends and showcasing nine feature films, which will debut on Super Channel Fuse on Thursdays, Fridays and Saturdays at 9 p.m. It marks the festival's 15th anniversary.
Kicking off the festivities is the Toronto premiere of director Wendy Morgan's Sugar Daddy starring Kelly McCormack and Colm Feore, while the Canadian premiere of director Kyle Thomas' Alberta-shot Range Roads (pictured) featuring Alana Hawley-Purvis and Joe Perry closes out the fest on April 17. 

Notably, the only other Canadian premiere part of the feature film lineup is director Vanya Rose's drama Woman in Car (April 3), which stars Murdoch Mysteries' Hélène Joy as a woman who struggles to keep her secrets hidden.
Other Toronto premieres include: director Andrew Chung's drama White Elephant (April 2); Titus Heckel's crime-thriller Chained (April 8); Virginia Abramovich's sci-fi-drama Between Waves (April 9); Thomas Rinfret's documentary The Last Villains, Mad Dog & the Butcher (April 10); Jeremy Torrie's drama The Corruption of Divine Providence (April 15); and Ted Stenson's comedy Events Transpiring Before, During and After a Highschool Basketball Game (April 16).
On the short film side, director Barbara Mamabolo's The Kall will make its world premiere alongside Ali Mashayekhi's The First Goodbye; Isa Benn-Moja's Sister Sekhmet; Josh Fagen's The World to Come; Kevin Hartford's Breakout; and Gillian McKercher's With Feeling. McKercher serves as an executive producer on Events Transpiring Before, During and After a Highschool Basketball Game, which her Calgary-based banner Kino Sum Productions produced.
Canadian premieres as part of the shorts section include Hamza Bangash's 1978 and Rodrigo Michelangeli's documentary Of Memory and Debris. Bangash's 1978 follows a rockstar from Pakistan's Christian community who is offered the chance to reinvent himself, while Of Memory and Debris looks at the director's grandparents who remained in Venezuela, despite others fleeing from the political and economic crisis.
"Super Channel has been an incredible partner and a welcoming virtual home for CFF, and we are pleased to partner again as we present our second virtual Festival to a Canada-wide audience. We've always been proud to present a wide range of fresh voices in our films each year as we showcase the inspiring talent, filmmakers, and storytellers we have in this country and feel this year is no exception as we celebrate the 15th anniversary of the Festival this year," said Canadian Film Fest executive director Bern Euler in a statement about the news.
This year's lineup will showcase a variety of films from both female and BIPOC directors, with the former making up 44% and the latter consisting of 41%.
All feature film presentations being preceded by a brief introduction and short film, with 30 short films will be interspersed into the schedule.
As well, the festival's virtual experience will also offer pre-recorded and live Q&As with filmmakers, access to industry programs such as panel discussions and masterclasses, and a virtual awards presentation.