Citytv engages with Bachelor in Paradise Canada
The adaptation will see previous contestants from the franchise return as well as Canadian fans cast.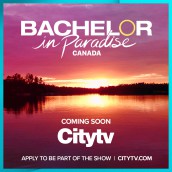 Citytv has awarded Good Human Productions a new rose.
Announced earlier this week on the Rogers Sports & Media channel during The Bachelor and on social media, Citytv has commissioned Bachelor in Paradise Canada.
Produced by the Toronto-based prodco in association with Citytv, set in a romantic Canadian paradise, the adaptation will see breakout fan favourites and contestants from The Bachelor franchise return. Notably, Canadian fans will have the chance to join these alumni, according to a casting announcement.
"Now, they will have the once in a lifetime chance to take advantage of all that Paradise has to offer, bringing the Bachelor family and nation together for an epic summer of romance, drama and new beginnings," the announcement added.
Of note, the application for the show asks potential participants if they are available for up to five weeks this May and June.
Previously, Good Human Productions produced season two of The Bachelor Canada (Citytv) and season three of the show, which was commissioned by W Network. The first season of the show was greenlit by Citytv in 2012 and produced by Force Four Entertainment.
Good Human Productions also produced The Bachelorette Canada (W Network) and The Bachelorette Canada Aftershow (W Network) hosted by Jennifer Valentyne. Both The Bachelorette Canada and its aftershow ran for one season.
Good Human Productions' Claire Freeland serves as executive producer on the inaugural season of Bachelor in Paradise Canada.
"Bachelor in Paradise is a fan favourite on Citytv that deeply connects with audiences across all platforms, and we're excited to work with a seasoned production team to introduce a Canadian version of this hugely successful franchise to Bachelor Nation," said Nataline Rodrigues, director of original programming at Rogers Sports & Media in a statement to Playback Daily.