Inside Out names Lauren Howes as executive director
Howes, who most recently served as executive director of the Canadian Filmmakers Distribution Centre, assumes the role on March 1.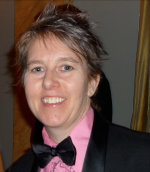 Inside Out has appointed Lauren Howes as its new executive director.
Effective March 1, Howes will lead Inside Out's current strategic plan, working to expand cross-festival and sector partnerships; launching new initiatives to support LGBTQ filmmakers through the pandemic and aftereffects; expanding skills training and networking for filmmakers at all levels through online and remote learning; growing the LGBTQ Finance Forum; and increasing content by women, BIPOC as well as trans and non-binary filmmakers.
Howes, who identifies as non-binary, brings more than 20 years of experience to the single largest promoter and distributor of LGBTQ content in Canada, joining the organization in the midst of preparation for its 31st Inside Out LGBT Film Festival – which is set to take place digitally from May 27 to June 6.
They step into the shoes of long-time leader Andria Wilson who has led the organization since 2016. Previously, Wilson announced she would depart following the organization's 30th anniversary edition.
In a statement about the news, Howes said they are excited to bring their passion for supporting diverse communities of audiences and artists to the new position and acknowledged Wilson's past work.
"There are so many successes of my predecessor to build upon with an eye to expanding industry engagement, educational development, and community outreach," Howes said.
"What a joy it will be to support queer voices in bringing their creative talents to screen, and leverage the Inside Out brand in creative new ways for these ever changing, ever challenging times we are bearing witness to. I am so looking forward to working with the stellar team and Board of Directors as we continue to grow the festival, and especially when we're able to gather again in cinemas and celebrate in-person."
The recruitment process for the role was led by Leaders International, which worked with the board's search committee.
"We are thrilled to have Lauren Howes join Inside Out as the newly appointed executive director," Thomas Park, chair of the Inside Out board of directors said.
"Lauren comes to us with extensive non-profit experience and leading organizations with their strategic planning, digital technology, financial and people management skills. In volunteer leadership capacities, they have demonstrated a commitment to diversity and inclusion and growing Ontario's arts and culture sector."
Most recently, Howes served as executive director at the Canadian Filmmakers Distribution Centre – a not-for-profit, non-commercial media arts distributor that specializes in artist made film and TV work, including projects from historically underrepresented communities.
Howes held the position for 14 years and is credited with "substantially increased organizational capacity through fiscal growth, public programming and educational market development," according to a press release.
Additionally, Howes has also previously sat on boards for the Toronto Arts Council, the Media Arts Network of Ontario, Independent Media Arts Alliance, the Toronto Media Arts Centre and streaming platform vucavu.com.