In brief: Option news from Apartment 11, Mad Samurai
Plus, The Bell Fund's Slate Development recipients and copro Night of the Kings makes the International Feature Film short list.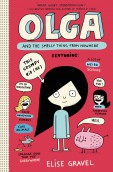 Apartment 11 Productions options Olga
Montreal-based Apartment 11 Productions has optioned children's book series Olga (pictured) for an upcoming animated series.
Based on Montreal author Elise Gravel's graphic novels, the 26-episode by 11-minute series follows a slightly grumpy girl scientist who loves animals.
Of note, the project is supported by the CMF-SODEC Predevelopment Program for Television Series Based on Literary Adaptations. It also follows Apartment 11′s first animated series, CGI-animated Interstellar Ella (52 x 11 minutes), which is currently in production.
Currently in pre-development, writers Anne-Marie Perrotta and Louis-Martin Pepperall are involved in Olga, while Apartment 11 Productions president and executive producer Jonathan Finkelstein serves as executive producer.
Mad Samurai Productions takes on The Rule of Three
Vancouver's Mad Samurai Productions, meanwhile, has partnered with Transplant writer Lynne Kamm to acquire the exclusive TV rights to Canadian novelist Eric Walters' The Rule of Three.
Set in contemporary times, the young adult book series sees a teen pilot band together with their dysfunctional family and friends to protect their small suburban community after a catastrophic event permanently shuts down all computers and communication in the world – leading to chaos.
Developing the project alongside Mad Samurai Productions' Matthew Cervi, who serves as executive producer, Kamm is attached as executive producer and showrunner on the project. The writer will pen the pilot with novelist Walters serving as a consultant.
Bell Fund supports a raft of companies via the Slate Development Program
The Bell Fund has also announced its selections for its Slate Development Program, committing almost $1.8 million towards the development of 59 projects from 33 independent production companies.
Dedicated to helping companies build and diversify their development slate through financial support for the planning and development of original IP, the English-language companies selected for the program include: Big Time Decent Productions; Blue Ant Studios; Boat Rocker Media; Buffalo Gal Pictures; Conquering Lion Pictures; Fathom Film Group, Forte Entertainment; Hungry Eyes Media; Karma Films; Cineflix Media; LaRue Productions; marblemedia; OYA Media Group; Rainy Storm Productions; Rezolution Pictures; Bad Fem Productions; CanazWest Pictures; Catapult Pictures; Little Engine Moving Pictures; Longhope Media; Passthrough Productions; Real Good Bet Productions; Scenario Productions; Soapbox Productions; and Turtlebox Productions.
Meanwhile, its eight French-language recipients include: Productions l'Entrepôt, ComediHa!, Groupe PVP, Picbois Productions, Productions KOTV, Tobo, Ugo Média and Urbania.
Of note, to date, the Bell Fund has supported 115 Canadian independent production companies by providing over $6 million for the development of Canadian content, according to a press release.
Night of the Kings earns spot on Oscars International feature short list
Ivory Coast/France/Canada/Senegal copro Night of the Kings is among the films on the Academy Awards International Feature Film short list.
Unveiled this Tuesday (Feb. 9), the film from Philippe Lacôte is the Côte d'Ivoire's submission.
Produced by Quebec's Périphéria, Banshee Films, Wassakara Productions and Yennenga Productions, the film follows a young man in his first night in the infamous Ivorian prison La Maca where he is deemed the "Storyteller" and forced to entertain his audience until the morning. In September, Neon picked up the U.S. rights to the film. Axia Films is attached to distribute the film in Canada.
Films from 93 countries were eligible for the category. Of note, 14 Days 12 Nights from director Jean-Philippe Duval, writer Marie Vien and producer Antonello Cozzolino which was selected to represent Canada this December did not make the list.
Others on the short list include Quo Vadis, Aida? (Bosnia and Herzegovina), The Mole Agent (Chile), Charlatan (Czech Republic), Another Round (Denmark), Two of Us (France) and more.
Industry vet Michelle van Beusekom joins Uvagut TV
Former Documentary Organization of Canada executive director Michelle van Beusekom has joined newly launched Uvagut TV, Canada's first Inuktut television channel, as a senior advisor.
Created by the Nunavut Independent Television Network (NITV) and IsumaTV, it features Inuit-language and Inuit-produced programming. Uvagut TV started broadcasting to over 610,000 Canadians this January.
"Since November, Michelle has been contributing her knowledge and experience to support myself, the board and our staff as we take this exciting leap into 24/7 broadcasting," said NITV chair and executive director Lucy Tulugarjuk in a statement. "We very much appreciate her expertise and hard work, as well as her collaborative and committed personal style. Uvagut TV is a dream come true for NITV, as we expand our use of media to help keep Inuit culture and language alive for our children and grandchildren. Working with Michelle will help us to ensure Uvagut TV will be around for generations to come."
The industry veteran – who has also held programming roles at the CBC and the Women's Television Network (now known as W Network) as well as served as executive director of the NFB's five English language production studios – will work with NITV and the broader Isuma group of companies in her new position.