Ian Scott set for BANFF 2021
The CRTC chairperson and CEO will deliver the first keynote on the virtual festival's opening day.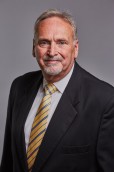 CRTC chairperson and CEO Ian Scott is set to deliver the first keynote session on opening day of the 2021 Banff World Media Festival (BANFF).
Now in its 42nd year, the international conference and marketplace will run virtually from June 14 to July 16.
Scott's keynote kicks off the festival's new Marketplace Week (June 14 to 18), an initiative which allows participants to meet, screen, pitch and socialize virtually in real time as well as access BANFF's signature Summit Series keynotes, high-level industry panels and curated events with top networks, streamers and major media companies.
"I am pleased to help kick off the world-renowned BANFF festival," said Scott. "In these unprecedented times, we've come to appreciate even more the importance of Canada's high-quality broadcasting and production industries. While we must all adapt to significant changes, including proposed legislative changes that aim to make the broadcasting system more inclusive, this is nevertheless an exciting time for all those involved in the field.
"I'm certain the festival as a whole will reflect this enthusiasm and I look forward to contributing to this ongoing dialogue," added Scott. The session signals the first time he will speak on the BANFF stage.
"Chairperson Scott's keynote session at the Festival comes at a pivotal time of critical examination and foundational change for the Canadian and international media industry," BANFF executive director Jenn Kuzmyk said. "As the place for candid conversations that effect action and point the way forward, we are thrilled to host the head of the CRTC at BANFF 2021."
The address comes as the government has tabled Bill C-10 proposing changes to the Broadcasting Act, aimed at holding booming online streaming sites to the same rules as their legacy counterparts in Canada and giving the CRTC expanded powers to levy fines in case of non-compliance. The long-anticipated legislation is the first extensive amendment in 30 years ago to the act.
As announced this January, this year's BANFF festival will debut a purpose-built online platform that will connect the global media industry and support business development.
BANFF will serve up two different experiences for delegates: The Content Pass, which will provide those registered with access to all of the keynotes, panels and the Rockie Awards; and the Marketplace Pass, which offers access to all networking including Speed Pitching, Speed Networking, Meet an Expert, 30 Minutes With buyer mandates and other exclusive opportunities.
Image of Ian Scott courtesy of Sebastien Lavallee