Virtual production, streaming models among 2021 trends to watch
The Canadian film industry will need to determine its strategy in the streaming wars and adopt new tech to film safely, according to the Canada Media Fund's latest trend report.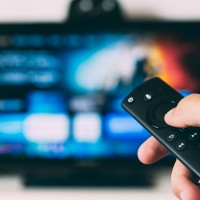 Virtual production technology and evolving streaming strategies are among the accelerated industry developments to watch in 2021, according to the Canada Media Fund's latest trend report.
"There's no denying that 2020 was a year of tremendous upheaval, and that the screen industry must get a grasp of everything that's emerged," said Catherine Mathys, director of industry and market trends at CMF, in a statement. "Under lockdown, audiences have massively turned to digital content for relief. The streaming wars have intensified, and strategies to better position Canadian content in the fray have become more sophisticated."
The report, titled Pause and Rethink, evaluated the way the COVID-19 pandemic affected content and technology trends as the industry raced to find creative solutions to safe production. Among them is virtual production, which allows filmmakers to see visual effects rendered in real time on an LED screen thanks to technology from gaming engines, and was used in the creation of the Disney+ series The Mandalorian.
In the context of a pandemic it means a reduced number of crew members on site – and while the tech is largely used by big-budget productions, 2021 may see a rapid adoption in smaller productions as LED screens become more affordable, according to the report.
Without virtual technology, producers are finding other ways to create content safely with roughly 10% of budgets dedicated to health measures. Intimacy coordinators have become more crucial on set, as any close interaction between actors is now considered a high risk situation. The report also sees an increase in sustainability measures on sets, including battery-powered vehicles.
On the content front, the accelerated rise of streaming popularity has meant marketing strategies are leaner and more targeted, especially in the Netflix model where the first 28 days after release are make or break for renewal decisions. The report says Canada is in need of a strategy to deal with the rise of global direct-to-consumer (DTC) streamers that take full rights to content and diminish distribution opportunities. The streamers themselves will also have to evolve their pricing models as the content demand grows. The short life span of Quibi is evidence that DTC platforms can fail if they don't anticipate consumer needs.
The report also looked at key issues for diversity and inclusion, including ensuring racialized producers and creators have more ownership of their content and looking at how eligibility for funds has created a barrier for those trying to break into the industry.
Pause and Rethink was written by Kelly Lynne Ashton, Laura Beeston, Amber Dowling, Catherine Dulude, Joseph Elfassi, Marina Hannah, Rose Carine Henriquez, Carolyn Hinds, Rime El Jadidi, Maxime Johnson, Annelise Larson, Anita Li, Oumar Salifou and the Green Spark Group (Zena Harris, Andrew Robinson and Jennifer Sandoval).
Image: Unsplash