How Cameron Pictures navigated a 'Pretty Hard' production journey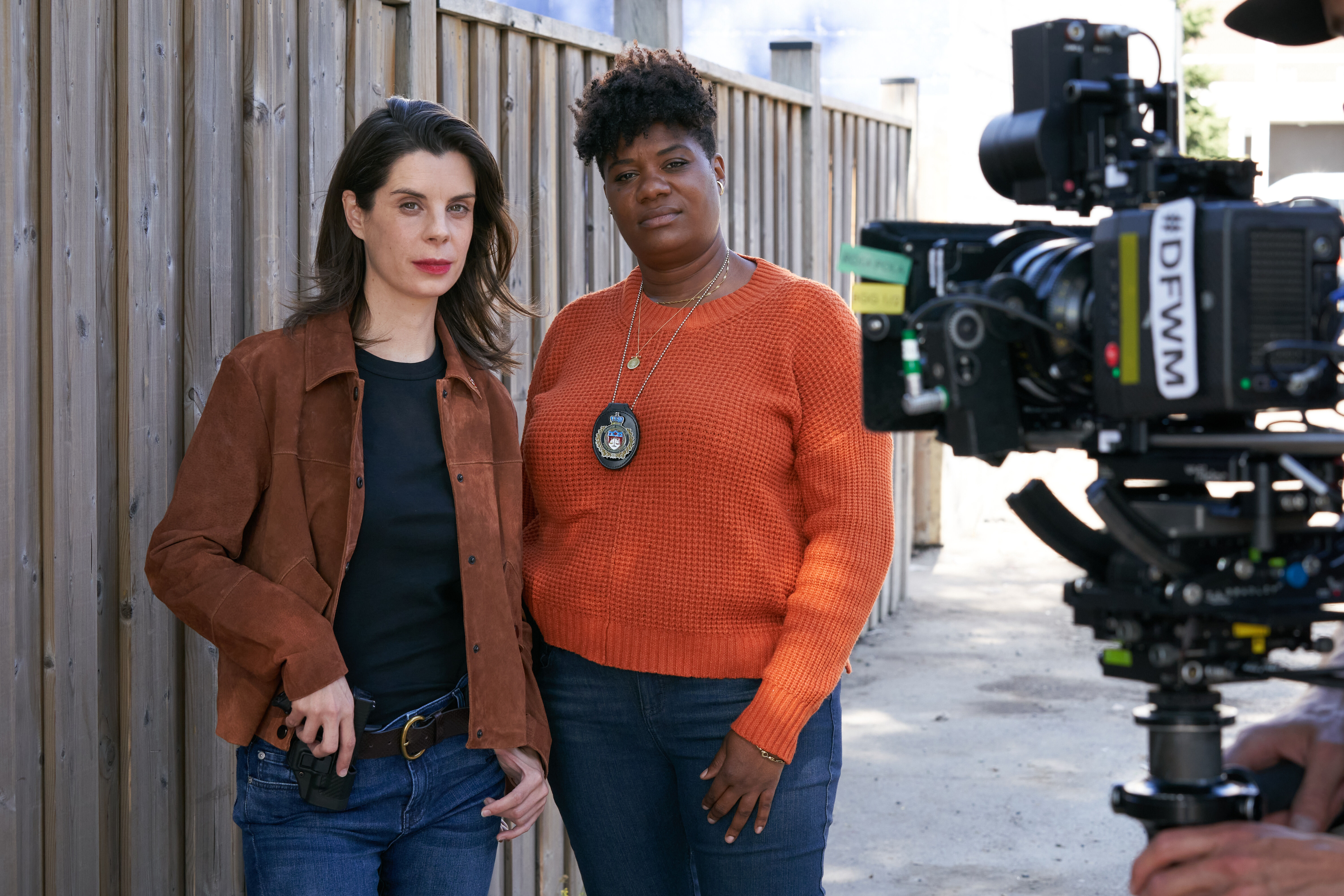 Co-creators and showrunners Tassie Cameron and Sherry White share how the production delay and Black Lives Matter shaped the crime procedural for the better.
For co-creators and showrunners Sherry White and Tassie Cameron, bringing Pretty Hard Cases to the small screen was one of the toughest cases they've ever had to crack.
It started off well. The crime procedural, which premieres tomorrow (Feb. 3) and is produced by Cameron Pictures, was greenlit by CBC after one year in development. The process of writing the pilot episode started in the relaxing atmosphere of a yoga retreat in Italy, even. By February 2020, Meredith MacNeill (Baroness von Sketch Show) and Adrienne C. Moore (Orange Is The New Black) were cast as co-leads, NBCUniversal International Studios was on board as the global distributor, and Cameron and White were in prep to begin production in Toronto in the spring.
What soon followed was a global pandemic that closed sets for months and a civil rights reckoning over systemic racism that created a fundamental shift in how TV scribes could write a police procedural.
"[Making the series] required a flexibility and a kind of rolling with things that I've never had to do in a production before," Cameron tells Playback Daily. "Miraculously, we had quite a good time doing it."
Cameron says her production team learned to be "incredibly cautious with money" as COVID-19 safety measures meant making room for PPE, testing, on-set supervisors and more frequent breaks in the budget. Even on the writing side, they had to keep scripts lean and eliminate any unnecessary scenes destined for the cutting room floor.
Money was set aside for the prospect of multiple shutdowns, and Cameron says the series did shut down for two weeks after a crew member tested positive. They implemented a 9:30 a.m. zoom coffee meeting to replicate water cool talk in the kitchen at the production office as a way to establish a sense of normalcy.
And yet, Cameron and White say there was a bright side to the delays. "We were trying to figure out the tone of the show in terms of how much hard-boiled cop versus comedy there was," says White. "When COVID happened it allowed us a bit of time and space to figure that out."
When the Black Lives Matter protests shone a new light on racial discrimination and police brutality, Cameron and White knew they needed to take a second look at their scripts. "Sherry and I were already thinking quite hard about race when we started," says Cameron. "Having Adrienne in the show, we wanted to make sure that we had a room with very diverse points of view, so it was already on our minds quite significantly. With Black Lives Matter, it did give us an opportunity to interrogate each of the scripts and make sure that we were not shying away from the issues at hand while still managing them within our tone, which is fairly light."
White adds that it also challenged their perception of how to portray women in a police role. "We set out wanting to make an action comedy, and we were like, 'let's see these women be tough.' Then suddenly you realize, 'no, that's police brutality,'" she says.
Their perceptions would be challenged again into production after a single tweet signalled that their title needed changing.
The series went into production as Lady Dicks, which Cameron says started off as a joke when they couldn't come up with a better title, and it ended up sticking. One day they came upon a tweet that asked the question of whether it was appropriate for a series created by cisgendered white women to use a term with potentially transphobic connotations.
They soon began the work of educating themselves, speaking with activists, experts and a trans member of the crew on how the title could be perceived. "What we found is that we were guilty of being old," says Cameron, with the realization that younger generations weren't familiar with the shorthand for 'detective.'
They went back to the drawing board and came up with Pretty Hard Cases, a title Cameron says is far more inclusive and "saves people some uncomfortable internet searches."
With one pandemic-era production under her belt, Cameron says they've learned to be more efficient in their processes and are ready to tackle a second season if Pretty Hard Cases is renewed. Her advice for other producers preparing to make a show during a pandemic? Patience.
"Whether it's writing or props or the camera department, nobody can quite do their job the way that they're accustomed to, and you have to be patient with yourself and with others," she says.
Image courtesy of CBC