Cameron Pictures options Heather O'Neill's The Lonely Hearts Hotel
Tassie Cameron is penning the adaptation, with the Pretty Hard Cases prodco aiming to start pitching it to buyers in the spring.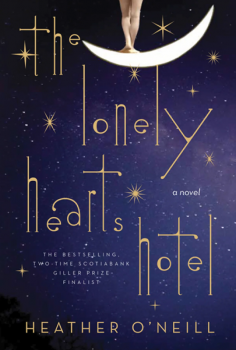 Cameron Pictures, helmed by Amy and Tassie Cameron, has optioned the adaptation rights to internationally acclaimed author Heather O'Neill's 2017 novel The Lonely Hearts Hotel. 
Tassie Cameron is adapting a TV version of the book, which was recently added to the Canada Reads longlist for 2021.
The Lonely Hearts Hotel tells the story of two babies who are abandoned at an orphanage in Montreal in the winter of 1910s. As they grow up, their talents begin to emerge – one as a piano prodigy, the other as a dancer and comedian – and the pair endeavour to start the most extraordinary circus show the world has ever seen.
The Cameron Pictures co-founders reached out to, and inked the option deal directly with O'Neill. Tassie Cameron has written the first episode of the adaptation, with the production company planning to begin pitching the project to buyers in the spring.
Montreal-based O'Neill, whose previous novels include Lullabies for Little Criminals (2006) and The Girl Who Was Saturday Night (2014), will also serve as an executive producer and script consultant. O'Neill  also has a number of screenwriting credits, including the Canadian feature St. Jude (2000), directed by John L'Ecuyer and starring Liane Balaban and Nicholas Campbell.
In addition to working on the adaptation, Cameron Pictures is also gearing up for the release of its buddy-cop series Pretty Hard Cases (CBC) on Feb. 3. Co-created by Tassie Cameron and Sherry White, who also serve as co-showrunners and executive producers, the show stars Meredith MacNeill and Adrienne C. Moore as two very different detectives whose uncanny friendship helps balance out their turbulent personal lives.