Breakout Star of the Year 2020: Hamza Haq
The star of CTV's Transplant has emerged as one of Canadian television's leading lights, garnering international acclaim and shifting the way Muslims have historically been portrayed on screen.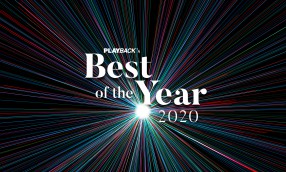 As 2020 draws to a close Playback is announcing its Best of the Year, an annual recognition of the people, companies and projects that set themselves apart from the pack. Due to the unprecedented challenges faced across the sector, this year's selections were especially tough, as the examples of resilience, ingenuity, quick thinking and collaboration on display were too numerous to mention. Check back throughout the week as we name our Best of the Year for 2020.
After being beamed into the homes of millions across the world – in prime time – and shifting the way Muslims have historically been portrayed on screen, Hamza Haq is having a year that most actors can only dream of.
At the top of 2020, Haq was wrapping production on CTV's Transplant (Sphère Média Plus), his first performance in a leading role. Next, in February, he found himself on the red carpet at the 70th Berlin Film Festival as Philippe Falardeau's My Salinger Year, in which he played a smaller role, opened the festival. Shortly after he flew to Los Angeles for three days, took meetings with three talent agencies and landed representation with Anonymous Content. To top things off, Transplant became a ratings hit in Canada, attracting 1.3 million viewers (AMA) in its premiere and garnering plaudits as a reframing of the traditional medical procedural from the perspective of a Syrian refugee.
While the pandemic has stifled some of that momentum, Haq's star has only continued to rise as Transplant has become a hit south of the border, winning its 10 p.m. timeslot when it premiered on NBC on Sept. 1, and received a second-season order from the U.S. network. Along the way, Haq has also made a piece of U.S. TV history: as the first Muslim actor to play a Muslim character in a lead role on American network television.
For Haq, who was born in Saudi Arabia to Pakistani parents before moving to Canada at age nine, the role of Dr. Bashir "Bash" Hamed represents a departure from the roles that were available during his earlier career.
"I'm very grateful to get this opportunity to do something different than what, historically, I've been asked to play as a Muslim man in Canada," he says, adding that his early career was mainly spent playing "a lot of angry, miscellaneous Arabs."
Despite the narrow range of roles previously offered to him, Haq's unshakeable self-belief enabled him to dream that he could, or would, lead a show one day. And after landing his breakthrough role, he plans on using the platform to introduce audiences characters, stories and shades of grey they haven't seen before.
"I think it's great to have diversity and representation, but I think it's even more important to have diversity within representation. Arab or Muslim characters are so often portrayed as either victims – hard done by, or experiencing trauma – or the villains. I'm more interested in exploring the inbetween of all of that," he says.
While Haq's emergence as a rising star has undoubtedly been solidified in 2020, it was his work on CBC's This Life and CTV's The Indian Detective that laid the foundation for his leading role as the gifted but impulsive foreign-trained emergency doctor.
On This Life, Haq had worked with Transplant creator and showrunner Joseph Kay, striking up a positive working relationship to the extent that when Kay started working on his next project – a then-untitled refugee story about a Syrian doctor – he asked Haq to be a consultant as he created the lead character.
The second piece of the puzzle was 2017′s The Indian Detective, with Haq noting that his performance caught the attention of Bell Media brass.
When Kay pitched Transplant to Bell Media, execs asked him if he had anyone in mind for the role. Haq's name was mentioned, and those execs, having been impressed with his work in The Indian Detective, were immediately on board with the idea.

"The marriage of those two pre-existing relationships meant I was put at the top of this pile and was unofficially attached [to play the role]," he says.
But the role wasn't his yet. New partners boarded the project and insisted the production look for a Syrian actor to play the lead role. Haq says he was disheartened to see the role potentially slip through his fingers, but he understood the reasons.
However, time passed, the role remained unfilled and eventually it was formally offered to Haq. Of course, he accepted, but he's frank about the fact there is actor who's better positioned to play the role. "I just know that I'm lucky, because there is a Syrian guy out there who can play this part much better than me – they just couldn't find him," he says.
As for what comes next, that chapter is only partly written, with Haq hoping to build a career in which he moves seamlessly between television and film.
On the TV front, several seasons of Transplant are his goal ("I'm signed on for four, so hopefully at least that many," he says), while on the film side he wants to start taking on larger roles in the years ahead.
Film is a medium he's always been drawn to, and in some ways mirrors his own journey. "You play a character once, see life from a new perspective, and then move on to the next thing – I think that's a phenomenal, nomadic way to have a career. It's how I've lived my life. I've moved from one place to another to another, and I'm always moving and going to some place new, hopefully learning something along the way."
He's also working on making his own movies and telling his own stories, recently taking part in Reelworld Screen Institute's Emerging 20 program with his project Musfits, a feature about four volunteers at a Mosque who have to recover money from a fundraiser after it gets stolen. "I just wanted to write something goofy and funny, but where all the lead characters are Muslim," he says, adding that the project has garnered interest following a round of pitches to production companies.
Then there's his Insha'Allah List (Insha'Allah translates to "if God wills" or "God willing" in Arabic), an index of the directors and actors he wants to work with, and the film roles he would like to play in the future. Haq doesn't lack ambition and aspires to work with some of the biggest names in Hollywood. "I just know that whatever projects I work on in the future, they have to be going in this direction that gets me in a room with Christopher Nolan, or gets me to act opposite Riz Ahmed, Mahershala Ali or Viola Davis."
Today, though, Haq is laser focused on bringing more of Dr. Bashir Hamed's stories to international audiences as he continues on a journey that is helping to fundamentally shift the way Muslims are portrayed on screen. While filming on season two has been pushed back due to the pandemic, Haq plans to pick up where he left off as soon as production can resume.
"Yes, Bashir Hamed is a doctor, but he's also a guy who makes mistakes and on occasions takes liberties within his faith. I think most people will fall into that category: they're imperfect, but also trying their best," he says. "If I can represent that accurately, and people can see that about Muslims, then I'll consider my job to be done."
Image courtesy of Bell Media