Canadian Moment of the Year 2020: Schitt's Creek's Emmy sweep
The historic Schitt's Sweep was the height of a game-changing year for Canadian television as international appetite for Cancon climbed to new heights.
As 2020 draws to a close Playback is announcing its Best of the Year, an annual recognition of the people, companies and projects that set themselves apart from the pack. Due to the unprecedented challenges faced across the sector, this year's selections were especially tough, as the examples of resilience, ingenuity, quick thinking and collaboration on display were too numerous to mention. Check back throughout the week as we name our Best of the Year for 2020.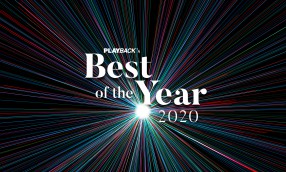 A moment so historic it has its own name: the Schitt's Sweep.
CBC comedy Schitt's Creek broke Canadian TV and Television Academy records this September when it swept all major comedy categories at the 72nd Annual Primetime Emmy Awards – winning nine awards in total – in a night co-creator, star and executive producer Eugene Levy tells Playback was "surreal."
Members of the cast and crew gathered in Toronto's famous castle Casa Loma to celebrate together, win or lose. The series had already won two awards at the Creative Arts ceremonies for casting and costumes and Eugene recalls how the energy at the venue was "electric right from the start."
"After all, we were the little Canadian show that had a major foothold in the telecast with 15 nominations," he says.
The sweep began with the much-anticipated lead actress win for Catherine O'Hara, and Eugene soon followed. He says it was when co-creator and showrunner Dan Levy picked up the award for writing – his first of four wins that night – that they knew they had "broken new ground" and "made significant inroads with the Academy voters."
While the energy in the room grew as Dan and Andrew Cividino's win for directing followed, the real upset came in the Outstanding Supporting Actress in a Comedy category. Annie Murphy was nominated alongside formidable talents such as two-time Emmy winner Alex Borstein for The Marvelous Mrs. Maisel and Saturday Night Live comedians Kate McKinnon and Cecily Strong.
"When I heard her name ring out as the winner, not only was I ecstatic for her, but the word 'sweep' exploded in my head," he says. "The rest of the night was a bit of a blur."
Dan would step to the podium two more times to accept his supporting actor award and for Outstanding Comedy Series, which he shared with Eugene, and the industry watched in awe as the likes of CBC and the Canada Media Fund were thanked in an Emmys broadcast viewed by millions.
Among those named in that final acceptance speech was Sally Catto, general manager, entertainment, factual and sports at CBC, who first commissioned the series. Catto says the way Schitt's Creek swept all major comedy categories was a sweet and appropriate tail-end to their experience, where the creators never lost sight of the group effort it took to reach the finish line.
"Eugene and Dan created this recognition and understanding that every member [of the cast and crew] contributed so much to the success of the series, so it made it that much sweeter to see all of them being recognized like that," says Catto. "It's always so deserved, but to see it actually happen was a beautiful moment."
It's a sentiment Eugene echoed in his own thoughts on the night.
"Canada was there first," he says. "If the CBC hadn't picked us up, our show never would have seen the light of day. It was our Canadian cast and crew who gave six solid seasons of superb work to get us to where we were that night. Having them there to share in the joy and the excitement of the night was perfection."
The Schitt's Sweep is the punctuation mark on a game-changing year for Canadian television on the international market as gaps in the content pipleline paved the way to a sales spree for Cancon.
CTV medical drama Transplant became a fall ratings success for NBC, which recently picked up the upcoming second season, and has since added Global's Nurses to its lineup. The CW has established itself as an American home for Canadian TV, as its raft of CBC dramas now include Burden of Truth, Coroner and Trickster, the latter of which will make its debut on Jan. 12, 2021. On the streaming side, Hulu – which helped make Crave's Letterkenny a U.S. sensation – picked up CTV's Jann this fall, and Global's Departure was among the initial acquisitions for Peacock.
"These are all shows that are shedding the old opinions of Canadian television and showing that they can have homes in other countries and Schitt's Creek is shining example," says Kurt Smeaton, a writer on Schitt's Creek's final season and the creator of the upcoming CTV comedy Children Ruin Everything. "It's heartening to see the shows that we work on can have success elsewhere, in the U.S. especially. I think Canadians have always known that, we've just been waiting for the right vehicles."
"There's so much talent in this country, and now there is a real appetite from content providers and distributors internationally to showcase that talent," says Catto, adding that CBC is "committed" to establishing new comedic voices in Canada.
Its newest comedy series is Sort Of, which went into production this fall and will premiere in 2021. The series, created by Toronto playwright Bilal Baig and actor/writer/director Fab Filippo, follows a gender-fluid 25-year-old, played by Baig, who navigates the ups and downs of modern life in Toronto. "The entire team has such a clear vision," says Catto. "They know the world they want to be in, they know their characters, they know what they want to say, and it's so smart and funny."
"Schitt's Creek is an anchor for a new era and hopefully will show Canadian creators what is possible," says Catto.
Image courtesy of ABC