Scripted Series of the Year 2020: Trickster
How the coming-of-age drama from Streel Films and Sienna Films has created a new narrative around Indigenous storytelling and become a red-hot commodity in an international marketplace hungry for new voices.
As 2020 draws to a close Playback is announcing its Best of the Year, an annual recognition of the people, companies and projects that set themselves apart from the pack. Due to the unprecedented challenges faced across the sector, this year's selections were especially tough, as the examples of resilience, ingenuity, quick thinking and collaboration on display were too numerous to mention. Check back throughout the week as we name our Best of the Year for 2020.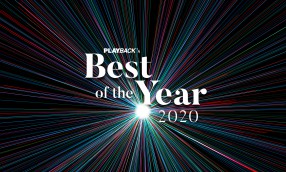 Streel Films and Sienna Films came up empty-handed when trying to attract pre-sales for Trickster. But disheartening as it was, it came as no shock to Michelle Latimer.
"I wasn't surprised we didn't get them, because nothing like this has been made on a mainstream network before. I understood," says the show's director, co-showrunner and co-creator.
For Trickster – a contemporary Indigenous coming-of-age story with gothic and supernatural elements – the journey from page to screen has been one of slow-building momentum. However, with international sales racking up fast and a second season in the works, the project is now riding a wave of momentum that is rare for any Canadian series and unprecedented for an Indigenous Canadian TV drama.
In 2017, Latimer had tried to option the rights to Eden Robinson's trilogy, Son of a Trickster, but found she needed the heft of a more established production company to help move the deal forward. That came when Latimer's Streel Films partnered with Sienna Films (Cardinal), with the pair securing the adaptation rights following a competitive bidding situation.
Latimer, alongside co-creator and season one co-showrunner Tony Elliott, had two scripts written by fall 2018. And by spring 2019 they had a greenlight from CBC for six hour-long episodes, set to shoot that fall. All six episodes are directed by Latimer, who serves as executive producer alongside Elliott and Sienna Films' Jennifer Kawaja and Julia Sereny.
With Trickster, Latimer, who started out in the industry as an actor, was determined to showcase new Indigenous voices. "What I often came up against was hearing stories like 'oh, there aren't enough Indigenous actors, there's just not enough talent in that pool, it's a very small community to draw from,'" she says. "Something I'm very passionate about is silencing those comments. I didn't want anyone to ever say to me again that there isn't enough strong Indigenous talent."
The team undertook an extensive casting process, reaching out to Indigenous communities from coast to coast before eventually landing on Joel Oulette, Anna Lambe, Crystle Lightning, Kalani Queypo, Georgina Lightning and Nathan Alexis in the main roles.
The Indigenous Screen Office (ISO) has been instrumental, adds Latimer. "I have to be honest, I don't think Trickster would have been made if it wasn't for the ISO." In addition to its advocacy in the early development stages, the ISO helped the production hire a greater number of Indigenous individuals across all positions.
The organization's On-Screen Protocols & Pathways document was also a fundamental tool to help educate the non-Indigenous crew, says Latimer. For season two – ordered by CBC in May, five months ahead of the season-one premiere – the ISO is enhancing its support by facilitating funding that will allow an even more robust training and hiring program.
While pre-sales had proved elusive, interest in the series came thick and fast once the first trailer was released. The show continued to attract industry buzz throughout the year, leading to a world-premiere launch at this year's virtual Toronto International Film Festival.
Throughout the second half of the year, the series has drawn acclaim and high-profile sales in equal measure. The CW acquired the series for its winter 2021 schedule, while deals with Sky in the U.K., NITV and SBS On Demand (Australia) and Globoplay (Brazil) have broadened its reach. The show was also picked up for a second window by AMC Networks-owned Sundance Now and OTT platform Shudder in the U.S. All of the deals were lined up by international sales agent Abacus Media Rights (AMR).
The warm international reception is indicative of buyers' hunger for new stories, says Sienna's Kawaja. "It shows that the world is willing to embrace and welcome these stories. It demonstrates the importance of creating more inclusive media, and being more inclusive around who tells what stories," she says.
Things were nearly very different, though. Kew Media Distribution, part of Kew Media Group, was initially handling international sales on Trickster. But after the media group's financial issues were thrust into the public domain last December and it became increasingly clear that Kew was doomed, there was justified concern that the distribution rights to Trickster might get tied up in the melee. This was also the case for Sienna, which was owned by Kew at the time.
"It was definitely a very anxious time, and we worked really hard to make sure the rights didn't get tied up," says Kawaja, adding that Sienna's eventual buyer, Montreal-based Sphere Media, was instrumental in helping the producers successfully extricate the rights to the project earlier this year.
After overcoming that challenge, the Trickster team has moved onto another: how to mount season-two production in the age of COVID. Six scripts are currently at the first-draft stage, with pre-production tentatively scheduled to begin in March. Filming is slated to begin in Northern Ontario before relocating to B.C. later in the shoot. Depending on the situation around the pandemic, the timelines could shift back slightly, notes Kawaja.
For all the plaudits Trickster has received for being a fresh take on Indigenous storytelling, Latimer stresses that Trickster wasn't created in a vacuum. "What's important to frame contextually is that a lot of people came before this and made this possible. People who for decades pushed, refused to take no for an answer and advocated for diverse stories and creators. That's what set the stage for Trickster to even be a possibility," she says.
What's also important is creating a new conversation about what Indigenous content is – and what it can be in the future, adds Latimer. "Maybe this will reframe how people see Indigenous storytelling. Yes, we can have Indigenous period pieces with people on horseback and wearing leather, but we can also have a 17-year-old at a high school who's just struggling to make ends meet. That's just as Indigenous, and just as valuable."
Photo credit: Nadya Kwandibens