Mark Miller steps down as president of Thunderbird Entertainment
Jennifer Twiner McCarron now assumes the dual title of president and CEO of Thunderbird as Miller stays on with the company in a production-focused role.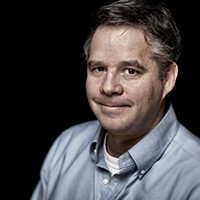 Jennifer Twiner McCarron has assumed the role of president and CEO of Thunderbird Entertainment as Mark Miller (pictured) steps down to focus on the company's factual production.
The now former president of Thunderbird has also stepped away from the role of CEO of Great Pacific Media (GPM), but will continue with the company as executive producer. The move was announced at the company's annual general meeting yesterday (Dec. 8). Miller has also stepped down from the company's board of directors.
The role of CEO at GPM has now been eliminated and David Way will continue to serve as the factual arm president.
"It has been an incredible adventure growing Great Pacific Media and joining the Thunderbird Family," said Miller, in a statement. "This decision allows me to put 100% of my time into creating content that will strengthen Thunderbird as a global IP leader."
Miller first became part of Thunderbird after its acquisition of GPM in 2014, serving as CEO of the factual prodco. He stepped into a co-president role with McCarron in 2017 when the company's co-founder Tim Gamble moved to vice-chair of the board and Ivan Fecan was named interim CEO. He stayed on as president when McCarron was named CEO in 2018.
"Mark has been an integral part of the Thunderbird story, and we support his decision to follow his passions by turning incredible stories into premium content that global audiences can enjoy," said McCarron. "Mark is recognized throughout the industry as a talented showrunner and top producer, and we look forward to him building on GPM's already impressive slate with more great shows."
Among Miller's current titles as executive producer is a drama series based on the life of aerospace engineer Wernher Von Braun, part of the traditionally factual prodco's initiative to create scripted content based on real-life people and events.