Industry veterans named to Order of Canada
Tom Jackson was promoted to the Order of Canada's highest level, while comedian Dave Thomas, broadcaster Glenn O'Farrell and a number of actors and filmmakers were honoured.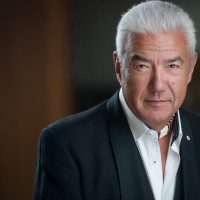 Comedian Dave Thomas is among a number of filmmakers, actors and industry members named to the Order of Canada in 2020, as Tom Jackson is promoted to its highest level.
Considered one of the country's top honours, the Order of Canada is presented by the governor general to citizens whose work in a wide array of industries have shaped and impacted Canadian society.
Jackson is among seven other Canadians to be promoted as a Companion of the Order of Canada, including Quebec-born journalist, actor and writer Janette Bertrand. Jackson, who was named an officer of the Order of Canada in 2000 and inducted to Playback's Hall of Fame earlier this year, is an iconic actor in Canada and a trailblazer for Indigenous on-screen representation on the series North of 60. Bertrand was made an officer of the Order of Canada in 2002 and was a radio host on Radio-Canada in the 1950s and wrote and starred in French-language dramas in Quebec.
New members to the Order of Canada this year include comedy legend Thomas, documentary filmmakers Tom Radford and Gérard Raymond Le Chêne, broadcaster Glenn O'Farrell, director Alain Chartrand and actor and director Claude Meunier, who was named an officer.
Thomas co-created the famous Canadian comedy duo Bob and Doug with fellow Canadian Rick Moranis and was among the lead members of the legendary sketch series SCTV; O'Farrell served the broadcasting community in Quebec most recently as president and CEO of TFO Media Group and was previously president, Global Quebec and president of the Canadian Association of Broadcasters (CAB); Radford, a prolific documentary filmmaker from Edmonton whose work has showcased the Western and Northern Canadian landscapes; Chartrand was honoured for his work in promoting Francophone music, but has worked as a director since the 1960s; and Meunier was selected for his culture contributions to Quebec.
Former Canadian senator Janis Guðrún Johnson was also honoured for her time as a public servant and her contributions to the arts; namely, for founding the Gimli Film Festival, Manitoba's largest film festival.
To date, more than 7,000 individuals have been named to the Order of Canada. Last year's honourees included Valerie Creighton, Michael Donovan, Darren Throop and James Cameron.
Image courtesy of Rafal Wegiel