Rebelfilms' Podeswa options Wiebke von Carolsfeld's Claremont
The award-winning Game of Thrones director is set to write and direct a limited TV series based on his long-time collaborator's 'perceptive' first novel.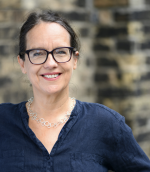 Rebelfilms' Jeremy Podeswa has optioned German-born, Montréal-based writer, editor and filmmaker Wiebke von Carolsfeld's first novel Claremont.
Announced by Montréal's Linda Leith Publishing, the award-winning director behind TV shows such as Game of Thrones and The Handmaid's Tale intends to turn the story from his long-time collaborator about one family's journey through grief into a limited TV series, according to a press release. Podeswa confirmed to Playback Daily that he is set to write and direct the adaptation.
Of note, von Carolsfeld (pictured), who previously picked up TIFF's best Canadian first feature film award for Marion Bridge, has edited Fugitive Pieces and The Five Senses, both of which Podeswa directed. Her credits also include writing and directing The Saver and Stay.
Published in 2019, Claremont follows nine-year-old Tom, who refuses to speak after his parent's murder-suicide – eventually, leading to his family hearing one another for the first time. This fall, German publishing house Kiepenheuer & Witsch published the German translation of the novel.
"Claremont is a powerful, intimate and very relatable story of loss, family and healing," Podeswa said in a statement. "In many ways it speaks directly to this current moment. As we are all grappling with upheaval, uncertainty and fear, the enduring values that the novel expresses, have become even more vital and urgent. At the end of the day, this profoundly perceptive novel suggests, in clear eyed and hopeful terms, that it is family, love and perseverance that get us through loss and pain. I am very excited about adapting this beautiful and moving first novel by Wiebke von Carolsfeld, a long-time collaborator and friend."
Further, Podeswa told Playback Daily that he's always been interested in stories that are personal and moving with a focus on universal truths.
"Sometimes these stories are told on a grand scale and sometimes they're small stories that expand outward. In my career I've frequently moved between the two, large epic productions and smaller but still powerful shows," he says. "Claremont puts me in mind of series like Six Feet Under, my first U.S. show, which dealt with enormous themes surrounding life and death, but through the microcosm of a single family. It also seems to me to be in line with recent shows like Normal People, HBO's I Know This Much is True, and I May Destroy You, which are powerful and enormously successful shows that are intimate in detail but epic in the ways that they tackle huge themes in a complex and penetrating way. I see Claremont as a limited series that connects on that level and hopefully will have the same kind of international impact."
Image of Wiebke von Carolsfeld courtesy of Guntar Kravis