Ashleigh Rains upped to CFF festival director
The annual Toronto-based festival supporting Canadian indie films and talent has also welcomed new faces into its programming team and launched a mentorship program.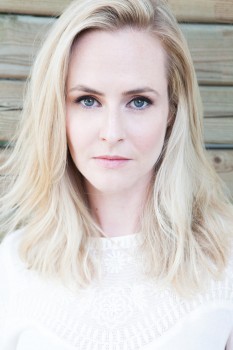 Canadian Film Fest (CFF) co-programmer Ashleigh Rains has been promoted to the newly created post of festival director.
Effective immediately, the role expands the award-winning filmmaker's remit. Now, she oversees the day-to-day planning and operation of CFF, including its programming at the annual Toronto-based festival supporting Canadian independent films and talent.
Most recently, Rains (pictured), the founder of C'mon Mort Production and co-founder of We'll Be Over Here Productions, produced and acted in writer/director Geordie Sabbagh's feature Canadian Strain starring Jess Salgueiro. Her acting credits also include The Umbrella Academy, My Big Fat Greek Wedding 2 and The Handmaid's Tale, to name a few.
"It has been a pleasure to work alongside Ashleigh and witness first hand her energy, talent and passion for Canadian cinema and filmmaking," said founder and executive director Bern Euler in a statement about the move. "Ashleigh has always been a proponent of diversity not only in programming but in other initiatives in the festival. In this newly created role, she will continue to lead programs that will ensure CFF is a platform for all Canadians."
Previously, Euler was responsible for CFF's day-to-day operations and programming. He remains as executive director, overseeing CFF as a whole. Additionally, based on Rains' vision for the future of CFF, Euler will focus on securing funding and helping produce any new initiatives.
Additionally, as part of the CFF's commitment to anti-racism and supporting all Canadian voices, the festival is waiving its submission fee and Toronto premiere requirement for all Black, Indigenous and people of colour (BIPOC) directors and producers. Meaning, if a short film or feature film has screened at a Toronto festival in the past two years, it is now eligible for CFF.
Notably, the upcoming 2021 edition of CFF will see the festival re-team with Super Channel.
In May, the non-profit partnered with the pay-TV channel to offer a virtual version of its cancelled Toronto event, broadcasting nine feature films and 25 short films set for CFF on Super Channel Fuse across three consecutive weekends.
For 2021, CFF plans to take place as a hybrid virtual event with in-person screenings, with all government protocols strictly observed, according to the fest's submission page. Films are expected to be shown over three consecutive weekends on Super Channel in March and April. Rains told Playback Daily that the hybrid route will depend on government mandates as well as health and safety and that the final decision for CFF 2021 will be made closer to the festival.
Alongside Rains' advancement, CFF also unveiled that Ammar Keshodia, Richard B. Pierre and Laura Good have joined the programming team effective immediately. The trio will work alongside the festival director to curate the non-profit organization's upcoming edition.
Finally, CFF has launched CFF Mentorship – a paid mentorship program that sees key festival staff work with filmmakers to focus on their strengths as well as areas of interest, such as film curation, producing festivals and supporting filmmakers' careers through education programs.
The inaugural 2021 cohort includes filmmakers Luisa Alvarez Restrepo, Conrad Osei and Lisa Alyx Bui and will see them participate in planning CFF and festival events.