Playback's 10 to Watch: Darren Anthony
Anthony's carefully crafted writing talent has impressed the likes of CBC and Children Ruin Everything creator Kurt Smeaton as he uses his past experiences to write untold and relatable stories.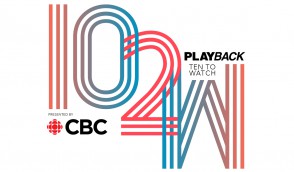 Playback is pleased to introduce the fifth of our 10 to Watch recipients, presented by CBC. This year's lineup of rising talent in Canada's film and TV scene represent a wide array of voices in writing, directing and producing. The focus is Black, Indigenous and people of colour creators, for which we received over 100 submissions. Stay tuned weekly as we reveal all these industry movers and shakers in a series of profiles and videos.
Darren Anthony is building a family legacy of Canadian TV success.
The Jamaican-Canadian writer and producer is already turning industry heads with Dwayne Has Issues, a sitcom currently in development with CBC, and his first staffed gig with CTV's Children Ruin Everything, as he officially makes the transition from the stage to screen.
His path to becoming a writer didn't come easy, he tells Playback Daily, explaining that he was held back a grade as a child due to what was later discovered as dyslexia, and found tapping into his emotions difficult at times because of how taboo it was for men in his community to discuss their feelings. His determination and eagerness to perfect the craft kept him going.
"One of the things that I try to have in this industry is a zero-ego approach and I see that in him," says Anthony's mentor and Children Ruin Everything creator Kurt Smeaton, praising his attention to detail and drive to learn. "He has absolutely no ego that's going to get in the way of anything. He doesn't care where the ideas come from, as long as it's a good idea that makes the show better."
His inspiration comes twofold; his sister, Trey Anthony – whose play Da Kink in My Hair was adapted into a series on Global, running for two seasons between 2007 to 2009 – and his experiences as a child and youth worker in group homes and detention centres.
"I think that's helped me to be a very different type of writer," says Anthony. "Not only am I bringing Caribbean culture into it, but I'm also tapping into social issues and mental health."
Anthony began as a playwright in 2008 and premiered his first play, Secrets of a Black Boy, at the Music Hall in Toronto in 2009. The play, which follows five boys who play a final game of dominos before their community centre in Toronto's gentrified Regent Park shuts down, has toured across the U.S. and is in development as a feature film, with Anthony producing under his banner Playing With Crayons.
"I knew that if I got into the [NSI Totally Television] program, it would help bring my series to another dimension, and it definitely has. The doors have been opened." – Darren Anthony
Owning his content is the driving force behind his producing ambitions, and is a lesson he says his sister Trey has hammered into him for the last 15 to 20 years. "You've got to have something that is your own as well as create opportunities for the next generation coming," says Anthony.
He began adapting Secrets of a Black Boy into a film in 2017, at the same time he started work on a sitcom called Dwayne Has Issues, which features a young Black boy dealing with anxiety. He says he initially struggled to make the transition from dialogue-driven stage pieces to description-heavy scripts, but kept going with the help of his sister and through taking TV writing courses.
Writing about mental health through a comedy lens is something Anthony refers to as "putting the candy in the medicine" as a TV writer. That positive outlook is one Smeaton praised, comparing the Dwayne Has Issues pilot to series such as Ted Lasso and Schitt's Creek. Smeaton was one of the writers on Schitt's Creek's Emmy-winning final season.
One of Anthony's major goals was to take part in the National Screen Institute's (NSI) Totally Television, after seeing the success his sister had developing Da Kink in My Hair with the program. He applied three times over a 10-year period and was accepted in 2019 with his producing partner Eva Thomas.
"Getting into the NSI Totally Television program has been a godsend because it's nonstop work in developing your series and getting different creatives, showrunners and producers and executives in the same room," says Anthony, on how the program helped him get the attention of CBC. "I knew that if I got into the program, it would help bring my series to another dimension, and it definitely has. The doors have been opened."
It was the Toronto Screenwriting Conference's (TSC) Telefilm New Voices program that connected Anthony with his writing mentor Smeaton, and put him on the path to his first professional TV writing gig. When the two clicked, Anthony took a chance and asked Smeaton to read his script for Dwayne Has Issues, unknowingly putting himself forward as a candidate for Smeaton's soon-to-be greenlit comedy series Children Ruin Everything.
"He connected with [the Dwayne Has Issues script], really believed in it and gave me some great feedback," says Anthony. "At the time I didn't know that he had a show in development. When the room opened, he said, 'Hey, I loved your script, and I think you can be very valuable in my writer's room. Would you want to take part?'"
Smeaton says Anthony was on his radar before they met through the TSC, after mutual friends recommended he read Anthony's work, and he'd been meaning to reach out before the two were paired. "What I was really impressed by was his ability to create a world that felt lived in," says Smeaton on his first impression of Anthony's Dwayne Has Issues pilot script. "It didn't feel like it was a world that was just serving the pilot. It was a world you could see so many other stories coming from. It was fully realized, and that's really hard to do."
Anthony says his first time being staffed in a writer's room was "nerve wracking," but having Smeaton lead the room meant it was "safe, nurturing and inspiring," thanks to the showrunner's empathetic nature. "[Working in the writer's room has] really opened up my eyes to how to create a show, how to develop a series and make your characters three-dimensional."
Looking forward, his ambition is to emulate the likes of Issa Rae, Lena Waithe and Donald Glover, and create stories that resonate with viewers who rarely see their stories be told.
"I want to continue to grow an industry here in Canada and help contribute to the stories of people of colour," says Anthony. "Being a child and youth worker, I know the value of creating opportunities. I want to be that spark in the next generation."
Photo by Gesilayefa Azorbo