Nurses travelling to the U.S. for NBC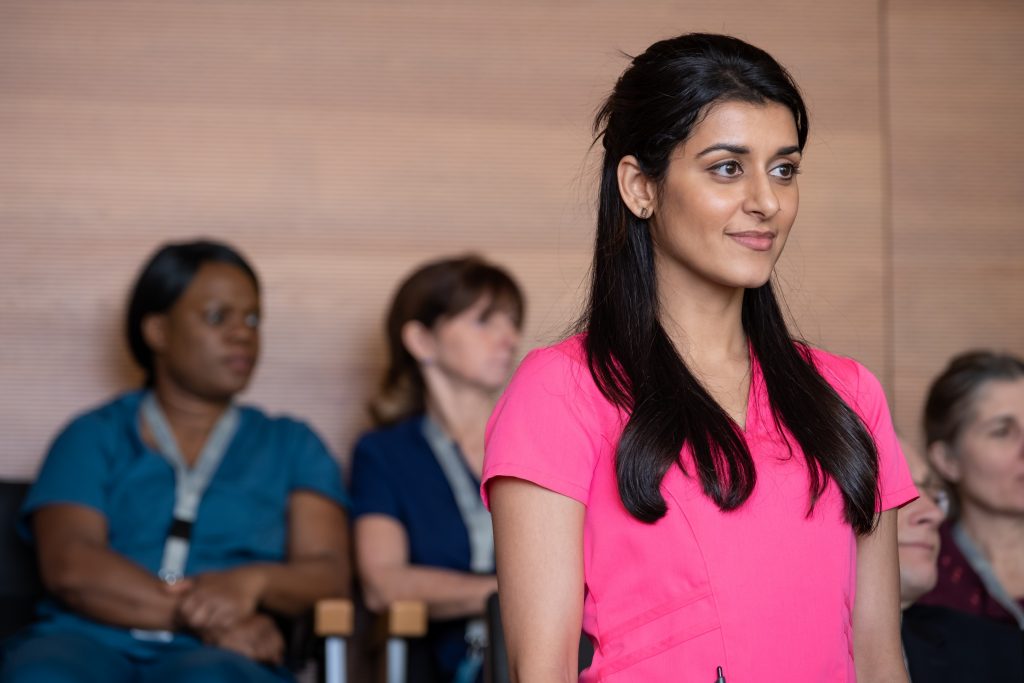 Following Transplant's pick up, the Toronto-set medical drama from eOne and ICF Films has joined the network's primetime lineup.
NBC has added medical drama Nurses to its primetime lineup – the latest in a long line of Canadian series to be picked up for across the border.
Produced by ICF Films, Entertainment One (eOne) in association with Corus Entertainment, the 10-episode series filmed and set in Toronto follows five young nurses on the frontlines of a busy downtown hospital.
Preview episodes of the series executive produced by Ilana Frank, Linda Pope, Vanessa Piazza, Adam Pettle, Jocelyn Hamilton, Tassie Cameron and co-executive producer Julie Puckrin are set to air on Dec. 7 and Dec. 14 at 10 p.m. ET, before shifting to Tuesdays on Jan. 5 at 10 p.m. ET.
Produced with the participation of the Canada Media Fund and the Canadian Film or Video Production Tax Credit, Nurses stars Tiera Skovbye (Riverdale), Natasha Calis (The Possession), Jordan Johnson-Hinds (Blindspot), Sandy Sidhu (Home Before Dark) and Donald MacLean Jr. (Workin' Moms).
Greenlit in 2018, Nurses received an early series renewal for a second season ahead of its premiere on Corus Entertainment's Global TV earlier this year. According to a press release about the acquisition, the show's series launch in Canada became the most-watched premiere episode of a scripted Canadian series in over two years for total viewers. As well, last month, eOne – which handles international distribution on the series – announced it had been sold to more than 100 territories with a U.S. sale imminent.
One of the first scripted series in North American to return to set following the COVID-19 production shutdown in March, notably, Playback Daily recently caught up with Nurses showrunner Pettle to discuss making season two during the pandemic.
Notably, Nurses also follows in the footsteps of fellow Canadian medical drama Transplant (Sphère Média Plus), which was acquired by NBC this May.
Produced in association with CTV and NBC, the series made its debut on Sept. 1 and averaged 5.6 million viewers overall, with its premiere growing to 5.9 million total viewers to date and its second episode "outpacing the premiere and expanding to more than 6 million," according to a release.
This year has seen an increase in demand for Canadian English-language series from U.S. networks, with many looking to bolster their schedules because of gaps created by the COVID-19 pandemic.
In October, both CTV comedy Jann and CBC drama Trickster secured deals – with season one and two of the Project 10 Productions and SEVEN24 Films show starring Canadian singer-songwriter Jann Arden inking an exclusive deal with Hulu and Trickster from Sienna Films and Streel Films joining The CW as a part of its winter 2021 lineup.
This year, the CW, which also airs CBC legal drama Burden of Truth (ICF Films/Eagle Vision/eOne), also acquired CBC drama Coroner (Muse Entertainment/Back Alley Films/Cineflix Studios) and culinary competition format Fridge Wars (The Gurin Company). As well, eOne inked a deal with U.S. network BET for CBC legal drama Diggstown (Circle Blue Entertainment/Freddie Films) for its streaming service.
Image of Nurses courtesy of Corus Entertainment