CaribbeanTales partners with Greenacre, Imagine Media for Claudia
Frances-Anne Solomon is set to direct, produce and co-write the feature film about pioneering British-Trinidadian journalist and activist Claudia Jones.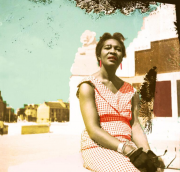 Toronto-based CaribbeanTales Media Group, U.K.-based Greenacre Films and Trindad and Tobago and South Africa-based Imagine Media International have teamed up to develop Claudia – a feature film about pioneering journalist and activist Claudia Jones (pictured) who founded Britain's first major black newspaper.
Set to be produced by CaribbeanTales Media Group's founder and CEO Frances-Anne Solomon alongside Nadine Marsh-Edwards of Greenacre Films and Lisa Wickham of Imagine Media International banner, the project sees Solomon – whose credits include drama Hero: Inspired by the Extraordinary Life and Times of Mr. Ulric Cross – attached to co-write with British actor/writer/director Adjoa Andoh (Dr. Who) and screenwriter Omari McCarthy (PJ Masks).
Set in London in 1958 during the Notting Hill riots, Claudia follows the British-Trinidadian who came up with a plan to unite Britain's Black and white communities. Notably, Jones is recognized for founding the West Indian Gazette, Britain's first Black newspaper, as well as Britain's first Caribbean carnival in 1959, which is believed to be the precursor to today's Notting Hill Carnival.
Supported by Telefilm Canada, Claudia was one of several projects selected for Attagurl (previously called Attagirl) this September. Designed and run by For Film's Sake, the lab focuses on supporting the development and distribution paths of narrative fiction film projects from women and non-binary creatives. Production is expected to take place in the U.K. in 2021/2022.
"Claudia was a modern day superhero rooted in the real world, whose remarkable life and achievements straddled the U.S., England and the Caribbean," said Solomon, who is also set to direct Claudia in a statement. "I could not be more excited to work with this global team of accomplished Black women to tell this inspiring story."
Earlier this year, CaribbeanTales unveiled that it is in development on a feature film adaptation of Denham Jolly's In the Black: My Life – with Solomon attached to direct and produce.
Image of Claudia Jones courtesy of estate of A. Manchanda