Canadian icon Alex Trebek dies at 80 after battle with pancreatic cancer
Sudbury-born Trebek, whose career in broadcasting began with the CBC in 1961, died peacefully on Sunday surrounded by family and friends.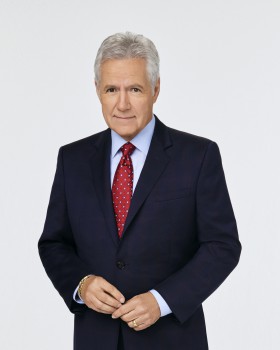 Canadian icon and Jeopardy! host Alex Trebek has died at the age of 80 following a lengthy battle with pancreatic cancer.
News of Trebek's passing comes around 20 months after he revealed publicly that he was suffering from Stage 4 pancreatic cancer. The official Jeopardy! account confirmed Trebek's passing on Sunday (Nov. 8), saying that he had "passed away peacefully at home early this morning, surrounded by family and friends."
Born in Sudbury, ON in 1940, Trebek's career in broadcasting began with the CBC in 1961. Some of his early hosting gigs for the public broadcaster included a music program called Music Hop in 1963, high school quiz show Reach for the Top in 1966 and the weekday afternoon game show Strategy, which launched in 1969.
In 1973, Trebek moved to the U.S., where he hosted a number of shows including NBC's The Wizard of Odds and High Rollers, while also make numerous guest appearances as a panelist or contestant on other shows.

In 1984, he landed the role for which he would become synonymous, as the beloved host of game show Jeopardy! He held the role for 36 years, with his last episode being taped on Oct. 29. According to reports, there are enough taped episodes featuring Trebek as host to run all the way up until Christmas. His final episode as host is set to air on Christmas Day.
News of Trebek's death has been met with an outpouring of tributes, with many prominent Canadians including Prime Minister Justin Trudeau expressing their sadness and paying tribute to the TV personality.
Earlier this year, he was among the special award recipients for the 2020 Canadian Screen Awards, receiving the Academy Icon Award, which is awarded to a Canadian for their contribution to media at home or abroad. During his storied career, he has also won six Daytime Emmy awards and received a Lifetime Achievement Award from the National Academy of Television Arts and Sciences.
Trebek is survived by his wife, Jean, and his three children.