Orphan Black alums team for Showtime-commissioned biohacking doc
Executive produced by Graeme Manson and Mackenzie Donaldson, the project premieres today on Showtime in the U.S. and Crave in Canada.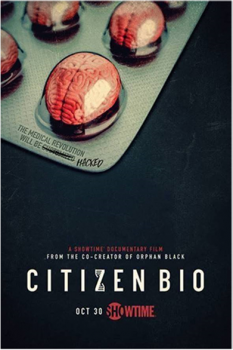 Citizen Bio, a feature-length documentary executive produced by Orphan Black alums Graeme Manson and Mackenzie Donaldson, is set to premiere today (Oct. 30) on Showtime in the U.S. and Crave in Canada.
Commissioned originally by Showtime Documentary Films, the project is an in-depth exploration of the nascent biohacking movement and the scientists and researchers developing alternative medicines to prolong human life and eradicate incurable viruses and diseases.
In Canada, the project will air on Bell Media's pay-TV Crave channel, in addition to launching on the Crave OTT service, at 9 p.m., Oct. 30, day-and-date with its U.S. premiere.
Screen Siren Pictures president Trish Dolman (Canada in a Day) directed and co-executive produced the doc, which is produced by Dog Fish Films in association with Donaldson's production banner The Donaldson Company. Chantal Kemp is a producer and Jamie Hurcomb is an associate producer.
For Donaldson and Manson, Citizen Bio represents the most recent in a number of collaborations. Manson, who co-created the TNT series Snowpiercer, brought Donaldson in to help establish the writers' room for season one. Season two of the show, which is based on Bong Joon-ho's 2013 feature of the same name, is set to premiere in January of 2021. The pair also worked on Canadian sci-fi series Orphan Black, which ran for five seasons on Bell Media channel Space (now known as CTV Sci-Fi) and BBC America.