B.C. production industry set new record with $4.1B spend in 2019
The Vancouver Economy Report October 2020 called the number an historic first and said that "the industry has re-mobilized and is busier than ever, with over 60 projects now in some stage of production."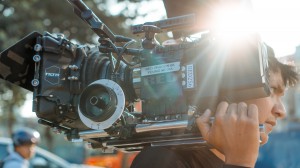 The B.C. film, television, visual effects and animation industry set a new record in 2019 – spending more than $4.1 billion in the province, according to research from the Vancouver Economic Commission (VEC).
Called an historic first for the third-largest film hub in North America, the economic development agency's data, released yesterday (Oct. 22), marks the first time B.C.'s industry, or any province, has ever reached this billion-dollar level.
Notably, VEC said in a press release that of this $4.1 billion number, more than $3.1 billion went towards physical production, with the remainder "accounted for by the sheer volume of post-production and animation activity largely centred in Vancouver."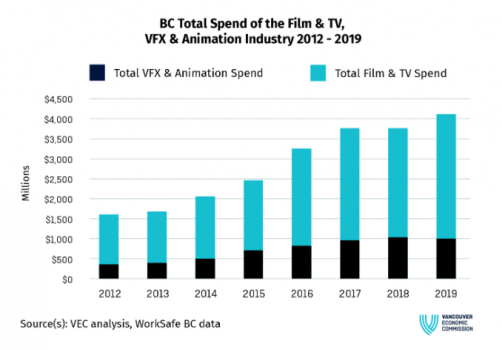 Further, the organization added that spend in the province has more than tripled over the last eight years – increasing from 2012′s $1.6 billion to this $4.1 billion number. VEC's document also noted that from 2012 to 2019, the industry had invested $22.7 billion in the provincial economy and that of this, $12.5 billion was spent on wages for British Columbians.
The Vancouver Economy Report October 2020 aims "to complement the good work of our partners in the economic development ecosystem" as well as introduce unique data regarding Vancouver's economy and recognize potential threats and barriers.
Looking at the CMPA's 2019 Profile report, which was released this April, production volume for B.C. came in at $3.41 billion for 2018/19 – a decrease from 2017/18′s $3.58 billion. Additionally, for 2011/12, the Profile report said that B.C. had a production volume of $1.58 billion. However, with regards to these numbers, it should be noted that Profile 2019 said that for B.C., production activity levels for 2018/19 were likely comparable to 2017/18, "as suggested by Creative BC's published statistics that are based on tax credit certification rather than the year of principal photography."
VEC's report also reflected on the impact of COVID-19 on the industry, noting that the industry "has weathered COVID significantly better than any other North American hub."
In particular, the document referenced how both visual effects and animation companies were able to transition tens of thousands of employees to remote work models and that "dozens of physical productions and filming projects successfully reopened with new public health and worker safety guidelines firmly in place, pivoting and improving their processes as necessary" thanks to the province's low case count, veteran crews and cooperation between provincial health authorities and industry stakeholders.
Of note, the organization's annual report also said that when the province first declared a public health emergency around the pandemic in mid-March, 41 productions were in process, with many forced to stop.
"Half a year later, the industry has re-mobilized and is busier than ever, with over 60 projects now in some stage of production," VEC's report said. "The fact that cast and crew have by and large been able to continue working in this industry has been a boon to BC's wider economy during the pandemic, including support industries such as service workers."
Graphic courtesy of the Vancouver Economic Commission
Image: Pexels