BYUtv greenlights interconnected sitcoms from marblemedia
The Parker Andersons and Amelia Parker feature members of a bi-racial blended family, created by Beachwood Canyon's Frank van Keeken with Anthony Q. Farrell (pictured) as showrunner and EP.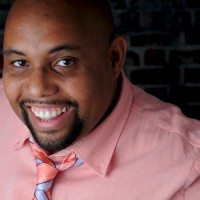 U.S. channel BYUtv has commissioned two interconnected series from marblemedia, set to start production later this month in Toronto.
The Parker Andersons and Amelia Parker (20 x 30-minutes), produced by Toronto-based marblemedia in association with Beachwood Canyon Productions, are both single camera scripted family sitcoms, featuring a bi-racial blended family. The Parker Andersons follows the ups and downs of the entire family, while Amelia Parker centres its story about a single member of the family who became selectively mute after her mother passed away.
The concept was created by Frank van Keeken of Beachwood Canyon Productions, with Anthony Q. Farrell (Little Mosque on the Prairie, Secret Life of Boys) serving as showrunner and executive producer on both series. It is expected to air in the U.S. in 2021, with a Canadian broadcaster to be announced at a later date.
Marblemedia's Mark Bishop, Matt Hornburg and Carrie  Paupst  Shaughnessy are executive producers on the series, alongside Beachwood Canyon's van Keeken and Yolanda Yott, and BYUtv's Michael Dunn, Andra Johnson Duke, Melissa Puente and Jim Bell. Jim Corston is a producer, while marblemedia's Donna Luke is co-executive producer.
The main cast on the series includes Arnold Pinnock (Cardinal), Kate Hewlett (The Girlfriend Experience), Millie Davis (Odd Squad), Agape Mngomezulu (The Twilight Zone), Devin Cecchetto (Ginny & Georgia), Charlie Zeltzer (Anne with an E), Sandy Jobin-Bevans (Designated Survivor) and Akiel Julien (Utopia Falls).
Joining Farrell in the writer's room are Jay Vaidya (The Hardy Boys), Amanda Joy (Second Jen), Murry Peeters (Playground Rules), Ian Steaman (Trap City) and Sadiya Durrani (Little Mosque on the Prairie).
Farrell is represented by Sheree Guitar of Sheree Guitar Entertainment, David Ritchie at Ambition Talent and Jonathan Shikora at Lichter, Grossman, Nichols, Adler, Feldman, Clark.
Image courtesy of marblemedia, Nicola Sievertson