The events (and people) behind 'Events Transpiring'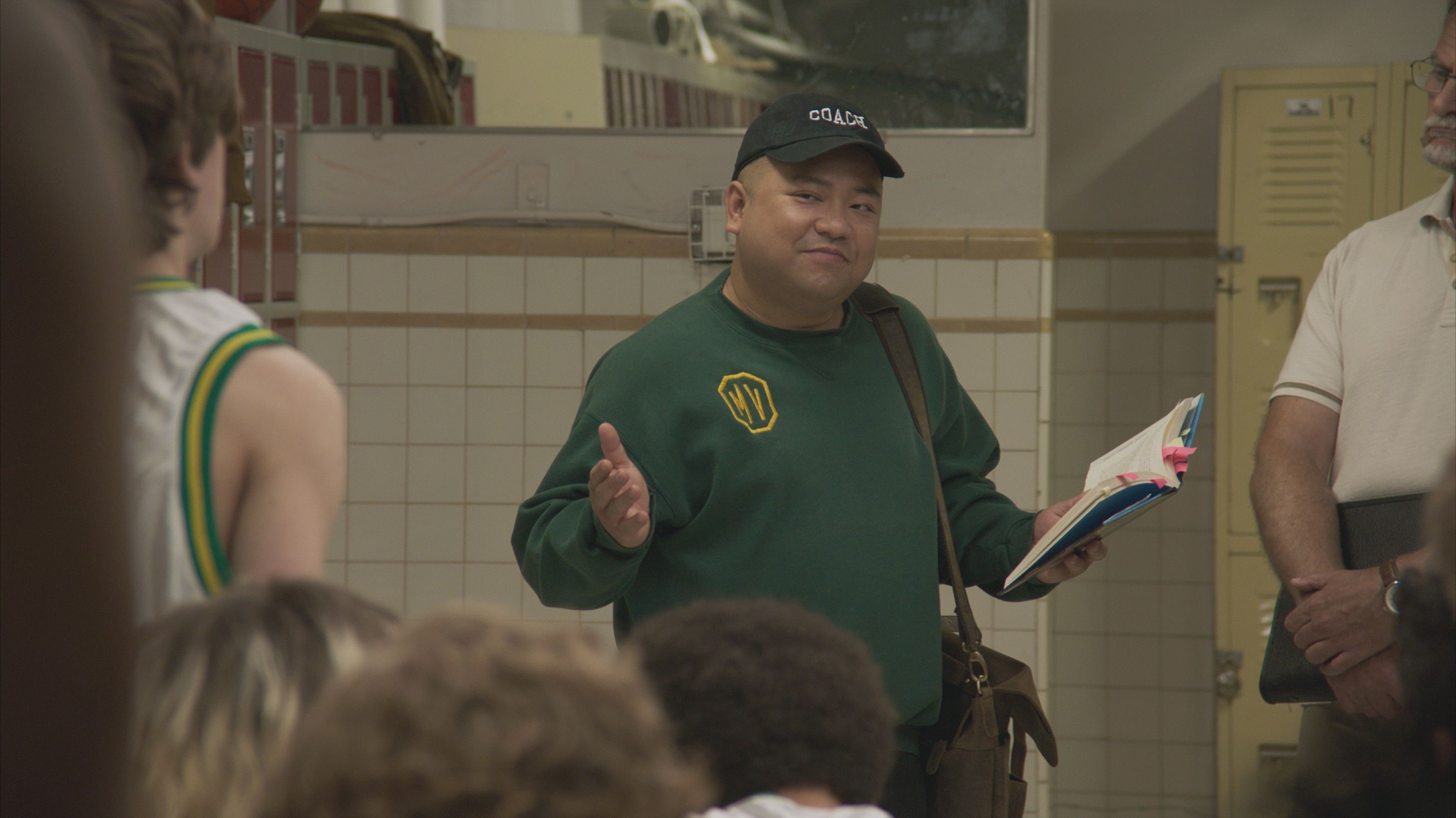 Writer/director Ted Stenson and producer Nicola Waugh discuss bringing the high school basketball comedy together, plus what's next for Kino Sum Productions.
Ted Stenson's Events Transpiring Before, During, and After a High School Basketball Game is a project drawn from his own past as well as rooted in the Calgary community.
The comedy recently made its debut on the Canadian film festival circuit, world premiering as part of the Vancouver International Film Festival (VIFF) and screening as part of the Cinefest Sudbury International Film Festival and the Calgary International Film Festival.
Produced by Calgary prodco Kino Sum Productions and set in 1990s Alberta, the film tracks a boys basketball team as several unusual dramas take shape. It also stars Cowtown's own actor/comedian Andrew Phung (Kim's Convenience).
"I always played sports and I always loved it and enjoyed it so much, but I was also pretty much always on terrible teams. We were just always getting destroyed. So I wanted to capture that experience because I think there's something comically pitiful about that," says the writer/director.
Influenced somewhat by director Michael Haneke's 71 Fragments of a Chronology of Chance (Germany/Austria) and Stenson's own one-act play The Bench (the latter of which also looks at a high school basketball game), Events Transpiring was made with the support of the Alberta Media Fund's Screen-based Production Grant and Telefilm Canada's Talent to Watch program. Tapped by Talent to Watch partner the Calgary Society of Independent Filmmakers (CSIF), the film was the only Alberta project selected in 2018 and penned with the initiative in mind.
"I started writing this for a Telefilm Talent to Watch and then I didn't have enough time to finish it for that year," Stenson says, crediting Kino Sum producer/directors Gillian McKercher and Guillaume Carlier with encouraging him to finish writing the story and helping him submit to the program the following year.
Stenson notes that his feature really benefited from McKercher's experience, as she had recently completed her own first feature Circle of Steel, allowing the team to incorporate some of the same organizational measures to pull off his own project. As well, the writer-director notes that it was the support of a friend in the local comedy scene that allowed him to get the script in front of Phung.
"I think [Phung's] involvement really helped the project a lot in terms of giving it some credibility, and I think people were excited that he was involved in it. So I think that even definitely helped us even in terms of getting funding," says Stenson, adding that he thinks Calgary has a really generous creative scene. "I feel lucky, pretty much everyone we sort of asked or we're hoping would help out in one way or another was usually more than happy to do that."
Events Transpiring also represents producers Kevin Dong and Nicola Waugh's first feature film producing credit.
"I think that Ted's vision aligned a lot with my interests and I got his comedic approach to things, his banal sense of humour I guess," Kino Sum lead Waugh tells Playback Daily.
Adding that the team also knew Dong through CSIF, where Waugh previously worked, she says Events Transpiring was very much rooted in the Calgary film co-op world.
"Having that background working as the programming and communications director at CSIF, it was amazing to be able to use the connections I had made in the community, because this film was just so community driven," Waugh acknowledges. In addition to CSIF's support, the team also told Playback Daily that non-profit artist-run Emmedia Gallery & Production Society provided in-kind space use for auditions and rehearsals.
Shot over the course of 13 days at Calgary's Queen Elizabeth School – where Stenson attended high school – the script for Events Transpiring was actually crafted around the location. A move Stenson says he made because he thought it would be easier. But it presented a mighty challenge to secure the spot, according to Waugh. "It was so important for the project so we really had to cut corners in other things in order to afford that location," the producer says. (There's only one shot outside of the school in the feature, in an alleyway beside it.)
Going into directing never having made a feature before, Stenson's feature film largely sees him direct a group of actors that have experience only in high school drama. "It went way better than I could have expected, to the degree that I honestly was like 'Man, maybe I could be a high school teacher' – which is certainly never something that has ever crossed my mind before," he says.
Looking forward, Stenson admits he's already started shooting another project, something tentatively called The Conflict that will "be a lot different" than his first feature film. "I almost want to approach it by doing everything opposite to how I did on this project," he says, furthering noting that he hopes his next DIY venture which features various self-made restrictions will star producer Dong. The rough premise of the project is that an accountant becomes fixated on receiving an apology from a punk musician.
Meanwhile, Events Transpiring joins Kino Sum's growing slate, according to Waugh.
The prodco, which was formed in 2017, recently saw lead McKercher's Circle of Steel land on iTunes this week. Up next, the banner will debut documentary Borrowed From Nature on CBC and CBC Gem next month.
Directed by co-founder Carlier and produced by Waugh and McKercher, the project examines the legacy of Japanese gardens in Western Canada, adding that the company is focused on telling unconventional stories, especially through an Albertan lens. "I think that there are just so many stories in Alberta in particular that are so hidden," she says.
On the horizon, the banner is working on McKercher's second feature Lucky Star, a script about a Chinese-Canadian family that recently picked up funding from the Harold Greenberg Fund, and is potentially interested in pursuing a project in the VR space.
Executive produced by McKercher and Brenda Lieberman Events Transpiring Before, During, and After a High School Basketball Game does not currently have a distributor.
Image courtesy of Kino Sum Productions