Shirley Cheechoo named Reelworld's Visionary Award recipient
The influential Cree filmmaker, actor, writer and visual artist was also recently chosen to join the CFC board.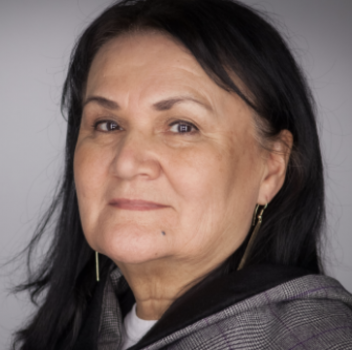 The Reelworld Film Festival has named filmmaker, actor, writer and visual artist Shirley Cheechoo as the recipient of its 2020 Reelworld Visionary Award.
An honour bestowed every year, the award recognizes industry leaders who have dedicated decades towards changing the face of the Canadian film and TV industry. Past winners include Hamlin Grange, Frances-Anne Solomon, Jesse Wente, Raja Khanna and Ana Serrano.
She joins director, writer and producer Clement Virgo who was tapped for the festival's 2020 Award of Excellence last week.
A member of the Cree nation, Cheechoo was inducted into Playback's Canadian Film & Television Hall of Fame last year and is widely recognized as the first person from a First Nation to write, produce, direct and act in a feature-length dramatic film in Canada.
Her feature Bearwalker, which screened at the Cannes Film Festival and served as the Opening Night Gala for Reelworld's inaugural edition in 2001, previously picked up Reelworld's best director prize at the time.
"It is an honour to be recognized by the Reelworld Film Festival and Reelworld Screen Institute for the second time, but this time as a Visionary. I believe that film is one of the most powerful vehicles for bringing people together and materializing the social change we desperately need in our industry," said the award-winning creative in a statement.
Born in Eastman, QC, Cheechoo was previously separated from her family and sent to several residential schools in Northern and Southern Ontario when she was young.
In addition to co-founding the Debajehmujig Theatre Group, Cheechoo's accomplishments include founding the Weengushk Film Institute, a non-profit, artist-focused film and TV training centre for Indigenous youth. Notably, it was while working on Bearwalker that she noticed how many young people were interested in getting involved in filmmaking, leading to the beginning of the institute. As well, in 2015, she was named chancellor of Brock University, becoming the first woman and first Indigenous Canadian to take on the post.
A member of the Order of Canada and a past recipient of the Queen's Diamond Jubilee Award, she is an alumna of the Sundance Film Institute, Women In the Director's Chair, the Banff Centre and the Canadian Film Centre (CFC). Last week, alongside Virgo, she was unveiled among the CFC's new board of directors.
Cheechoo will take part in a one-on-one conversation during Reelworld on Oct. 19 at 12 p.m. EDT. The festival runs from Oct. 14 to 19.