Outgoing CMPA chair Scott Garvie reflects on four years of industry upheaval
VIDEO: Garvie, whose four-year term has spanned a number of historic policy decisions and reviews, discusses some of the defining moments of his tenure and looks ahead to what comes next for Canadian producers.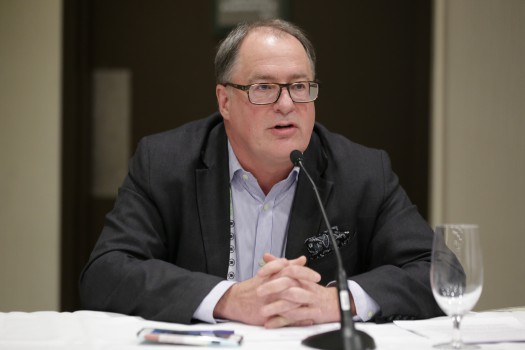 After four years as chair of the Canadian Media Producers Association (CMPA), Scott Garvie concludes a term  spanning some defining moments in the history of domestic film and television. With Garvie's exit, co-vice-chair Erin Haskett (Lark Productions) has been appointed to the post of interim chair.
In this Playback Sessions video interview, Garvie, who also serves as SVP at Shaftesbury, discusses pivotal moments of his tenure, diversifying the CMPA's board of directors and working with industry stakeholders to create pan-industry solutions, as well as looking ahead to the upcoming legislative amendments set to take place later this fall.
Garvie on key shifts that have taken place during his term: "Four years ago, a producer would create a show, produce a show and own the content. Now the OTTs want to own the content, the traditional broadcasters want to own the content – it's really important that the creators and producers continue to own [it] to ensure the storytelling is done properly and that there's an orderly marketplace."
On industry groups collaborating to find solutions: "We've seen a pathway for the CMPA to work more closely with [organizations like] the AQPM or the other stakeholders… and try to come up with solutions that are pan-industry solutions and less adversarial, looking at solving problems together."
On the rules around the $50-million short-term fund for productions unable to obtain insurance: "What we don't know is: what does that $50 million translate to in [terms of] production volumes?….The minister has also made it clear that, if more money is needed, that is something [the government] would consider downstream. So we're delighted about the [fund], and we're eager to hear what the rules of engagement are. We hope it triggers as much production as possible."
On IP ownership and upcoming legislative amendments: "We want to make sure people are treated fairly. We want to make sure producers get to own the intellectual property of the content they create [since they] take all the risk in producing. We would often hear from different stakeholders, like the broadcasters, that producers take no risk. How ludicrous is that, when you look at a pandemic and the number of shutdowns and all the risk that's been assumed by the production community. It's pretty clear that the producers are instrumental in dealing with both the risk management and the creation of the content. So it is going to be top of mind and I think you'll be seeing a lot more from the CMPA – working with the minister and the Yale report results – that reflects [the fact that] there's a real inequality of bargaining."