CTV wraps production on Just For Laughs comedy special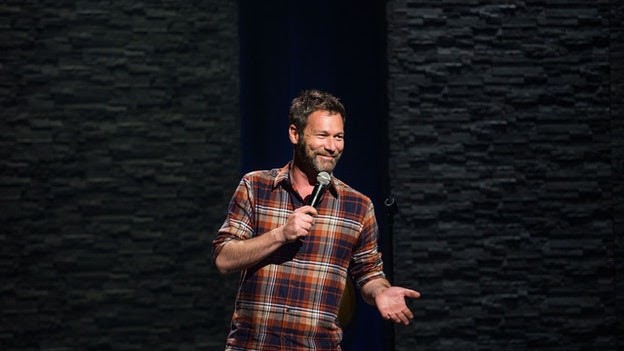 The Stand Up Show With Jon Dore filmed last month at Toronto's Crow's Theatre in front of a live, socially distanced audience for its eight-episode second season.
Production has wrapped on the second season of CTV Comedy Channel's The Stand Up Show With Jon Dore, one of the few Canadian productions to film in front of a live – and socially distanced – audience.
Filmed at Crow's Theatre in Toronto last month, the eight x 30-minute season features stand up routines from a number of Canadian comics, including Al Val, Debra DiGiovanni, Nour Hadidi, and Salma Hindy and alumni from the Just for Laughs New Faces: Canada program, and hosted by comedian Jon Dore (pictured).
The stand up series is produced by CTV in association with Just For Laughs Television and Counterfeit Pictures. Just For Laughs president Bruce Hills is an executive producer alongside Counterfeit's Anton Leo, Dan Bennett and Shane Corkery. Shelagh O'Brien directed all eight episodes.
Broadcast details on season two will be announced at a later date. Season one of The Stand Up Show With Jon Dore was filmed at the 2019 Just For Laughs festival in Montreal and premiered this past summer.
"[The year] 2020 will be forever remembered as a uniquely challenging year for all industries, especially within our Canadian comedy community," said Hills, in a statement. "We're so glad to be able to deliver eight, half-hours of new comedy content for Canadian audiences."