In brief: Canada/Ireland copro French Exit to close New York film fest
The coproduction from Elevation Pictures, Screen Siren Pictures, Rocket Science and Blinder Films, makes its world premiere Oct. 11, plus more.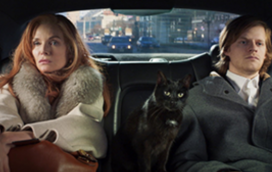 Canada/Ireland copro to close New York Film Festival
French Exit, a Canada/Ireland coproduction from Elevation Pictures, Screen Siren Pictures, Rocket Science and Blinder Films, is set to close the 58th edition of New York Film Festival on Oct. 11. The world-premiering film, starring Michelle Pfeiffer and Lucas Hedges, is an adaptation of Canadian novelist and screenwriter Patrick deWitt's novel of the same name. Meanwhile, two other Canada coproductions will also screen at the U.S. festival. Mexic0-Canada copro Fauna, directed by Mexican-Canadian filmmaker Nicolás Pereda, will screen in the festival, in addition to Philippe Lacôte's Night of the Kings (La nuit des rois), which earlier screened as part of TIFF 2020.
Employable Me heads to virtual MIPCOM
AMI-tv's Employable Me has been nominated for a Diversify-TV award at the virtual edition of MIPCOM. The project, which is produced by Thomas Howe Associates and airs on AMI and TVO in Canada, will compete in the non-scripted category against Australian series The Loop and Spanish show Auténtico. The three-time Rockie Awards International Program Competition-winning series, distributed by all3media International, goes to air in Canada this fall.
Experimental Forest Films unveils first recipients for expanded New Works Grant
Vancouver-based prodco Experimental Forest Films has announced four recipients of the inaugural New Works Grant created earlier this year. The grant, initially made to offer $2,000 to a local Black filmmaker, was expanded to award four possible candidates, thanks to a number of contributions from Vancouver-based filmmakers and companies. Edward Madojemu, Sideah Alladice, Nifemi Madarikan and Omorose Osagie are the first winners of the grant, each awarded $2,000 for their respective projects. Madojemu's Lightcatchers is a supernatural 3D animation; Alladice's Hear Me to See Me is a personal documentary on her experience as a sexual assault survivor; Madarikan's Dogfall is a narrative short that depicts an alternative justice program from prison; and Osagie's The Glass Doll is a 2D animation featuring broken toys in a post-apocalytic world. The grant winners were chosen by a jury composed of Hubert Davis, Karen Chapman and Kathleen Jayme. Experimental Forest Films is co-founded by Kathleen Hepburn and Tyler Hagan.