imagineNATIVE sets Inconvenient Indian, Shadow of Dumont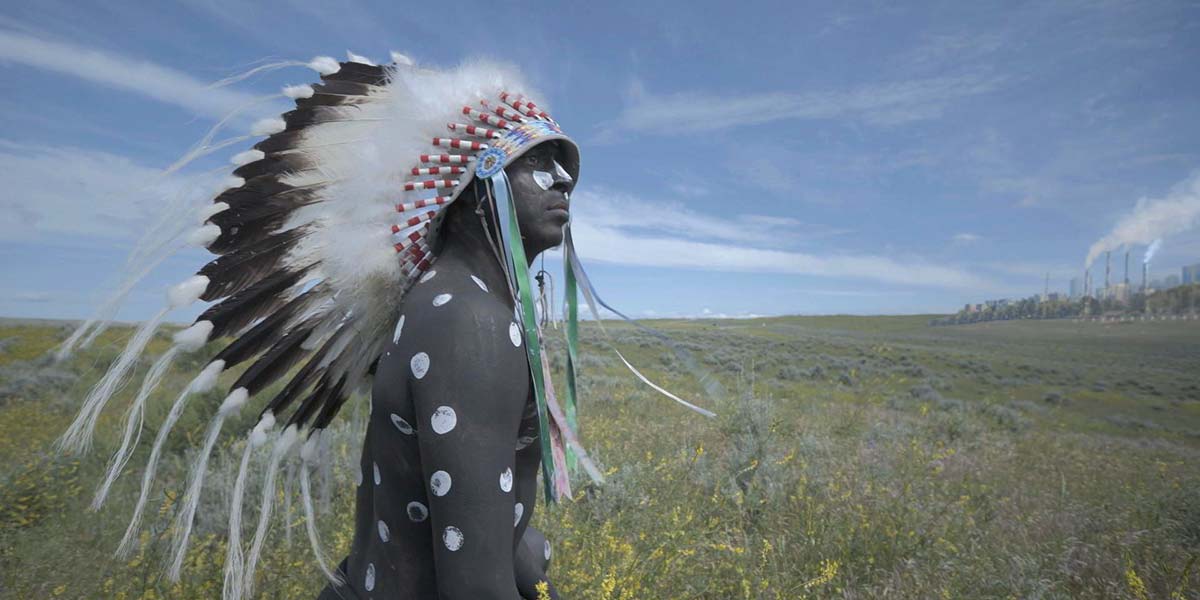 The online 21st edition of the festival will see Trevor Cameron's documentary screen and Lorne Cardinal receive its August Schellenberg Award of Excellence.
The imagineNATIVE Film + Media Arts Festival has lifted the lid on its full programming lineup for its upcoming 21st edition.
Set to take place online from Oct. 20 to 25, the world's largest Indigenous festival showcasing film, video, audio, digital and interactive media created by Indigenous screen content creators will showcase work from 153 Indigenous artists in 23 languages from 97 Indigenous nations. All told, this year's festival consists of 10 feature films, four short programs, two guest curated selections and one artist spotlight.
Of note, writer/director/executive producer Trevor Cameron's Shadow of Dumont is set to screen as part of imagineNATIVE's feature film roster.  Producers include KarmaFilm's Kelly Balon and Anand Ramayya, while Victoria Vaughan serves as an associate producer. The Canadian documentary follows the filmmaker's journey across North America as he tracks the legacy of his great-great-uncle Métis leader Gabriel Dumont. The project was recently unveiled alongside other programming by Blue Ant Media's Blue Ant International ahead of this year's virtual MIPCOM.
Other Canadian features set to screen include: writer/director Michelle Latimer's TIFF People's Choice Documentary Award and Amplify Voices Award for Best Canadian Feature winner Inconvenient Indian (pictured); co-writer/director/producer Loretta Todd's VIFF opening night selection Monkey Beach; and director/producer/writer Jessie Anthony's debut feature Brother, I Cry, which recently picked up VIFF's BC Emerging Filmmaker Award.
Rounding out the feature selections is director Nivi Pedersen's documentary Pilluarneq Ersigiunnaarpara (Greenland/Denmark), Kvrvf Nawel's Semillas De Lucha (Ecuador), Kiel McNaughton's The Legend of Baron To'a (New Zealand) and Sterlin Harjo's documentary Love and Fury (U.S./U.K.).
For 2020, imagineNATIVE's short film programs are each named after the four colours in the medicine wheel. Notably, Yellow (Oct. 20), which is dedicated to works created by artists from seven different nations, marks the festival's first time opening with a short film program.
Short films featured in the section include Michelle Derosier's Audrey's Story (Canada, Anishinaabe); Theola Ross' Êmîcêtôsêt: Many bloodlines (Canada, Cree); Jack Steele's Between Two Lines (Australia, Wiradjuri); Ngariki Ngatae's Te Wao Nui (New Zealand, Māori); Banchi Hanuse's Nuxalk Radio (Canada, Nuxalk); Hinaleimoana Wong-Kalu's Kapaemahu (U.S., Kanaka Maoli); and Alisi Telengut's The Fourfold (Canada, Mongolian, Telengut).
Meanwhile, Red (Oct. 21) showcases stories of connection where land and love reunite to bring hope and resilience, Black (Oct. 23) offers "eight visually arresting shorts at the vanguard of Indigenous Cinema," and White (Oct. 24) consists of stories focused on family, community, Indigenous languages and representation.
Canadian shorts Becoming Nakuset from director Victoria Anderson-Gardener and Katinngak (Together) from Glenn Gear will make their world debuts in the Red program, while fellow Canadian short Lichen from Lisa Jackson screens. As well, the Black lineup will see Greed Story from Tom McLeod make its Ontario premiere and Mooz Miikan from Evelyn Pakinewatik will make its world premiere in the White section, while Tekahionwake (Double Wampum) from Shelley Niro has its Toronto debut.
Award-winning actor/producer/director Lorne Cardinal, whose credits include Corner Gas, Fargo and FBI: Most Wanted, will also be honoured by the festival with its 6th annual August Schellenberg Award of Excellence. Launched in partnership with Joan Karasevich Schellenberg to honour her late husband and the spirit of his work, the prize will be presented to Cardinal as part of the imagineNATIVE Awards Presentation hosted by Tiffany Ayalik on Oct. 25.
Finally, the festival will have an Artist Spotlight program on Regina-born filmmaker/performance artist/writer Thirza Cuthand on Oct. 22; Écrans autochtones: temporalité et mouvement on Oct. 23; and Tell Me A Story: A Multi-Generational Film Program on Oct. 25.
Notably, alongside Inconvenient Indian from the National Film Board of Canada (NFB) and 90th Parallel Productions, six short films from the NFB will be presented in imagineNATIVE's Écrans autochtones: temporalité et mouvement. They include Meky Ottawa's The Fake Calendar; Diane Obomsawin's I Like Girls; Caroline Monnet's Mobilize; Thérèse Ottawa's Red Path; and two projects from the NFB and Nadagam Films, Evelyne Papatie's Children of the Nomad and Délia Gunn's Délia 9 to 5.
As previously announced, the festival will close with the Canadian premiere of Bolivian director Miguel Hilari's Spanish-language documentary Compañía. The film looks at the daily life of a small mountain community as members return from the city to honour the dead.