Escaping reality: factual producers on creating a welcome distraction from the 24/7 COVID news cycle
VIDEO: Execs from marblemedia, Insight Productions, Saloon Media and BGM discuss pandemic-era production, strategic shifts in development, and what audiences and buyers are looking for.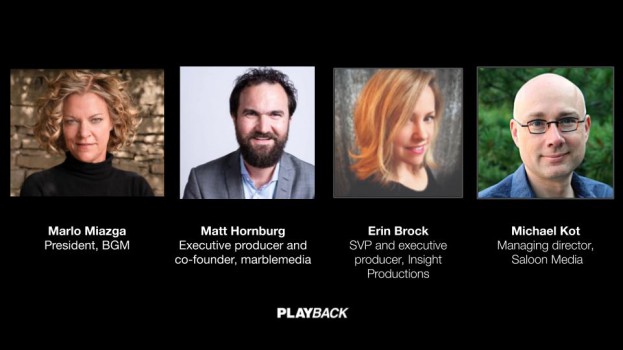 In the second episode of the new video series Playback Sessions, unscripted executives discuss pandemic-era production and development, what audiences and buyers are looking for, insurance, the absence of live audiences and creating shows for viewers who want to escape from COVID when they turn to entertainment programming.
Participants in the discussion are: Marlo Miazga, president, BGM; Matt Hornburg, executive producer and co-CEO of marblemedia; Erin Brock, SVP and executive producer, Insight Productions; and Michael Kot, managing director, Saloon Media.
Hornburg on producing shows during the pandemic: "We announced our new original series, Race Against the Tide, with CBC, currently shooting in New Brunswick. For sure it was hard moving that over the line. CBC put an incredible amount of trust in our company, and our team with an original show, [produced] out of province. Our showrunner showed up a week before shooting to the location and hadn't seen it yet. So, it's just trying to figure out how do you make a hit show in this environment so that the audience doesn't know the difference?"
Miazga on amping up the entertainment factor: "Our development is more around entertainment now than it was even six months ago. A lot of the broadcasters have been asking for more entertaining – high-impact shows that take you out of the fatigue of COVID. That's where our development has gone."
Erin Brock on following the money: The people that are making more money than ever are streaming services, because they have more subscriptions than ever. And so we certainly shifted some of our development to look at how we could service the streamers.
Kot on creating shows that will outlast the pandemic: "When we make these shows, we think about distribution. And we think about whether this show going to stand up in five years – can you come back to this show in 10 years. So you don't want a show [where people think] 'oh, that's a COVID show.' You want a show that lasts."