Schitt's Creek breaks Emmy records on historic night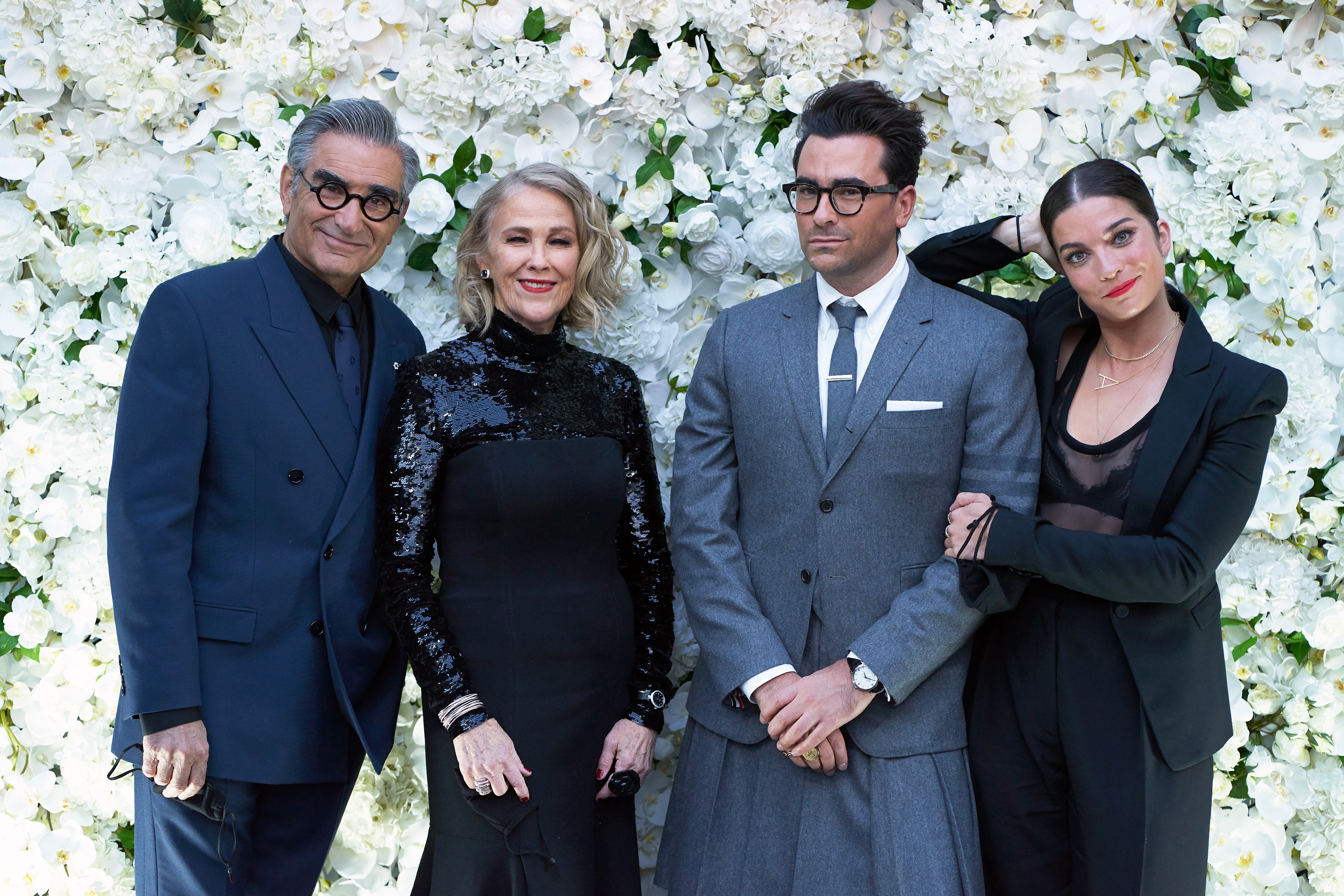 The CBC comedy's final season won nine Emmys in total, besting Television Academy records and writing a new chapter in Canadian TV history.
There's going out on a high note, and then there's making television history – which is exactly what the team behind Schitt's Creek pulled off at Sunday night's Primetime Emmy Awards as it swept the entire comedy category.
Schitt's Creek exceeded every possible expectation for a Canadian series. Not only did it break Canadian TV records for most Emmy wins and nominations previously held by The Tudors, it broke Television Academy records, achieving the most Emmy wins in a single season for a comedy series – taking nine wins for its final season – which was previously held by fellow nominee The Marvelous Mrs. Maisel.
It broke another record by sweeping all four acting categories in a single season for stars Catherine O'Hara, Eugene and Dan Levy and Annie Murphy, while Dan Levy tied the record for most individual wins in a single season (set by Moira Demos in 2016 for the docuseries Making a Murderer), winning for best comedy as an executive producer, as well as supporting actor, writing and a co-win with Andrew Cividino for directing.
"Our show, at its core, is about the transformational effects of love and acceptance and that is something that we need more of now than we've ever needed before," said co-creator and showrunner Dan Levy in the acceptance speech for best comedy via a livestream in Toronto's Casa Loma, while fellow co-creator Eugene added thank-yous to Peter Sussman, Sally Catto, as well as CBC and the Canada Media Fund.
All four cast members were on-hand to accept their awards at the famed Toronto castle built for magnate Henry Pellatt, whose ties to bringing hydroelectricity to Toronto seem oddly appropriate to send off a series that sparked a jolt of life into Canadian comedy that could last for years to come.
Levy ended with a thank-you to a crew that gave "110 percent" to making the series. "I am so proud that I am able to accept this Emmy award in Canada with our Canadian cast and crew," he said.
It's a fitting end for a series that only grew in admiration and momentum during its six-season run, becoming an early hit in Canada before a Netflix deal made it a household name worldwide in later seasons and becoming a flagship success story for its U.S. broadcaster Pop TV.
"We are so honoured to have worked with this infinitely talented team and proud to have commissioned this groundbreaking comedy that celebrates family and inclusive values with brilliance and unparalleled humour," said Catto in a statement. "Schitt's Creek became an anchor for a new era of scripted comedy at CBC, and is truly one of the greatest comedies ever created. It is beloved around the globe and CBC is delighted to be a partner in bringing the best of Canada to the world."
Pictured (L-R): Emmy winners Eugene Levy, Catherine O'Hara, Dan Levy and Annie Murphy (photo by Ana Sorys)