Schitt's Creek wins Emmy for Outstanding Comedy Series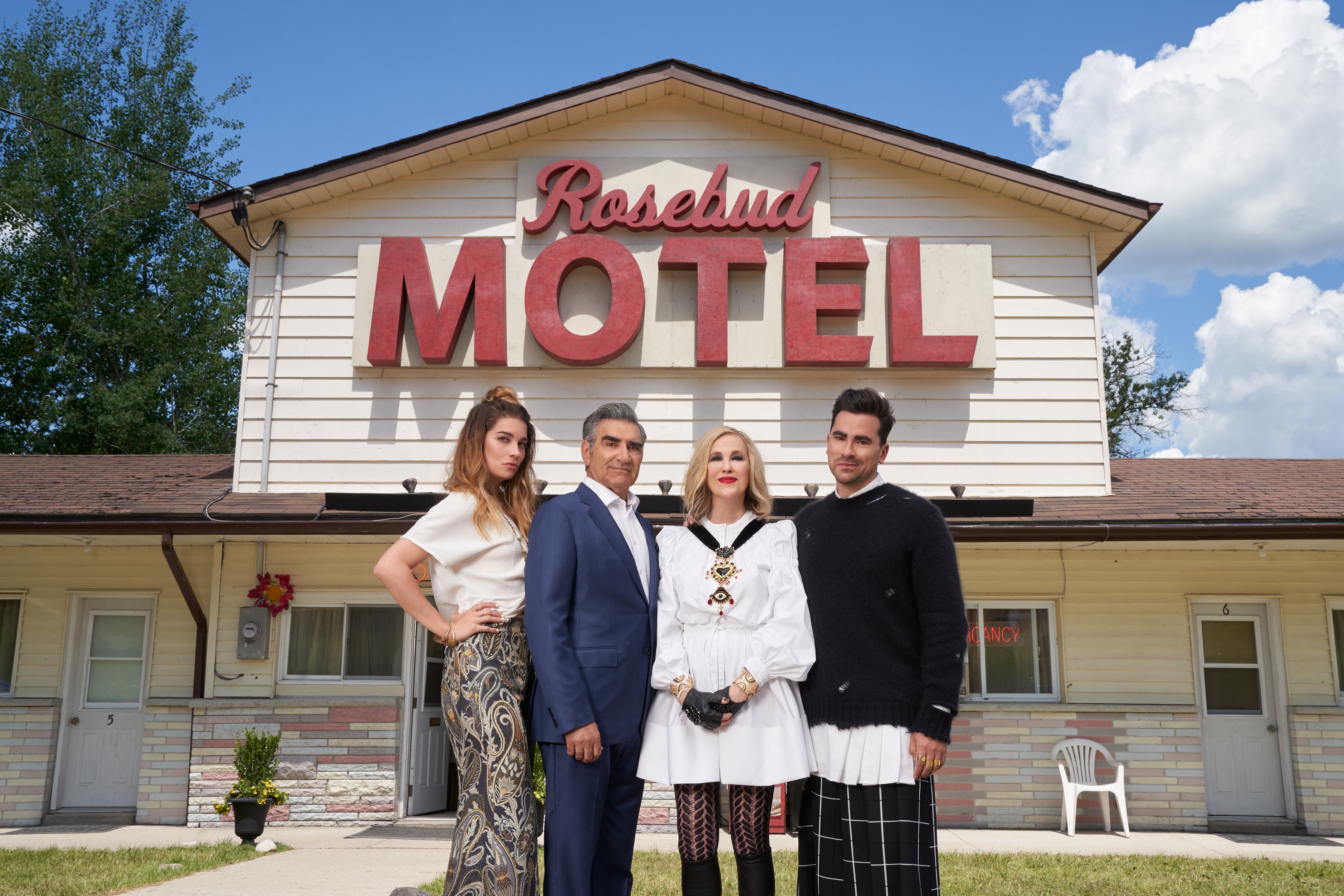 The history-making CBC comedy had 15 nominations for this year's Emmy awards and had already won two awards going into the Sunday night ceremony.
Schitt's Creek made Canadian history at the 72nd Annual Primetime Emmy Awards, winning nine awards, including Outstanding Comedy Series.
All four lead actors were lauded during the ceremony – Catherine O'Hara won Outstanding Lead Actress in a Comedy Series, Eugene Levy won for lead actor, Dan Levy for supporting actor and Annie Murphy for supporting actress. Dan also pulled off wins in Outstanding Writing in a Comedy Series and Outstanding Directing in a Comedy Series, the latter he shared with Andrew Cividino.
Members of the Schitt's Creek cast and crew – including O'Hara, the Levys and Murphy – gathered in Toronto to accept the awards, which were handed out virtually. All four lead cast members were nominated in acting categories, along with one nomination for directing and two for writing, as well as a number of craft categories.
Schitt's Creek is the first Canadian series to be nominated for (or win) Outstanding Comedy Series and the second Emmy winner for U.S. broadcaster Pop TV. It is the most-nominated series in CBC's history with 15 total nominations for its final season and 19 overall, followed by CBC sketch series SCTV – another series featuring O'Hara and Eugene Levy – which earned seven nominations in 1982 and eight nominations in 1983. The Kids in the Hall picked up three nominations for writing between 1993 to 1995 – more recently, Orphan Black brought Canada Emmy gold when Tatiana Maslany won Outstanding Lead Actress in a Drama Series for her multiple clone roles.
Schitt's Creek won its first Emmy on Thursday (Sept. 17) for Outstanding Casting For A Comedy Series, and a second on Saturday (Sept. 17) for Outstanding Contemporary Costumes. It was nominated for four Emmys in 2019, but went home empty handed. The series ran for six seasons on CBC before coming to a conclusion on April 7, with series-high ratings on CBC.
The CBC comedy faced stiff competition in the Emmy race, going up against HBO's Curb Your Enthusiasm and Insecure, Netflix's Dead to Me and The Kominsky Method, NBC's The Good Place, Amazon Prime's The Marvelous Mrs. Maisel and FX's What We Do in the Shadows.