Film distributors talk TIFF, super agencies and return of theatrical
VIDEO: In the first instalment of Playback's new video series, Anick Poirier, Justin Rebelo, Noah Segal and Mark Slone unpack some of the tectonic shifts and opportunities in the film distribution landscape.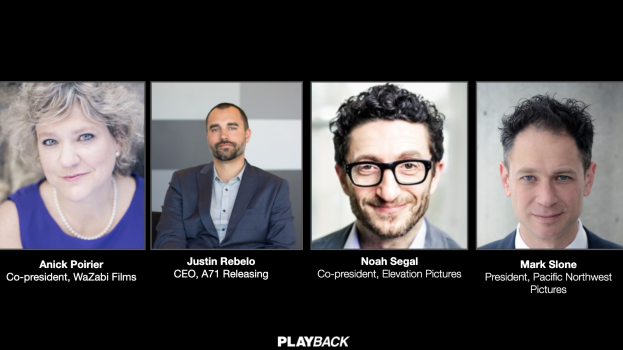 In the first instalment of Playback Sessions, we speak with film distribution execs about their approaches to this year's virtual Toronto International Film Festival (TIFF), lessons learned over the past six months, how they're managing the gradual shift back to theatrical releasing, and their thoughts on the potential merger of the Canada Media Fund and Telefilm.
Participants in the discussion are: Anick Poirier, co-president, WaZabi Films; Justin Rebelo, CEO, A71 Releasing; Noah Segal, co-president, Elevation Pictures; and Mark Slone, president, Pacific Northwest Pictures.
Slone on what the return to theatrical releasing will look like: "We'll see what comes, but I agree that big pictures will drive the way. Younger people will drive the way, and then hopefully as things subside we'll see the larger cohort coming out again [to theatres]."
Segal on learnings over the past six months: "In terms of specific lessons, I would say that we had some great success in taking VOD seriously. Blood Quantum, for example. Once we focused on it as a super-sized transactional, and Secret Garden as well recently, both performed extraordinarily well. They were extremely good results."
Poirier on being smart, and cautious, while waiting for the business to bounce back: "We're making sure we're not going crazy. We're not doing huge investments in films, we're doing deals with filmmakers where we're trying to really limit our risk. I think that's the way to maintain your business, keep alive and hold on. There will be better days, there's no question."
Rebelo on the path back to production for A71: "We started shooting Aug. 4, so we've been in production and are already on the other side in post-production. So it really depends on the scale and size of your operation, and your relationships. Because we have internal [production] staff, we developed a very extensive COVID guideline – which is increasing the cost of production for sure – we've managed to get insurance, we've managed to get our banking in place. So we're in post, and we're rolling to the next one, and we're prepping for beyond that. We're definitely concerned about a second wave, and we're following that closely….but we've managed to find creative solutions because we're small and nimble."
Slone on the potential merger between CMF and Telefilm, as proposed in the Broadcasting and Telecommunications Legislative Review (BTLR) report: "It's my experience that only people on the television side ever recommend the mergers of these two things, and I do think it speaks to the way film sits in a more vaunted position in terms of how it reflects our culture and carries our culture to the world. You rarely hear a call, despite the much lower funding, for film and TV to be merged from the film side."
Segal on protecting and nurturing strong film and TV voices within the context of the Canadian funding landscape: "I don't want to say it's short-sighted, but I would say that… none of us want more bureaucracy, but we do need to understand that film is unique: it is definitely a medium built around directors and vision – TV is more of a writers medium. So there are two distinct ways of doing things, and we need to protect both. I think by having focus separated, it helps carefully protect that."