Incendo ramps up production in Montreal with two MOWs
Seasoned With Love and One of a Kind Love went to camera this week with all-Canadian lead actors as Incendo builds up its local production slate.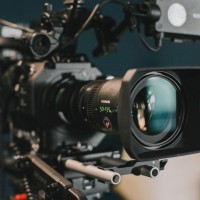 Incendo has launched principal photography on two made-for-TV films in Montreal this week.
Seasoned With Love and One of a Kind Love are both produced by the TVA-owned and Montreal-based prodco in association with Rogers Sports & Media for Citytv's Fall in Love Fridays lineup. Incendo's Kaleigh Kavanagh is a producer on both films, with Jean Bureau and Ian Whitehead serving as executive producers.
Seasoned With Love is directed by Claude Desrosiers and written by Gemma Holdway. It stars Canadian actors and married couple Julia and Peter Benson, as well as Tori Barban (A Husband's Confession), and follows an up-and-coming chef whose car breaks down in a small town on her way to a cooking show audition in New York.
One of a Kind Love is directed by Philippe Lupien and written by Barbara Kymlicka. It stars Canadian actors Jocelyn Hudon (When Hope Calls), Jake Manley (The Order) and Daniela Sandiford (Good Sam). The film follows a woman whose dream of becoming a professional jeweller is threatened when her childhood rival competes with her to rent the only available vacant shop in town.
The films are part of Incendo's six-film production slate in Montreal for 2020, which kicked off with You May Kiss the Bridesmaid – another MOW for Citytv – last month. The Quebec provincial government introduced a $51 million fund in July to help offset extra costs due to the COVID-19 pandemic, including compensation for potential shutdowns for productions with a COVID-19 exclusion on their insurance.
Incendo also recently outlined its international coproduction strategy for the next two years, including the New Zealand copro A Love Yarn, which it produced with Screentime NZ, and wrapped in August.
Image: Unsplash