Joseph Kay on Transplant's rise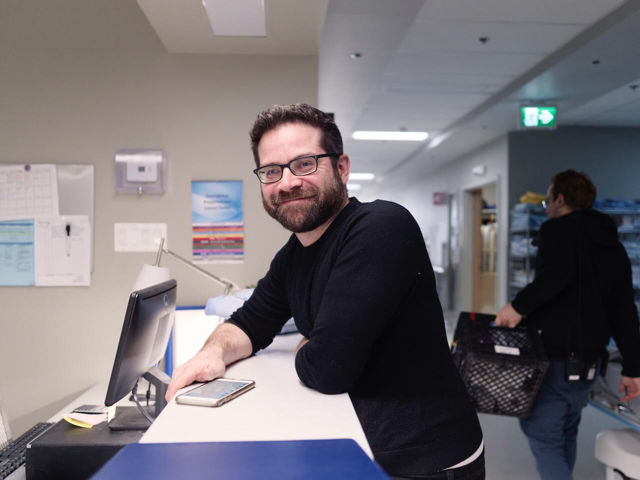 The showrunner, creator, writer and executive producer discusses the medical drama starring Hamza Haq ahead of its U.S. debut on NBC today.
Success is a dream, but not always the reality for TV showrunners.
"Often that doesn't happen. Often you work really hard on something and it comes and goes, or it's not seen by as many people as you want," admits Joseph Kay. However, Transplant is proving to be the exception to the rule for Kay and his team.
Catching up with Playback Daily prior to the U.S. debut of his Canadian medical drama on NBC, the creator, writer and executive producer says that's why he's excited and proud of his Sphére Média Plus-produced medical drama, which all in all, has grabbed Canadian audiences and seen a staggering amount of buzz for a new Canadian series.
Airing today (Sept. 1) at 10 p.m. as part of the American network's fall lineup, Transplant launched on CTV this February – earning an average audience (2+) 1.31 million with its debut, garnering (2+) 1.6 million with its finale, a sophomore season and the title of the most-watched Canadian drama during its first season on CTV, according to a previous press release issued by Bell Media. As well, the 13-episode series starring Quantico's Hamza Haq is also getting another push by being rebroadcast on CTV day-and-date with its U.S. premiere.
And, of note, the show has already received some high praise going into the market.
"The series will make its debut as the best medical show on American television, which is something given the competition (even just on NBC). And while it's a bit early for a full-blown diagnosis, it may turn out to be one of the better dramas the network has ever had," says a review from John Anderson in The Wall Street Journal.
Versus other medical dramas in the space, lawyer-turned-showrunner Kay notes that Transplant has its own "nice little niche" in the vertical – explaining that the show following Dr. Bashir "Bash" Hamed (played by Haq), a Syrian refugee who struggles to build a new life for him and his younger sister in Canada, strives to be more grounded and emotionally honest in its storytelling. "Obviously, the medical framework is one of the older genres in television, but we're coming at it from a new perspective and I think that's why people have been interested in it," says Kay.
Produced in association with CTV and NBC – the medical drama has had NBC ties since its early stages. For instance, both NBCUniversal International Studios and NBCUniversal Global Distribution – which handles worldwide sales on the series – with Kay noting that from the first year the project was in development the two arms were on board.
Expanding on NBC's support for the series, the former This Life showrunner credits NBCUniversal International Studios' Jeff Wachtel with describing the show as a mix of ER and The Night Of, noting that the executive encouraged the team to "write that show," focusing on Bash's life and trying to bring that same emotional urgency felt in the pilot to each episode again and again. And in terms of Transplant's broadcast pick up, he says talk about interest in having the show started in early 2020.
In addition to supporting the series early on, Kay says the American network has helped the show's move into the U.S. with America's Got Talent as its big lead-in and a robust marketing campaign, which includes on-air promotion during NBC programming as well as its affiliate stations and other platforms.
Speaking about its U.S. debut, the Canadian Film Centre alum says he's excited about how the show gets to be a meaningful part of the conversation happening right now around immigration and race – acknowledging that the drama's subject matter is likely more heightened in the market, especially in the context of the upcoming presidential election.
"It's the same stuff that when I was conceiving of the show a long time ago and the whole time we were developing it… we were already thinking about," he says, acknowledging that the idea for Transplant came about after the last election. "On Transplant, we've been having these kinds of thoughts and conversations for the last four years, so I think we're well suited to exist within that context. We strive to not hit people over the head with these 'issues' which is again by hoping to do right by the central journey of the main character, we can just put a human face on it and invite people to consider it and try to identify with a lived experience."
Addressing the rising conversation around stories being told from authentic perspectives, Kay notes that he came up with the idea for Transplant during a different climate. Explaining that he knew the show was a good idea and that he wanted to earn the right to tell it, taking on the story involved talking to as many Syrians as possible and "really doing the work." A process he says that "was extremely involved right from the beginning and continues to be up until today, and tomorrow. It's just not something we've ever stopped."
Looking towards the future, the showrunner acknowledges that Transplant's success has helped him and others gain more visibility in the industry. As well, season two of Transplant is in the works – with the writers room taking place virtually and production plans underway (which Kay says will take into account a range of COVID-19 precautions).
"What we've been talking about is you can incorporate themes of COVID into the storytelling without having to tell COVID stories, because people might be a little bit tired of living that life and [might] not necessarily want to see [that] on television. But the way society is as a whole stepping up to face the challenge and certain thematic things that it raises you can find ways to cleverly address," he says, addressing Transplant's next chapter. "But, COVID, it's a reality and we're working through it like everyone else."
Image of Kay on Transplant courtesy of GAT PR