Amelia Moses on the collaborations that shaped her feature film debut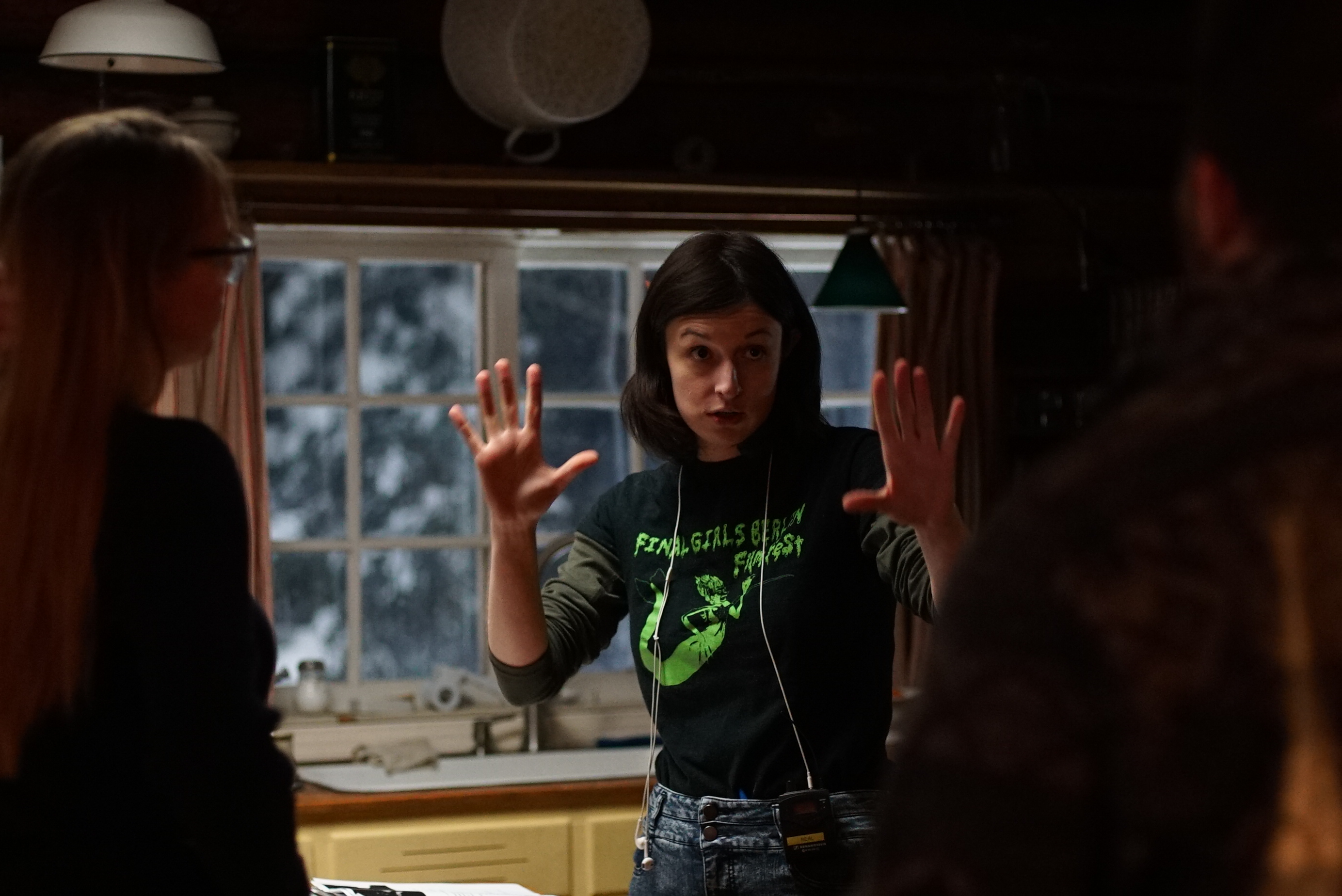 The writer/director discusses how she approached her Talent to Watch-supported thriller Bleed with Me and her upcoming sophomore effort.
For a filmmaker in the genre space, you could describe Amelia Moses as a bit of a realist.
Speaking about her film, Bleed with Me, the writer/director/producer tells Playback Daily that the psychological thriller stemmed from wanting to make a contained feature on a microbudget with a small cast and crew at a cabin.
"I wanted to contain myself to one location and minimal characters," Moses says, adding that in the back of her mind she knew if she wanted to make a feature, she knew she had to do it swiftly and simply using what she had around her. "Knowing your limits and working within those. Which I think is also super exciting creatively – it can be tough but also I think it's good to have limitations."
Screening as part of the Fantasia International Film Festival this week, the fruits of her labour (or limitations) with producers Mariel Sharp and Lee Marshall (who also stars) made its world debut this Wednesday (Aug. 26) and is set to screen again on Sept. 1 at 3 p.m.
Shot during "the most intense winter landscape" in Harrington, QC in early 2019, Bleed with Me examines the relationship between Rowan, a shy awkward young woman (played by Marshall) and her best friend Emily (Lauren Beatty) and Emily's seemingly unfriendly boyfriend Brendan (Aris Tyros). While on a weekend getaway at an isolated cabin, things start to take an eerie turn for Rowan when she begins to experience strange late-night visions that lead her to suspect her friend is stealing her blood.
A Telefilm Canada Talent to Watch project, Moses says the program for emerging filmmakers was the target for the team from the get-go – noting an emphasis on making realistic films through the stream. "We were definitely very new to the game so we knew that there definitely wasn't going to be a lot of opportunities outside of that grant," she says.
Prior to the project, she had done a couple of shorts with her last one, body-horror Undress Me (2017) – produced by Sharp and starring Marshall – being one of the few that helped her career. The film previously played as part of Fantasia's Born of Women selection, screened at over 30 festivals and had a limited release on streamer Shudder as part of the Nitehawk Film Festival's Midnite Program – landing on Gunpowder & Sky's online horror brand ALTER.
Bleed with Me was initially turned down by Telefilm in 2017 – only picking up funding the following summer. "In a lot of ways, I'm glad we didn't get it the first time because the script was so much more developed, and everything, for that second application. I was glad I actually had that time to work on things more because I think if we had gone into production, it wouldn't have been as good because I wouldn't have known what I was doing," Moses says.
Working with a cast and crew of 15 that did double-duty on the film, Bleed with Me also saw most of the heads of department she used for Undress Me return. "It was nice to work with the same people again on a bigger project… That's such an amazing part of directing is those creative collaborations that you have with people and just working with people that you really respect at work," she says, acknowledging that those connections are a very rewarding part of the job for her.
In addition to the magnitude of Bleed with Me, another change from Undress Me is that Moses' freshman feature sees her previous short film lead, Marshall, credited as a producer.
Although Moses admits Bleed with Me was written with Marshall in mind, the decision to have her fill those shoes came about when the team got to the point where it became difficult to balance everything that had to be done. Knowing that Marshall – who previously wrote, directed and produced short Love, Sylvia (a project she worked on as a cinematographer) and produced short Hard Ground – was interested in gaining more producing experience, Moses says she offered to help out, with her role eventually blossoming into a more concrete producer credit.
Alongside Bleed with Me, which is currently looking for a Canadian distributor, Moses is also preoccupied with another winter feature, her sophomore effort Bloodthirsty.
In post-production, the project written by Wendy Hill-Tout and her daughter Lowell, a Canadian singer-songwriter, sees her take on the director's chair this time around.
Produced by Hill-Tout's Voice Pictures and Michael Peterson's 775 Media Corp., the film follows an indie singer (played by Bleed with Me's Beatty), who after the success of her first album gets an invitation to work with a notorious record producer at his remote studio in the woods. Bringing her girlfriend along, the vegan singer begins to have visions that she's transforming into a monster, leading her to start to discover who she really is. As announced earlier this week, the film is one of 20 English-language features selected for Telefilm's Production Program for features with a budget of $2.5 million and below.
Connecting with Peterson through a mutual friend to ask some questions related to her debut, Moses says the Harpoon and True Fiction producer told her that he was looking for a Canadian, female, horror director for the project. She ticked all the boxes.
Production on the film started on her shooting anniversary for Bleed with Me, with Moses noting that she had a very short time to get to know the characters on the werewolf thriller which recently took part in a virtual Buyer's Showcase at the Frontières Platform in Cannes.
Touching on the work that she's interested in, the writer/director says she thinks about what kinds of films she wants to see on screen. "There's a lot of emphasis on this strong female lead. There's totally room for that. But, that's not reflective of humanity and of women. I always want to see women who are much more complex and what comes with that, are flaws, mistakes and problems," she says. Themes she returns to are women struggling with identity and anxiety.
Up next, Moses is collaborating with Marshall again. She is attached to serve as a director on an in development squid-monster comedy-horror TV series written by Laura Di Girolamo, co-executive director of the Bloody Mary Film Festival in Toronto. The annual fest spotlights the works of female-identifying Canadian filmmakers in genre films, specifically horror, sci-fi and fantasy.
She's also set to take part in Fantasia's free "Film Fatales: Genre Film as Political and Social Commentary" panel moderated by SLAXX's Patricia Gomez Zlatar on Aug. 30 at 5 p.m.
Image of Amelia Moses on the set of Bleed with Me courtesy of Moses