Lark takes TV rights to Toronto author Amy Stuart's Still series
Set to be developed and produced by the Vancouver prodco, the adaptation's female-led team includes Cobie Smulders (Stumptown) and Lara Azzopardi (The Bold Type).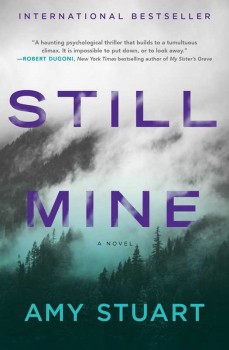 Lark Productions has picked up the TV rights to Toronto author Amy Stuart's debut psychological thriller Still Mine and her two follow-up novels Still Water and Still Here.
Set to be developed and produced by the Vancouver-based company, which NBCUniversal International Studios owns an equity stake in, it will be helmed by a female-led creative team. Canadian actor Cobie Smulders (Stumptown) is attached to the series as an executive producer, while Lara Azzopardi (The Bold Type) will adapt the project for TV and serve as showrunner and executive producer. Stuart will act as co-executive producer.
Following Clare O'Dey, a woman on the run from her abusive husband, Stuart's first instalment sees the character search for the truth about a missing local woman in a small mining town – embarking on a journey from victim to survivor. Still Water, meanwhile, sees O'Dey examine another disappearance at a women's shelter and Still Here – which was released earlier this month – tracks the protagonist as she investigates two missing persons.
"With Still Mine, Amy has crafted a cinematic psychological thriller deeply rooted in character, which deals with the healing process and the accuracy of memory, particularly as we cope with tragedy. There's never been a better time to tell a story about a woman discovering her own power as she helps others, and we are thrilled to have such a strong female-led team working to bring this to television," said Lark Productions president Erin Haskett in a press release.
Earlier this month, Lark secured financial support towards Her Pretty Face as part of Creative BC, the Canada Media Fund and the Canadian Media Producers Association – BC Producers Branch's Access 2020 program, which offers B.C.-based producers up to $30,000 in support for the early stage development of children's, youth and scripted drama projects for TV.
The Fortunate Son and Family Law producer also previously picked up the exclusive TV rights to develop and produce sci-fi comic book Descender and its sequel Ascender into a series. The company is also in development on a series based on author Emily St. John Mandel's novel The Glass Hotel. NBCUniversal International Studios acquired the rights to the novel.