Darryl Kyte joins ACTRA National as senior legal counsel
Effective immediately, the former Street Cents host and producer reports to national executive director and chief negotiator Marie Kelly.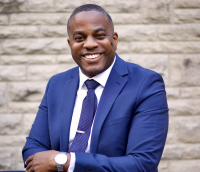 Effective immediately, ACTRA National has appointed lawyer, writer, producer and former host of the International Emmy and Gemini award-winning show Street Cents Darryl Kyte as senior legal counsel.
Helping support the union's objective of improving the working lives of professional Canadian performers, he reports to national executive director and chief negotiator Marie Kelly. Kelly joined the organization dedicated to representing over 27,000 professionals working in the English-language recorded media sector last year.
"We are pleased to create the new role of senior legal advisor at ACTRA National and to bring in Darryl Kyte to fill this significant role," said ACTRA National president David Sparrow in a statement to Playback Daily. "With the increasing complexity of issues faced by our union it is important to have a seasoned lawyer on staff providing strategic advice to our leadership and senior staff."
Kyte's past experience includes representing performers, musicians, producers, production companies and more, as well as working across a range of areas such as class actions, intellectual property, entertainment, media, communications and corporate law. Notably, he has provided counsel to talent working with networks such as CTV, Global, Netflix and HBO and has negotiated talent contracts, options for TV properties, sponsorships and endorsements. He previously worked for class actions securities firm Morganti & Co. P.C. and entertainment law firm Taylor Oballa Murray Leyland LLP.
In addition to his time as host and producer on award-winning CBC investigative TV series Street Cents, he has past journalism experience with The National, CBC Sports and CBC Radio One. He is also a member of the American Bar Association and the Canadian Bar Association Canadian.