Felix & Paul co-develop AR storybook with Jim Henson Co
The Seven Ravens is narrated by Neil Gaiman and will be demoed at a prestigious computer graphics conference next week.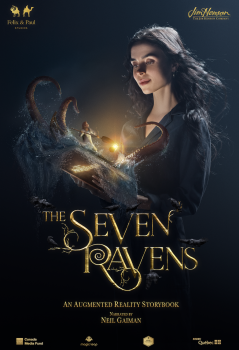 Felix & Paul Studios has teamed up with The Jim Henson Company of the famed Muppets characters to reboot The Storyteller through an augmented reality (AR) experience.
Narrated by Neil Gaiman (Good Omens, American Gods), The Seven Ravens is an augmented trackable storybook that allows audiences to interact and explore the classic franchise's world. Created by Henson, The Storyteller was an anthology TV series starring the late John Hurt featuring both human actors and puppets in retellings of European folk tales. It ran from 1987 to 1989.
Currently in development, it also follows a new Storyteller TV series in development with Henson Company and Fremantle, written by Gaiman. The Seven Ravens tells the story of a young girl who sets out to save her seven brothers from a curse that turns them into ravens.
Executive produced by Felix & Paul co-founder and CEO Stéphane Rituit alongside The Jim Henson Company president and CEO Lisa Henson and VP, feature film production Blanca Lista, the project will be demoed at the Siggraph virtual conference next week.
The Montreal immersive-entertainment studio's first AR project with the L.A.-headquartered family entertainment company, The Seven Ravens is produced with support from the Canada Media Fund (CMF), Magic Leap's Independent Creator Program, Epic MegaGrants and the Société de développement des entreprises culturelles (SODEC).
"Partnering with Felix & Paul Studios on this innovative project will bring our fans even closer to The Storyteller, immersing them into the classic tale of The Seven Ravens like never before," said Henson in a statement. "Through the magic of augmented reality, readers will be both amazed and surprised by how the story comes to life visually and in a truly interactive format. It is also exciting to have Neil Gaiman, the storyteller of our time, lend his voice to this project."