Slo Pitch EPs on opportunities in short-form LGBTQ content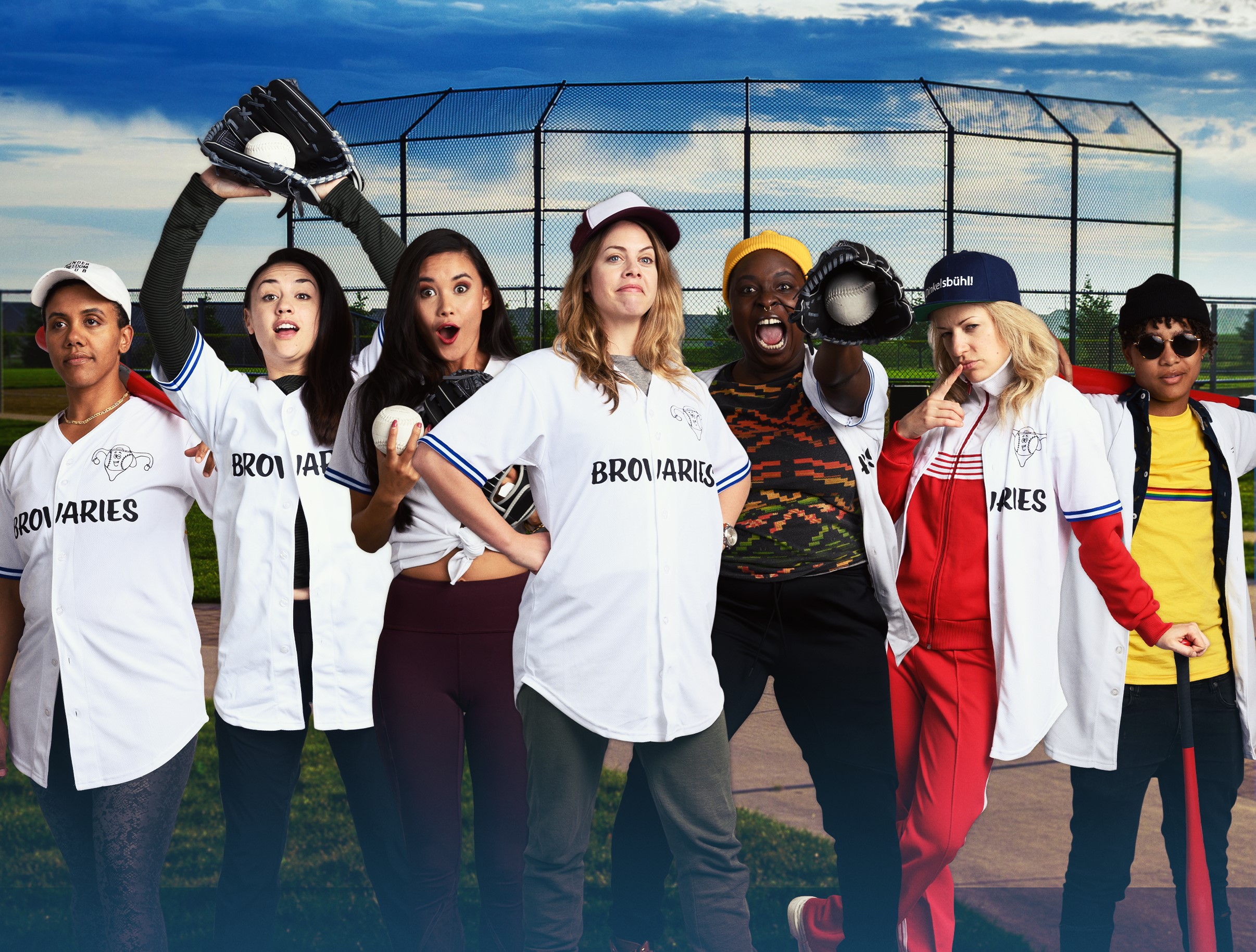 Slo Pitch co-creators, stars and EPs Karen Knox and Gwenlyn Cumyn discuss the series' upcoming linear debut on OUTtv and making a safe space for LGBTQ creators.
Multi-hyphenate creative duo Karen Knox and Gwenlyn Cumyn are stepping up to the plate for their upcoming linear debut.
Female-driven queer content has steadily grown in Canada's digital production sphere within the past few years, a boom that has been partially driven by the work of Knox and Cumyn. Their latest project is Slo Pitch, a 10 x eight-minute mockumentary-style short-form comedy that launched on OUTtv GO this summer, co-created with director J Stevens.
The series follows the Brovaries, a rag-tag LGBTQ team of hopeless slo pitch players eager to win the beer league championship. Knox and Cumyn co-wrote the series with Stevens and producer Michael Scharm, while also starring and serving as executive producers. The duo told Playback it will be their first series to air on linear, after OUTtv acquired it for their 2021 programming slate.
Knox and Cumyn are no strangers to wearing multiple hats on set. Their digital series debut Barbelle, which was produced for Bell Fibe's TV1 in 2017 before getting distribution with Shaftesbury's YouTube channel KindaTV, saw them working as writers, directors, actors and producers. The first season picked up roughly four million views on KindaTV and was renewed for a second season, which premiered in 2019.
Slo Pitch is co-produced by Schram, under the production banner Boss & Co. that's co-run with Knox and Cumyn, and Shaftesbury's development executive Paige Haight, who Knox says is a "real champion of female-driven queer content."
Haight was Knox and Cumyn's liaison with Shaftesbury when the prodco picked up their first short-form series Barbelle for KindaTV and became a driving force to bring Shaftesbury on as a co-producer for Slo Pitch. Knox says Haight not only offered a safe space for their creative decisions, she also fostered a LGBTQ-friendly environment on set with pronoun buttons for cast and crew. It was a small, but vital addition for a set where 80% of the cast identified as LGBTQ and 70% of the cast and crew identified as female or non-binary. That includes Stevens, who identifies as non-binary.
Shaftesbury was also an attractive partner thanks to its history with queer content geared toward women and created by LGBTQ community members, built on its success with Carmilla and its growing library of queer content on KindaTV, including Gay Mean Girls and the recently launched branded series The D Cut, which was produced in-house in partnership with Dove.
Knox says the linear pick-up from OUTtv is part of the channel's interest in acquiring and developing more female-targeted queer content to attract a broader audience. "A lot of Canadian-made female queer content is first produced as short-form content, so it seems like a natural transition to take those shows and put them on linear," says Cumyn, adding that the duo is in development on another series with OUTtv, which will be co-produced by Boss & Co. and Shaftesbury. OUTtv also recently picked up another female-focused LGBTQ series Running with Violet for its linear channel.
"Maybe it's because we are existing within a bubble, but it seems to me that there is, per capita, a lot of short form queer female series that are coming out of Toronto," says Knox. "So I think that OUTtv is quite smart to be capitalizing on that, because there's a bit of a [fan] following for that creative pool."
Knox says opportunities in the digital space continue to grow for LGBTQ creators, looking at grants for emerging and underrepresented voices and Netflix's multi-year partnership with Inside Out to support its Film Financing Forum, although they're still hoping for the chance to make their multi-million dollar dream project with a major broadcaster.
Cutting their teeth in short form content has also made them experts at working within a tight budget, which may become a boon during the era of COVID-19, where insurance fears and added safety measures have tightened budget restraints. Slo Pitch was shot with a budget of $250,000 over seven days, which meant carefully consideration on location and the number of actors on set for a scene while working on the script, and being flexible when production came around.
"We've always first and foremost been creative producers, where we understand the limitation of budget and how that's going to affect creative," says Knox. "When we bump on a financial issue or production issue [with line producers], we always can get in there with some creative solutions and we're not going to be uppity artists about it."
For producers interested in working with queer creators, Knox says the most important thing is being prepared to do the work and your research. "It's really just listening and being aware of the community that you're representing and being aware of the cultural mores and the tropes you want to avoid in the kind of creative that you're putting forward," she says. The "Bury Your Gays" trope is an oft-used example of a negative trope in film and TV, where a disproportionate amount of LGBTQ characters – often lesbian – are killed off, rather than getting their chance at a happy ending.
The duo says they have seen a growth of content featuring LGBTQ characters as main characters rather than supporting, created by members of the community, which has helped queer content begin to evolve into wider variety of stories. "It allows for a really authentic and nuanced portrait of the queer community that's not necessarily a story just about what it's like to be queer," says Knox. "It can just be about a weird baseball team who can't stop losing."