Annie Bradley elected as first female chair for DGC Ontario
In addition to other executive board appointments, 2020 was shaping up to be another exceptional year pre-pandemic, according to details in AGM documents.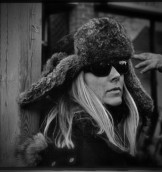 Annie Bradley has been elected as the Directors Guild of Canada in Ontario's first female chair – stepping into the organization that was having an "exceptional" start to the year prior to the pandemic.
Elected during the virtual annual general and special meeting held on Saturday (Aug. 8), which saw 336 votes cast, the veteran director's credits include Endlings, Good Witch and co-directing I'm Going to Break Your Heart. Bradley succeeds Alan Goluboff (Strike!), who served as chair of the DGC's largest council for the last decade.
"I will stand for empathic leadership that values accountability, transparency and inclusion," said Bradley in a statement. "We have uncharted waters ahead of us, including getting our industry back to work safely in the midst of a global pandemic and taking concrete action towards building a more diverse and inclusive membership. I believe deeply in the talent pool of our membership and I am humbled to be working with this board, staff and our community as the first chairwoman of the executive board of DGC Ontario."
Meanwhile, Tiffany Hsiung (The Apology) was elected as second vice-chair, while Jason Washington (Titans) was selected to serve as membership chair and Khanh Quach (Utopia Falls) was appointed as art caucus rep. Penny Charter (IT: Chapter 2) and John Rakich (See) were also re-elected – with Charter as AD caucus rep and Rakich as locations caucus rep. All told, the elections raised the share of BIPOC members on the Ontario division's executive board to 25% and also saw female members occupy 50% of board positions, according to a press release.
For 2020, the number of members in active good standing for DGC Ontario rose from 2,677 to 2,731 (full members came in at 2,176, while associate members were recorded as 555), according to the organization's 2020 Membership Statistics document.
Notably, DGC Ontario directors rep David Hackl acknowledged in the Directors Caucus Representative Report on the organization's website that 2019/20 was off to a great start, "like 2018/2019, adding 141 more TV episodes over the year before, while other productions stayed, relatively, on par." As well, a total of 30 new director members joined, with seven of them identifying as documentary directors, and there was a slight increase in permit directors, tracking with the rise in episodic TV. "More episodes being shot also means more DGCO Directors working with foreign studios, networks and showrunners, forging new relationships and strengthening DGCO's perceptions beyond our borders."
The document also touched on director R.T. Thorne's recent appointment as chair of the newly formed BIPOC Members Committee, with Hackl noting that "DGC Ontario is committed to striking an Ontario BIPOC Committee to work in harmony with the National BIPOC Committee and it is my hope that a Diversity and Inclusion Committee with be struck soon after."
Additionally, it was revealed that construction on DGC Ontario's new building at Heward Avenue has been halted due to the pandemic, in Charter's Assistant Director Caucus Representative Report. Plans to relocate DGC Ontario and DGC National's operations from its Peter Street office were announced in July 2019. A DGC Ontario spokesperson confirmed to Playback Daily that moving into the new location has become very fluid and that the potential target is now mid-December for the new office.
Image of Annie Bradley courtesy of Karen Steyr